My Business
Anne Naylor - Wedding Celebrant
CREATING THE WEDDING OF YOUR DREAMS
Question: How long have you been performing weddings as a celebrant? How can you make the wedding ceremony different and special? ***
I have been designing and performing wedding ceremonies in the South of France Since 2006 for couples who come from all over the world - including the US, Russia, Australia, Hong Kong, Singapore, Brazil, Dubai, South Africa, North Africa, the Caribbean and other parts of Europe and Scandinavia. Most couples are in their early 30's and have already attended many weddings of friends the same age.
My experience has been to create an event that truly matches the aspirations, vision and qualities of a couple and their marriage partnership together, a wedding that is different from those of their friends.
Question: How can you make a ceremony warm and inviting and relevant to the couple? How can you turn what could be ordinary into an event that is exceptional?***
My background in giving personal development consultations taught me to ask the questions that provide a deeper insight and understanding into what makes a person unique and special in their own way. With the couple, I invite them to open their hearts to what their relationship and ceremony means for them. I love to learn about their values and the touches that will best represent them and their love to their guests.
As part of the initial discussions, I ask for their birth dates, though not ages. Using an ancient science of numerology, I find the qualities and strengths they have to learn and fulfil in their lives, both as individuals and as a couple. A marriage is a loving entity that will deepen and evolve over the years ahead. Increased self-knowledge leads to better self-understanding and to longevity in the marriage partnership.
For example. the person who has a number 6 in their make up has a quality of Perfection to learn and fulfil. The bride or groom with the quality of Perfection may turn out to be a micro-manager when it comes to their ceremony. In the stressful time leading up to their ceremony, I have found that they often fall into panic mode, dotting more i's and crossing more t's than actually exist. This person may need assistance to feel calm on the wedding day.
Question: What advice do you given when choosing vows?***
Your vows will form the foundation for your devotion to each other in your life together. So it is worth taking time, care and attention in choosing them. As with any promise or agreement, vows need to say what you mean, intend and are able to keep. It is practical to bear in mind those times when life is challenging or stressful.
When it is tempting to withdraw and contract your love for each other, you need to expand it. Are you someone, for example, who needs to be more patient, or tolerant, or forgiving when times are difficult? What are the qualities you will express when "the chips are down" and you need to show your love, and not hide it?
Understanding and accepting each other's strengths and weaknesses will enable you to be more loving when it most matters. Well chosen vows strengthen your partnership and deepen your love.
Question: What touches make the wedding extra special?***
When choosing music, you might like to include songs that are evocative for you or spark memories of a special occasion you shared. Guests may wish to contribute readings that reflect their good wishes for your future. Their participation can enrich your ceremony.
Having a clear intention for your wedding will come when you consider the question: if your ceremony were to fulfil your expectations, how will that be for you? I write down the response. The stated intention is usually more than realized.
Question: Is it possible change or alter the speeches before the wedding?***
A draft ceremony may be under review and discussion for several weeks before the text fits, not just for the wedding couple but also their families. A wedding brings together families and friends as a new community. The text needs to honour all of those present, and not exclude anyone. For example, if the couple do not have a strong religious faith but a close relative does, I like to be aware of that sensitivity and adjust the text accordingly.
When families originate from different parts of the world, it is more important than ever that each person feels warmly included in the celebration. Relatives could come from as many 20 or more different countries. They may have travelled far to join the celebration, and so I like to feel that the ceremony touches their hearts, and has made their journey worthwhile.
Question: So what is it that makes each wedding ceremony unique?***
The personal touches that go to the design of invitations, choice of flowers, catering, music, location can be extended to the ceremony itself. If a wedding service is not from a traditional religion, the bride and groom can create the ceremony that is special for them: spiritual, romantic, non-religious, or simply small-scale and intimate.
A feature which has made a real difference and wowed guests has been the Declarations of Love. A Declaration of Love is not the same as the Vows, which are the promises or commitments to support and sustain the marriage. A Declaration of Love is often light-hearted, humourous, tender and shares touching insights about the love that the couple have for each other.
One of the questions I ask is what each partner loves most about the other. Answers to this question start to form the Declarations of Love. One bride recently sang her Declaration. Even though her voice broke with the emotion she felt for her groom, the feeling of love conveyed itself way beyond the words of the song.
Question: How do you see your role on such an important day?***
My role on the day is to assist the couple to relax and feel confident, knowing that all is being well taken care of. The couple that is calm, in spite of the excitement, will enjoy the ceremony better and will also help their guests to feel wonderful about being part of the special day.
Before the day, I prepare as fully as possible to allow space for the unexpected to occur. It often does. The ceremony text has been approved by the couple. I keep spare copies of the Declarations of Love and readings to hand. On the day, I arrive a good hour in advance. My purpose then is to be available as needed, to calm nerves, to talk to special guests like grandmothers, godmothers or people who need assistance.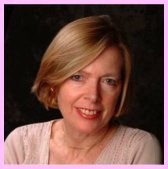 Question: As a celebrant, is there a part of the ceremony that you find special?***
The most profound moment in the ceremony for me is the exchange of vows, when I experience a blessing taking place, for the couple and their guests. Standing close by, I feel it too. Preparing and conducting the ceremony for a couple on their special day never fails to be a delight for me. The feeling of love present on each occasion stays with me hours after the ceremony has taken place.
Question: Do you travel anywhere to perform ceremony?***
Although most of my weddings take place in the South of France, I am also available to travel to other destinations.
Question: How can couples contact you?***
They can visit my website www.annenaylor.com/wedding-ceremonies or contact me at weddingceremonies@me.com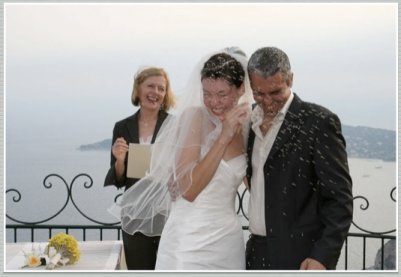 Share this article on Facebook