Fashion
Celebrity Do's and Don'ts

This month fashion stylist Tamara Giorko takes a look at what the celebrities are wearing and points out that sometimes, they don't always get it right...
+++PLUSES+++
1. Anja Rubik looks absolutely amazing at the Apart dinner! The design and beautiful colour of the dress goes very well with Anja's skin tone and body shape. She looks radiant and beautiful. The supermodel also knows that when a dress is that "rich in decorations" you don't need anything else. A little clutch bag is more than enough.
2. Victoria Beckham went from being the wife of footballer and ex-Spice Girls to a well respected fashion designer. The fact that she completely changed her fashion habits and started to dress more sophisticated and elegant didn't go unnoticed and even Vanity Fair put her on the Best Dressed List.
3. Eva Mendes, beautiful, talented, sexy and now also well dressed. Her outfit seems like nothing unusual, but thanks to well cut garments, colours and shapes we are looking at elegant and serious business women. Take a note ladies!
---MINUSES---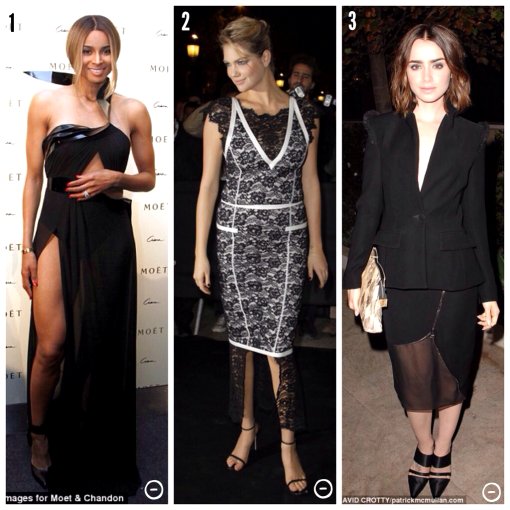 1. Singer Ciara is a great example that a pretty face and amazing body is not enough to look good. The dress makes me feel uncomfortable and I'm just looking at it! Imagine how Ciara must have felt wearing it. The design is completely wrong and unflattering and overall everything is far from sexy and glamorous. Oh, unless it's a Halloween costume..then it's great.
2. Kate Upton has one of the hottest bodies in showbiznes and I guess her stylist is a very jealous women who tries to make her look unflattering on the red carpet. This picture proves that she is successful most of the time. The design, the shape, the material, everything about this dress is wrong. And if Kate Upton can't pull it off, there is no hope for the rest of us. Don't try this at home...
3. Lily Collins tried to play it safe and she succeeded. It's not only safe but also boring and sad. Let's not forget that Lily is in her very early twenties so why would she like to add decades to her style, we will never know. It is simply unnatural to see such a young person in such a serious, unflattering and shapeless outfit.
Contact Tamara if you need help to develop your style!
Share this article on Facebook