Fashion
Wellicious - Looking and feeling great

Wellicious offers a lifestyle of choices to indulge you, created in their ever growing collection of exclusive beautiful yoga and Pilates clothing, loungewear and accessories that are not just created to make you look good but feel great also.
The fabulous online boutique produces the highest quality clothing using beautiful fabrics that create comfort and ease in wear. Wellicious creates each and every detail carefully to evolve an eco-friendly yet stylish and glamorous collection infused with the latest fashion and colour trends.
The Riviera Woman chose to be 'all white' on the night!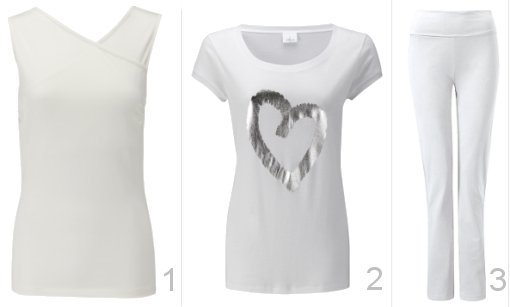 1. Serenity Top: The ultra feminine Serenity Top is perfect for Yoga, Pilates, the gym and everyday. So beautiful with a flattering asymmetrical wrap front and a ruched deep V-shape back with a colour contrast insert embellished with the rhinestone detail. £69.95 See more
2. Easy Tee with Heart Print: A must have for all Yoga fashionistas is the Easy Tee with silver heart print. This statement piece of the season looks great with leggings for standing out in the gym. The silver print on white background is a wonderful crisp style to embrace cool winter days with all your heart. £55.95 See more
3. Classic Pants AW14: These timeless and sophisticated Classic Pants are essential for every season. The basic straight cut leg is ideal for active Yoga classes and relaxed everyday activities. Stand out with flat lock side seam detailing and a tummy-flattering fold down waistband with a Wellicious rhinestone icon on centre back. £59.95 See more
4. Yoga Bra: For low impact exercise and for everybody who prefers a lower level support the Wellicious Soft Bra is the right choice. Perfect for a smaller chest size it is very comfortable due to two layers of our soft and stretchy Lyocell... £49.95 See more

Anette Shine of Sunshine Yoga is an Ambassador for Wellicious
Monday, 1 September 2014 Section:
Fashion
Share this article on Facebook