Fashion
Interview Dressing - Get the Job!
A selection of clothing and accessories from Marks and Spenser.
Dressing for an interview is only part of making the right impression and getting the job. But if you look the part and feel confident, it certainly helps. Although it may seem conservative and safe to dress in a suit, there are a number of ways that an ensemble can work for you.
We have put together a navy look with a detailed shirt - all clean lines to inspire confidence.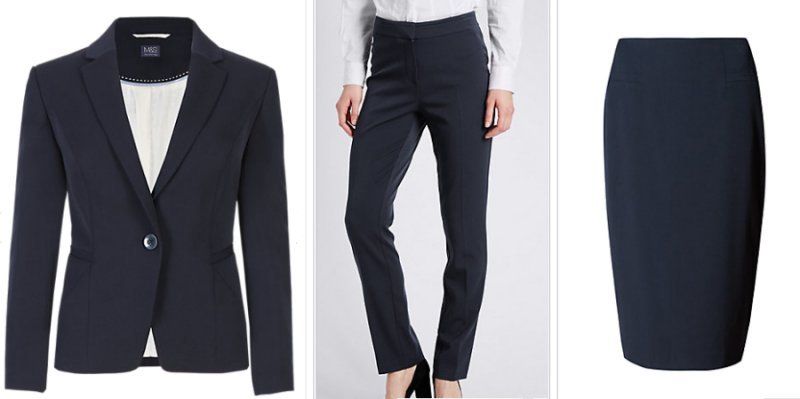 We first chose a blazer from Marks & Spenser and one that you can interchange and team with a pair of matching trousers or skirt - So when you get the job - let's be optomistic, you can have fun introducing your new pieces with other items in your wardrobe. We also went for navy which we thought was a little softer than wearing all black. You could also look at grey. Experiment and have fun.
Tip: keep your choice of suit simple yet stylish and if you choose to wear a skirt, keep the length to just above the knee, no shorter.
Details of the items above, are here: Jacket ~ Trousers ~ Skirt

We really like this contrast trim blouse, chic and great simple detail. Wear slightly opened or fully closed and accessorize with a piece of jewellery. We chose this metal ball tube necklace, which will give your neckline a little sparkle. For a slightly more casual look, perhaps this Petite Bardot striped navy/white top will work for you.
Tip: If you are buying a new outfit for the interview, think how best you can co-ordinate it with items you already have in your wardrobe. Mixing and matching is fun.
Details of the items above, are here: Blouse ~ Necklace ~ Top

Great shoes maketh the outfit! It is important to have great looking shoes but not compromising on comfort. A heel such as the Stiletto High Heel Triple Strap Point Court Shoes with Insolia® that we have chosen, will certainly give you the wow factor and adds that feminine touch to a wearing a suit. Equally a low heel court shoe will give an equally sophisticated look. If you iterview requires you to bring some documents, it will be great to have a bag that will hold all and complete the ensemble. This leather tote bag aims to please.
Tip: Whatever shoes you decide to wear, make sure they are really comfortable especially if you will be given a tour of the building or if you have to stand up for a while to do a presentation.
Details of the items above, are here: Stiletto Court Shoe ~ Low Heel Court Shoe ~ Leather Tote Bag
It leaves us to say... Good Luck!
Monday, 1 February 2016 Section:
Fashion
Share this article on Facebook