Woman of the Month
Woman Of The Month - Kellie Delkeskamp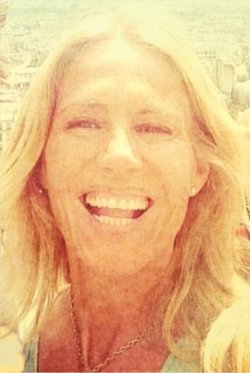 Kellie Delkeskamp has lived in Nice for 3 years. She was born in St. Louis Missouri, but lived in Los Angeles for 25 years before moving to France.
Kellie owned a large fashion label grass jeans and fever jeans, before moving to this region, and then sold the company to marry her now french husband and to become a mother.
After selling the business Kellie found herself with a great deal of spare time on her hands so she decided to make a yoga documentary, and even though this was not a success, it inspired her to teach yoga. Kellie had studied yoga for about 17 years, and now wanted to follow her secret little dream... Kellie took a teachers training course, and for 4 years she has been teaching yoga mostly to large corporations employees.
"It's fun and because I am from that type of world, I can relate to their stress levels." she says.
Shortly after moving too France, Kellie came across an article saying that Times Square in New York hadclosed for summer solstice for a huge free yoga day with 30,000 attending. This inspired Kellie to create a similar event in front of the sea.
The event the first year drew a crowd of about 500 people, and last year, 2015, her dream of seeing 1,000 people coming together to breathe as one happened. It was a coming together on many levels, many businesses and friends and yogis helped to make the event a success.
Kellie believes that timing has played a big part in this venture. She enjoys orchestrating it, and describes it to planning a big party where every year more and more interesting people join in.
"If someone asked me what is the perfect job, this would be it", Kellie says.
The vision for the future, is to create a 3 day breathe as one celebration to include people coming to speak about yoga, music/ sound therapy, alternative healing(acupuncture etc.), scientists on their studies and the effects of meditation on grey matter, super foodists, raw foodists, urban farmers, and yet keep the fun element of the community joining together for free yoga classes and tai chi classes, meditation classes etc.
a real summer solstice idea of celebrating the renewal of spirit, mind, and body.
"Breathe as One will offer a place to learn about the choices and lifestyles that are out there that are valid and proven and can help you increase your quality of life on the planet in a simple way, and always free to the public!"
1) What makes you smile?
Gosh so many things! My kids, my husband. I smile when someone smiles at me, or I see a funny video, a beautiful post on Facebook, the end of teaching a yoga class and seeing everyone's face and shining eyes... the list goes on...
2) What or who inspires you?
My family, friends, deepak chopra meditations, the list goes on. but on a daily basis, it would be myself... and my search for something inspirational to keep me up and positive and real for the day.
3) Do you believe in gut instincts?
Yes and no, in retrospect if i am correct, yes, and when I am wrong no, ha ha. But somehow on the big things, as long as it is not fear based, yes.
4) Your three essential things if you were stuck on a desert island would be what?
Water, food, and a working cellphone if I have to wait it out, at least I am staying connected and won't lose my mind.
5) If you are planning a day/night out, what do you enjoy doing the most?
Going to nature, a long, long walk perhaps in the trees, love to listen to the wind.
Share this article on Facebook