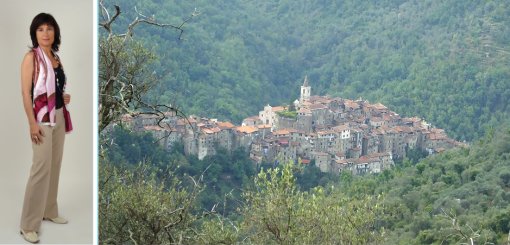 The Riviera Woman continues with the new feature 'Woman Of The Month'. This month we introduce you to Monica Buscaglia.
Every month we will feature a different woman from all walks of life, nationality, profession... If you would like to nominate someone, let us know. Read more

Learn to use water colours in your own way. Enjoy freedom of creation and powers of observation. Artist Tess Baker is running a six week course this November. More details
All articles in section 'Events'
Champagne reception and glorious Thanksgiving lunch at Hotel Hermitage, Monaco, with invited members of the US military. More details

Choc-a-holics are going to enjoy this event in Nice this November. A wonderful selection of chocolate makers, suppliers and workshops to tempt you... More details
Everything you could possibly want to know about chocolate can be found at this magnificent exhibition, Salon du Chocolat in Monaco, from the 10th - 12th October. More details
As promised we have re-scheduled. Last time we cancelled owing to the hunting on a Sunday - so we have changed the day.
Time for walkies... Britalia have organised a walk on Saturday 18th October in the hills above Pigna... See more details
GenderHopes, Monaco-based association, will host the first Monaco screening of the documentary film Miss Representation on Monday 6th October 2014, at 7PM at Star Deck (above Stars'n'Bars) See preview and More details


Radio ICR is proud to announce the re-launch of our programmes from September, 2014 with new host Mark Dezzani and featuring Anna Fill - The Riviera Woman. Next show 6th October: Listen Now
This September 1st nominations open for Business Person of the Year 2014 and the nominations close on the 31st October. The Riviera Woman is a proud sponsor of the event. See more
Here are some of the events we recommend that you don't miss this August. Happy summer. See more
Join us for a day of fun at the beach, learn to paddle board and join us for well being workshops held throughout the day! Hosted by Anna Fill - The Riviera Woman. More details
Create the Spark is holding a 2 day workshop in Monaco on 5th and 6th July 2014. The theme the 'Power of self esteem'...
137 articles (14 pages) in section 'Events'