Showing all articles in section 'Events'
Events

Talk About Town is back with another super interactive event. The date: Friday 4th March, starting at 6 pm with an Aperitivo. Followed by demonstrations from our 4 experts on how to make the most of yourself. To conclude the evening we will be showing a film. All for €10, payable at the door. See more
Monday, 1 February 2016 Section:
Events
Events

The Annual Kermesse will be held in the Fontvieille Chapiteau on Saturday 5 December 2015. Entry is free and the doors open at 10h00. This is a date NOT to be missed! A fun day out for all the family and a great way to find pre-Christmas bargains. Full details
Thursday, 12 November 2015 Section:
Events
Events

As artists, writers, poets and travelers have known for years, the experience of Italy–from otherworldly vistas to its living history–expands one's perspective. Painter Mohamed El-Sabaawi moved from Washington, D.C. to Italy three years ago, leaving behind his work as a psychiatrist, to seek this broadening of vision and perception. More details
Sunday, 1 November 2015 Section:
Events
Events

Talk about town... Live debates. Taking place on Friday 9th October at the Cinema Cristallo, Dolceacqua. Starts with an aperitivio at 6pm and event ends 8.30 pm. Everyone welcome! Full Details
Thursday, 1 October 2015 Section:
Events

Events

Reflect, Re-energise and Renew at the Renew You workshop for women, to be held in Sophia Antipolis.
Treat yourself to a fabulous day, focussing on what YOU want to achieve in the next 12 months. Discover More
Saturday, 1 August 2015 Section:
Events
Events

June 21st, at the Parc de la colline du Chateau, Nice will host a spectacular, all-comers (men and women) all ages, all shapes and sizes, free yoga event - Breathe as One... Read more
Events
Be there, do it!...... The 2nd Cancer Research UK Race for Life event takes place in Mougins on 31st May 2015. Mother's Day (France only) provides an additional element of female celebration to this year's occasion... Read more
Events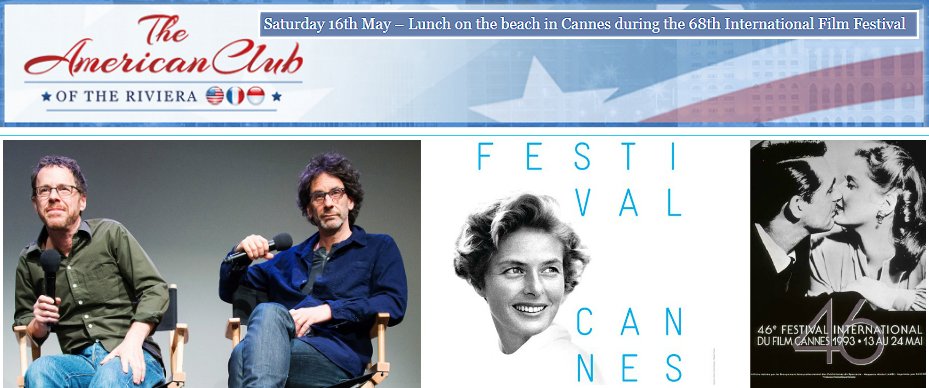 The American Club of the Riviera once again celebrates Cannes Film Festival. Camera, Lights & Action, with a beautiful lunch on the Croisette. Full details
Thursday, 30 April 2015 Section:
Events
Events

YOGAMONTECARLO... For the whole month of April and May, you can enjoy as many yoga classes as you would like at the Monte Carlo Bay Hotel in Monaco. See full details
Monday, 23 March 2015 Section:
Events