<!-Weather in Nice, France on your site - HTML code - weatherforecastmap.com -->
Kim de Stanruth


Following many years since leaving school with no particular qualifications doing various jobs (including running my own painting and decorating company) I decided at the age of 35 to fulfil my dream of becoming a qualified veterinary nurse. I enjoyed a wonderful 10 years doing what I loved within a small veterinary practice in Brighton England. When circumstances forced me to leave my position, I was delighted to be offered the chance by two dear friends to look after their newly aquired villa in the South of France including taking sole care of their lovely Airedale terrier "Winston"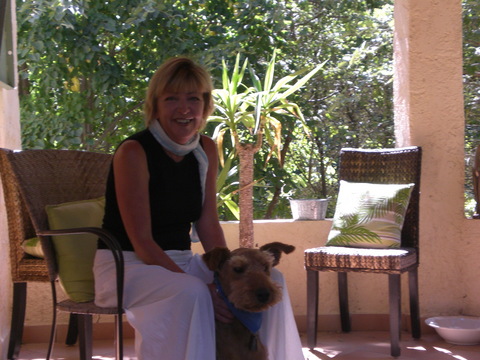 I have since then found myself a niche market looking after other people's pets in my country home in Carces, building up a regular clientele. I have managed to combine this with my decorating skills and villa management. I am now embarking on a new project to compliment all I do. I am training to become a qualified practitioner in the use of Bach flower remedies in which I can use positive emotions to improve the lives of pets and their owners.



Q1) My pets have fleas. What can you suggest?
Flea treatment.

There are now many safe and effective flea treatments available for cats and dogs.
The easiest to use are the "spot on" variety which involves applying a small vial of liquid to the back of your pet's neck, usually once a month. The best products will be available through your veterinarian or pharmacy the dosage depends on weight, so be sure to know the rough weight of your pet before purchace. As with any medication, always check with your veterinary surgeon if in doubt. Yes, you may also need to treat your enviroment, again, buy a good quality product and follow manufactuers instructions.



Q2) I want to bring my dog on holiday for the first time, is it advisable?
Travelling with pets.

Firstly, ask yourself who will be benefiting from this. Yes, you will miss your beloved pet while you are away, but consider the following:-

Hotels/ B&Bs are they all animal friendly?
Resturants, supermarkets etc. what will you do with your pet then? PLEASE,PLEASE, NEVER, EVER LEAVE YOUR PET IN YOUR PARKED CAR!!!!! This will not only cause extreme distress, but can literally be a death sentence.

An alternative would be to either find an excellent kennel, or preferably, to employ a reliable dog sitter. In each case, always check facilities and references.
LATEST
Q3) I have a small appartment, would it be better to have a dog or a cat?

A3) Obviously, this will be guided somewhat by preference, most people seem to fall into either cat or dog lovers. However, a few pointers:-
if you opt for a dog, it would be better to choose a smaller breed that doesn't require too much exercise, but you must be prepared to talke him out on a re
gular basis, check out dog friendly parks or beaches nearby. Make sure that your lease allows you to have a dog on the premisis, and consider your neihbours, dont leave the dog alone for long periods of time where it may bark, leading to complaints (As a general rule, if the dog is going to be alone for more than 4 hours at a stretch on a regular basis, dont get a dog!)

If you opt for a cat,again, check that your lease allows it. You will need to provide a litter tray, which will need to be changed daily. Also, your cat will need plent of toys, maybe a scratching post (unless you want your furniture to suffer!) A grass box is also a good idea. many cats (in particular orientals) adapt well to being walked on a harness, so check out safe areas to take her out.

In both cases, it would be advisable to have your pet neutered, bur always seek advise from your veterinarian.

Q4) Is it better to feed my cat wet or dry food?
A4) Most cats will happily eat either, or. But, whichever you choose, opt for a good quality brand. Be aware that some of the cheaper dry foods have a high ash content which can lead to urinary problems, especially in males. A lot of tinned fods contain around 80% water so you may need to feed more of this than dry.
A good balance would be a mix, for example, a bowl of dry for breakfast (very good for the cat's teeth) and a little wet food for supper. Try to avoid leaving the food down for too long as this may lead to "grazing" and can mean you filling up the bowl more often than necessary risking weight problems, or the food simply going off.Always make sure that fresh water is available.
You can email Kim: kimdestanruth@wanadoo.fr
Feature contributed by ANNA FILL on July 27, 2009 at 1:02 am.