General Articles
Frankie, Making Dreams Come True One Child At A Time
I met Francien, alias Frankie the clown, one sunny afternoon in October in Monte-Carlo. I wanted to hear directly from her or really him, about the association they created back in 1997 "The Children of Frankie", and specially to know more about their latest project, the musical comedy "Mission Dreams" that will debut on November 30 and December 1, 2013 at the Grimaldi Forum in Monaco.
The Children of Frankie supports ailing and underprivileged youngsters in Monaco and throughout the Provence and French Riviera region, better known as PACA, with a small but very dedicated staff and with the help of more than 150 caring volunteers. It has been recognized by the United Nations as an NGO (non-governmental organization) since 2008. They collaborates with hospitals, social services, and more than two hundred institutions that help underprivileged children. Since its inception the association has assisted more than 100.000 children in need. Even their office building rhymes with their objectives as it is housed in the "Golden Sun" (Le Soleil d'Or), with a team that works long hours so that ideas may turn into projects and ultimately become a reality, bringing smiles to the faces of thousands of suffering children. Their projects go from organizing the participation of ill or underprivileged children in sports events like the Monte-Carlo Rolex Masters, Monaco football matches, the International Monaco Jumping Competition, the Herculis Athletic competition; or cultural events in the Principality like visits to the Oceanographic Museum, the Exotic Garden, the International TV Festival, as well as playful outings like Easter Egg Hunting and much more. The events are so many and varied that they issue a regular Newsletter called "The Little Journal of Frankie" with all the details to encourage children and their families to participate.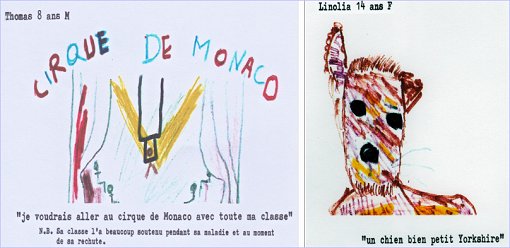 I was really curious about their latest project, and when I brought the subject the eyes of Frankie got even brighter! He told me it was back in 2003 when he had the idea to embark on a mission to meet hospitalized children in the region, asking them to draw their most coveted dreams and so the adventure started. An evening event was organized, in the presence of HSH Prince Albert and distinguished guests in the Principality, where each participant was invited to adopt a child to realize his or her dream, and a year later fifty-six dreams became a reality! To revive this incredible experience the association is busy producing a musical entitled "Mission Dreams" (Mission Reve), that retraces in 10 episodes the most beautiful reveries with a cast of over 160 volunteers! It tells the story of young Aleo who goes in search of children's dreams, accompanied by his sister Polly and Frankie the clown, who has the gift making dreams come true! They will travel through time plunging themselves in a world of dance, comedy and songs accompanied by clowns, animals and bizarre characters. Based on real facts, this musical comedy will honour the dreams of ailing children that the association help materialize ten years ago. Among those reveries were: travel to Disneyland in Paris, meet the famous football player Zidane, visit the Monaco Circus with the whole class, get a little puppy as a loyal companion, swim with the dolphins, travel to Kenya to see the wild animals, and many more. While living their dreams those children forgot the suffering of their illness as if under a magic spell, experiencing the bliss of total happiness and extending the joy to their families and friends.
We invite you to join Frankie in his adventure by reserving your tickets for the musical « Mission Dreams » that will play Grimaldi Forum in Monaco on Saturday, November 30 at 18:30hs and Sunday, December 1 at 15:00hs. Reservations: Grimaldi Forum +377 9999 3000 www.grimaldiforum.com
More than 4,000 underprivileged and ailing children and their families will be invited to attend two performances free of charge on Saturday, November 30 at 14:00hs and 16:00hs.
For more information on The Children of Frankie go to www.frankiemonaco.org
Photos by Celina Lafuente de Lavotha
Share this article on Facebook