Food and Recipes
Guest Chef Prepares Tuna Tartar

Emmanuel Sofonea - Un Chef Chez Vous
Professional Chef Emmanuel Sofonea shares with us one of his specialities. "This is a recipe that is easy to create, with fresh ingredients, light and tasty and anyone can do it... so give it a try!"
Tuna Tartar
Recipe is for 4 people
Ingredients:
600 g Fresh Tuna
1 Mango
2 Limes
20 g Sesame Seeds
Fresh Coriander
Salt and Pepper
To Garnish:
Some Mesclun salad
Balsamic Cream
Olive Oil
This Tartar must be prepared 30 minutes before you eat.
Method:
1/ Start by cutting the tuna in small cubes and leave in a bowl in the fridge
2/ Prepare the mango in the same way and mix with the tuna.
3/ Cut the lime and squeeze the juice into the tuna, add the chopped coriander, and the sesame seeds, bit of olive oil, salt and pepper and mix all the ingredients together and leave in the fridge 30 minutes.
4/ To prepare the plate, use a round form ring for the tuna mixture and place it in the middle of your plate and dress with some mesclun salad on top.
5/ Place a few drop of the balsamic vinegar around the plate and drizzle some olive oil.
Bon Appetit!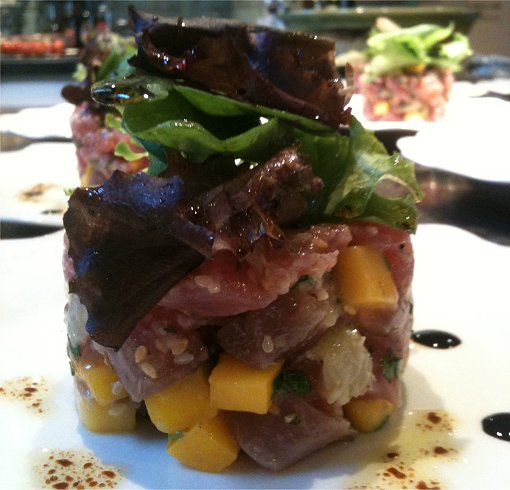 Chef Emmanuel Sofonea

Share this article on Facebook