Books and Films
Author Melissa Roen - Last Call for Caviar
American author Melissa Roen, has lived for the past twenty-eight years on the Côte d'Azur in the South of France. In Last Call for Caviar, and its sequel Maya Rising, she writes with an insider's perspective about her adopted country, as well as the neighboring principality of Monaco.
The author learned French language, literature, and civilization at La Faculté de Lettres in Nice, France, and studied art at L' École des Artes Plastiques in Monaco. She speaks English, French and Italian. In her free time, she enjoys tennis, dance, and swimming, preferably in the sea at Plage Mala in Cap d'Ail, France. A lifelong animal and nature-lover, Melissa is passionate about preserving the beauty and resources of our planet.
For more information, please visit her website: www.lastcallforcaviar.com
Melissa Roen is the author of two exciting books, 'Last Call for Caviar: Volume 1' and the New Release 'Last Call for Caviar - Maya Rising: Volume 2'. We give you an insight into both books, just enough to entice you to want to read them for yourself.
Synopsis: Last Call for Caviar, Volume 1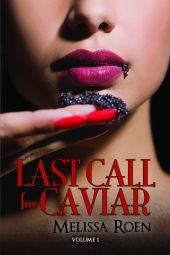 As the world comes unhinged, a lucky few will be quaffing Cristal and nibbling Beluga as they stock their Feadships and gas-up their Gulfstreams for a last-minute dash to safety. For American expat Maya Jade, the Cote d'Azur remains a fast-eroding zone of normality amid global chaos. Welcome to the Madhouse. Welcome to the year 2018. Last Call for Caviar is the debut work of fiction by author Melissa Roen, conjures an all-too-plausible scenario of end-times on the glamorous, treacherous and geographically blessed French Riviera. Anyone looking for a thrilling, fast-paced read with a powerful savor of impending doom will relish this smart, page-turning primer on living like there's no tomorrow.
Maya has the Cote d'Azur at her manicured fingertips, from the glittering nightlife of Monte Carlo to the splendid beaches of Cap Ferrat to the vertiginous trails of the coastal mountains. Her heart, however, is hopelessly in hock to former lover Julian, who's gone missing on the wrong side of the security perimeter since they quarreled months before. When a psychic tells Maya that Julian is her destiny rather than the cad she recalls, hope floods in alongside doubt.
Navigating the treacherous minefield of her disintegrating world, she finds herself drawn to Abdul, a sexy and enigmatic, Emirati, who's up to his Guthra in the struggle for control over the gold-plated Principality of Monaco. Back in the US, anarchy is spreading, forcing Maya's family to flee Vegas for a fortified compound in the coastal redwood forests of southern Oregon. Her domineering and capable sister, Leah, wants her to come home, but getting there may well be impossible.
The plot thickens when an exotic and seductive spiritual figure arrives in Monaco and allies herself with psychotic Russian gangster Slava. Anjuli del Solaire claims she's working to raise the consciousness of the world's remaining inhabitants-- especially the very rich-- but Maya recognizes the Amazonian beauty with a dangerous past. Though her knowledge could expose Anjuli's scam, Maya just wants to avoid the notice of Anjuli's ruthless new friends. Mutually suspicious and mutually admiring, both women discover they need each other as people and circumstance escape their control.
As natural disasters, extreme weather, environmental collapse, disease, famine and resource wars roil the planet and armies of the dispossessed and murderous approach from Southwest, Maya must decide where to make a stand and with whom. Can she bum a ride on a billionaire's jet? Will she sacrifice her independence for a Sheik's protection? Will she risk survival to honor her obligations? Can she heal a broken heart on an irreparably broken planet? With wit, invention and old-fashioned glamour, Last Call for Caviar describes a world where a gal's Glock fits a diamond holster and that second helping of caviar may be your last. This sharply-observed narrative of an uncannily realistic future is as fierce as it is fabulous. Buy the book
Synopsis: Last Call for Caviar, Volume 2: Maya Rising
It's 2019 and humanity is imperiled: governments and kingdoms are toppling, societies--across the planet--collapsing. Natural catastrophes, resource wars, systems failure, famine and disease threaten our survival. In the heavens, a dim red star brightens in the night sky, heralding epochal change. Are we the architects of our own demise? Or are we merely bystanders to cosmic events? Among the endangered billions, Maya Jade, an American trapped in the South of France, is searching for answers while fighting to stay alive.
Darker and more erotic, Maya Rising, the sequel to Last Call for Caviar, by Melissa Roen, picks up Maya Jade's story at its cliff-hanging mid-point. Miraculously reunited with her estranged lover, Julian, and guarded by her beloved Golden Retriever, Buddy, Maya and her companions flee the besieged Côte d'Azur searching for safety in the vastness of the French Alps.
After a harrowing journey through a state of anarchy, they find sanctuary in a well-defended Alpine village. Julian's surgical skill is their passport, and for a short time it appears they've found haven above the rising tide of bloodshed engulfing the planet. But all too soon, events conspire to separate these star-crossed lovers once again.
Determined to rescue Julian—if he's alive—Maya hires two retired French soldiers to guide and protect her as she searches for him across the Alps, a majestic terrain now home to rogue militia, marauders, slave traders—and worse. Maya's pampered existence on the French Riviera—chronicled in Last Call for Caviar—is but a surreal memory. Now, every day is a struggle to maintain hope and avoid capture among the craggy peaks and haunted valleys ruled by warlords and populated by the desperate and degraded.
But when Julian's trail leads south, Maya follows, coming full circle to the embattled principality she resolutely left behind. In a stroke of cosmic irony, Maya's mission brings her into intimate contact with her former lover, Abdul, a dangerous and charismatic man, whose skill at seduction she's never been able to resist or forget.
But in the course of a year, a new Maya Jade has emerged from the ashes of a decadent and doomed world. She's no longer wracked by doubt and paralyzed by fear. Risking everything, she employs instinct, cunning and every tool at her disposal to protect those she loves, while holding onto her humanity and ideals in a world gone mad. Readers seeking a sexy, adrenaline-filled ride in the company of a heroine who lives as fiercely as she loves will relish this astro-physical tale of a woman's struggle to understand and survive the end of the world.
Combining elements of adventure, romance, and science fiction, Maya Rising describes a future that is all too plausible. And though the situation is grave and the tension palpable, in Maya Jade's wry, self-conscious story-telling, there is reason to hope. Melissa Roen's novel encounters the apocalypse with courage, determination and wonder and will appeal to fans of speculative fiction, romance and dystopian thrillers. Buy the book
Visit Melissa Roen's website: www.lastcallforcaviar.com
and Facebook Page: www.facebook.com/lastcallforcaviar
Trailer for Last Call for Caviar the Book
Share this article on Facebook