Events
Talk About Town: Where do you call home?
Talk About Town are interactive debates and events created by Anna Fill, founder of The Riviera Woman online magazine: www.therivierawoman.com
"The subject of the debate will be 'Where do you call home?' which was inspired by the fact that when I speak or listen to expats, I always hear them say: 'When I go home…' and very often these are people who already live in this region permanently." says Anna Fill.
So the debate discusses the subject of 'home' and what it actually means. We will find out what makes people choose to live away from their homeland, work, sunshine, lifestyle, food, wine, love? We will hear all about it and so much more!
The event is about giving a voice to everyone. The more people engage the more interesting the evening becomes. We are also interested to hear from local people too and to hear their views on foreigners living here. On the flip side, talking with local people who have worked and lived abroad and then returned have another perspective, and this all becomes very fascinating.
The event will feature a panel of 4 people, professionals who have a great deal of contact with expats and can speak with authority about their experiences of living in a foreign country. Audience participation will make the event lively, interactive and a great deal of fun.
We can confirm the 4 members of our panel, Burton Gintell, President of The American Club of the Riviera, Petra Hall, Editor-in-chief of Riviera Times, Simon Verity from Blacktower Financial Management Group and our Special Guest, Carol Drinkwater, actress, author and filmmaker.
~~~
The date: for the debate is Wednesday 27th April
Venue: Forum Jorge François – 9 rue Cronstadt – 06000 Nice.
Time: 19.00
This will be a superb opportunity to talk with the panel and each other and also with thanks to Fenella Holt, owner of the Antibes Book Shop, you can purchase signed copies of Carol Drinkwater's new book 'The Forgotton Summer'. Carol Drinkwater will be delighted to meet you.
Meet the panel: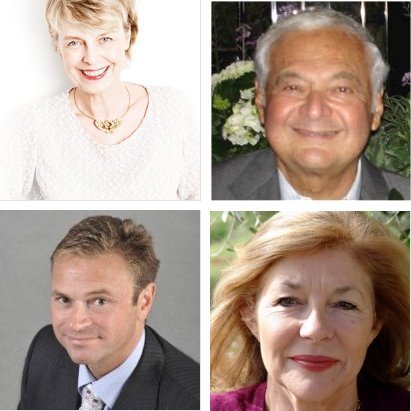 Top left to right:
Petra Hall - Editor-in-chief Riviera Insider (Former Riviera Times)
Burton Ginsell - President of the American Club of the Riviera
Bottom left to right:
Simon Verity - Country Manager at Blacktower Financial Management
Special Guest: Carol Drinkwater - Actress, Author and Filmmaker
Sponsors:
The American Club of the Riviera
Riviera Insider
Blacktower Financial Management
Antibes Books
AngloInfo
Sunday, 27 March 2016 Section:
Events
Share this article on Facebook