Fashion
A Passion for Fashion - with a hint of drama...
By Julia Moore
Introducing Nina Transfeld, founder of 'Nina Transfeld Couture, a young fashion design entrepreneur who has just launched her first collection in Nice Old Town. After 10 years in the world of New York fashion and theatre - where she honed her skills - it was time to change paths and inspire other women to follow their 'dreams and desires', too. Her shop ( No.5 Rue Rossetti) maybe small, but is big on atmosphere. It has the feel and look of an over-sized wardrobe (her words) and oozes with charm. The current stock - a range influenced by the vibrant times of the 1950s and 60s - uses high quality fabric, in stunning colours.
A drama-student by training, her unique design style blends Nina's background in theatre with her natural sense of 'whimsy'. When not designing clothes, she writes fairy-stories for her own enjoyment. Nina has a clear focus on her business. Her portfolio conveys the sheer enjoyment of owning dresses and separates which have been designed by her, and made by a small team of seamstresses. Despite the hard-worked which goes into all business launches, she is providing an outlet for the shop's accessories, also produced by young designers from the Cote d' Azur area. Nina's. Business plan already demonstrating the importance of partnership in enterprise.
Nina's personal journey has clearly influenced this gentle-yet-bold style of design and use of colour. Originally from Cologne, she moved to the Big Apple at 17 years old, has lived in Paris and has now chosen the South of France for the base of her fledgling empire. The colours of Nice, especially the buildings have provided her with enterprising inspiration. Nice, by reciprocation, should also consider itself fortunate to have such youth and energy in its midst.
The collection is has a youthful 'feel' yet the sheer quality and tailoring of each item will make them items to treasure and retain for any age group - a re-freshing departure from the high street, high-turnover wardrobe we have, sadly, tended towards.
The shop location chimes with the tone and style of Nina's range - ideally placed for maximum foot-fall as Nicoise and visitors alike stroll from the Place Rossetti up to the chateau. The shop has been open since March this year, and officially launched yesterday, 30th April 2016. If you want colour and uplift in both in your life and armouir, I strongly recommend a visit.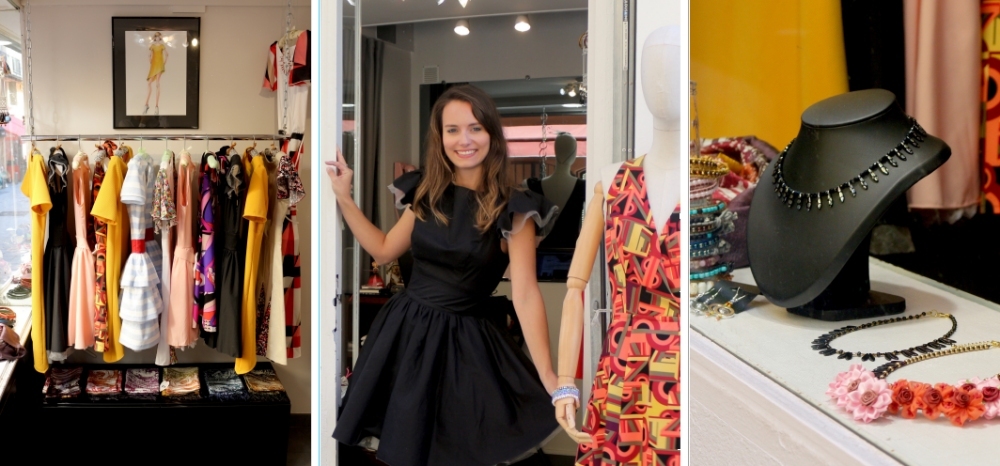 www.facebook.com/ninatransfeldcouture
Share this article on Facebook