General Articles
Did you know: Dogs Use Their Eyes to Manipulate Humans
New study reveals the 'key to cuteness' in dogs
A study by a dog rehoming website, involving twenty different breeds of dog, has found that when dogs move a particular facial muscle, humans react more positively and their chances of finding a new home increase.
The study, conducted by dogsblog.com on behalf of Direct Line Pet Insurance, also found:
● The facial expression of a dog in their listing photo can be more influential than breed, age, size, colour and sex of a dog when it comes to rehoming enquiries

● Facial muscle AU101 is the 'key to cuteness' when it comes to dogs

● Adult humans appear to react to dogs in the same way we react to babies

● Dogs with a 'sad expression' in their listing photo are more likely to be rehomed than dogs who look happy

● Psychologist Professor Sir Cary Cooper CBE believes humans can be influenced by a dog just by looking into his eyes
The study, in which a team of analysts measured the rehoming rates of different dogs based on the facial expression displayed in their listing photo found that dogs who move their AU101 muscle to create a baby-like expression are more likely to be rehomed quicker than dogs who appear happy or sad, playful or quirky.
The findings, which have been released by dog adoption site, dogsblog.com and Direct Line Pet Insurance, reinforce research released two years ago which revealed how humans form attachments to their dogs by looking into their eyes*. But what makes this latest study unique is that the case studies involved all began with a single photo without physical contact between the dog and person.
This latest study however took the thought process one step further setting out to find out just how much of a role photographs play in a dog's rehoming success and whether there was a particular type of photo that could dramatically increase a dog's chance of finding a new home quicker by attracting more interest from would-be owners.
Twenty dogs of different breeds, sizes, colours and genders completed the study across a variety of photograph styles including: happy and sad, playful and quirky with a separate category for dogs with a particular facial expression (specifically around the dog's eyes and eyebrow movement).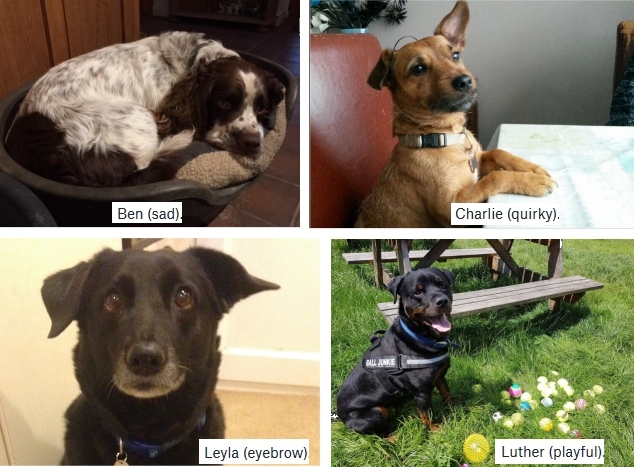 The findings revealed that of all categories, dogs who moved their eyebrows making their eyes appear bigger, like babies, attracted a higher interest rate** than all other categories.
Dogs with sad photos finished in second place, while dogs with happy photos or which showed the dog's in happier settings and circumstances, fell far behind attracting two thirds less attention.
Professor Sir Cary Cooper, an expert in psychology and wellbeing at the University of Manchester says the study reveals more about our relationship with dogs:
"There is a relatively close bond between dogs and humans, and it is certainly the case that humans look for nonverbal signs from dogs, such as eye contact and facial expressions, in determining whether we like them and they like us.
"Studies with pet owners have shown that gazing into our dog's eyes releases levels of oxytocin in the brain and this plays an important role how dog owners bond and form attachments with their dogs, much in the same way parents and children do.
"This latest study reinforces beliefs that whether humans are in direct contact, face to face or looking at dog photos online, how we interpret the relationship we have or could have, with a dog stems from their eyes and facial expression when emotion is a factor."
On the point of whether dogs are deliberately able to manipulate humans using facial expressions, Cooper says, "Whether this is conscious or not, who can say - certainly, dogs read humans and humans read dogs."
The myth that dogs with particular coat colours attract more or less interest than others – the so called 'black dog syndrome' was also put to rest during the study with little difference noted between light and dark coloured dogs.
The research did, however, have one outlier, a cream Jack Russell Terrier cross dog named Jack, pictured below, whose happy photo drew more enquiries in a short period of time than the other 19 dogs in the case study.
On this, dogsblog.com co-founder Ryan O'Meara said, "When we began our study I had a suspicion that happier photos, those which show the dog's personality would take the lead based on my emotional connection to my own dog's photos. However, the overall findings prove differently."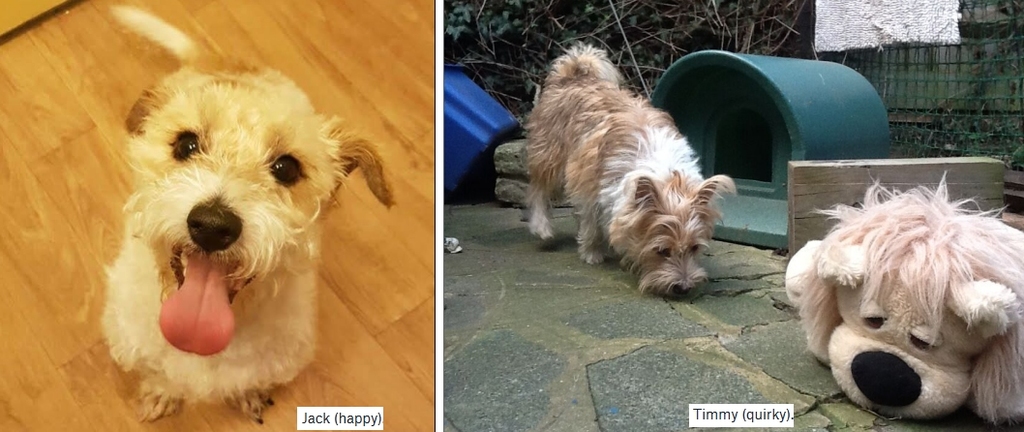 A dog named Timmy from the quirky category was so called because he was unusually pictured with a lookalike teddy. This drew one of the highest volumes of interest, but didn't translate into enquiries. His Essex based rescue say they suspect this is because he had an operation to his jaw and still has a slight malformation concluding his looks drew attention, but that's where the interest finished for all but one family who saw him on dogsblog.com and have since rehomed him.
Prit Powar, head of Pet Insurance at Direct Line, said: "It is interesting to see that over time we are learning more about how dogs communicate with their owners. These new findings are exciting for dog lovers and owners alike, as they mark a step forwards in better understanding what feelings and emotions our canine friends are trying to express. From a human perspective, it is also fascinating that like with small children, dogs can behave in certain ways which can influence the way we act around them, and even contribute to which dog we believe will suit us as owners when searching for a new pet."
Share this article on Facebook