General Articles
George Lucian dares to dream... Futuristic Yacht Design
By Celina Lafuente de Lavotha - Monaco Reporter
It's a Yacht…It's a Plane…It's Dare to Dream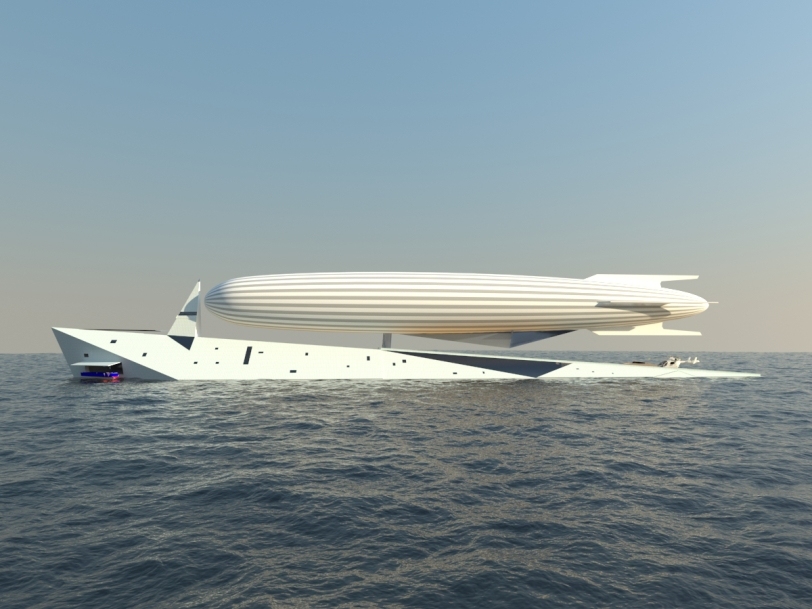 The 140m steel-hulled super yacht Dare to Dream hosts a Zeppelin-like 100m helium-filled airship carrier known as Flying Diamond, a truly never seen before tender. Monaco based visionary designer George Lucian explains: "The idea for the project came from my passion for yachting and my fascination with the airships that were flying in the early 20th Century, transporting passengers across the ocean in an very elegant and stylish manner with luxurious amenities on board."
The angular lines of the yacht part of futuristic combo concept are spectacular and eye-catching, and there is no lack of flush deck space to house other tenders, and even a helicopter. The airship, which will be tethered tied up when not in use, will have its own living quarters with a salon and one or two suites, as well as rooms for the crew. There is ample space on the yacht for a dozen guests and for the crew three times over that, as well as a facility for storing and producing helium to keep the airship in the air.
Lucian's innovative prototype is targeted to owners who are both equally zealous about both yachting and flying and who would like to be able to explore new places by enjoying the calmness and gracefulness of an airship, or just have dinner above the bay of Monaco, or even spend a couple of days flying above the ocean, before docking the airship on their super yacht.
"My concept is inspired from the yachting industry and military vessels design, but also from the fascination that I have for the beginning of the century zeppelins that were transporting passengers across the Atlantic in an luxury and romantic manner. Nowadays we have lost the sense of elegance and tranquility of travelling, that the cruise liners and airships were offering in the beginning on the 21st century. My concept wants to give these feelings back to its future owner," affirms George Lucian.
The man behind the vision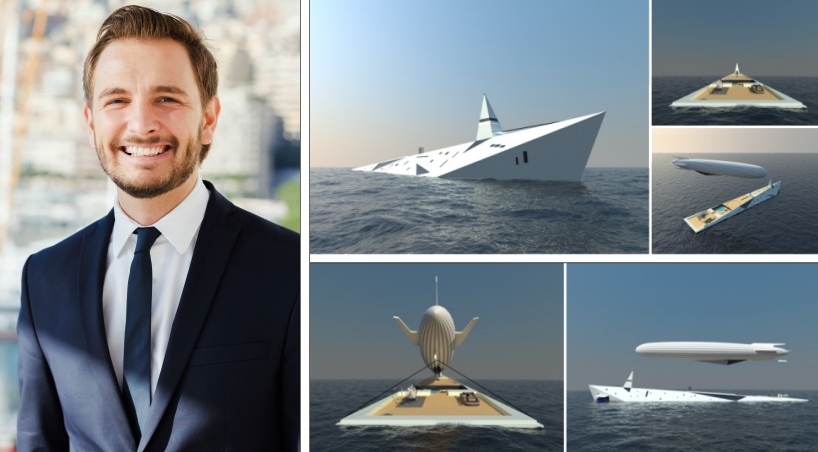 George Lucian is a young man born in Oradea, Rumania, mother a lawyer and father a businessman. He graduated from an American University in Austria with a degree in Management and Politics. He has been living in the South of France for the last four years and working in the Principality of Monaco. (Photo insert: George Lucian Anna Neittamo)
George started drawing since he can remember, and you may see his acrylic painting canvas in his Facebook page. Besides he has always worked with vessels since the beginning of his professional life; first as a river cruise ship manager in Vienna, and at present as an insurance broker for yachts and super yachts. His inspiration comes from the aviation and maritime industry, including the military side of those fields. He is very passionate for architecture and he spends many hours surfing the web looking at new designs and concepts, and creating his own designs.
George is always sketching different designs on any paper he can get his hands on, with the ideas sticking into his head, until he gets to his PC where he uses computer software to design yachts. His design objective is to make sure it stimulates the imagination of the onlookers.
When I asked him how he came about the idea of the original tender Flying Diamond, George said: "This super yacht is the first one that is designed to carry an airship, a zeppelin, which can be stored on board and used whenever the owner of the yacht wants to explore." He describes his latest design as modern, military inspired, at the same time rough and futuristic. His concept is environmentally friendly, fuel efficient, including solar panels on the surface of the airship. Lucian is smart and and has registered his designs to protect them from copycats.
George Lucian's fantastic yacht design has caused already an international media buzz, so he hopes it will translate into reality in the near future. Any takers?
Quote
"The visionary starts with a clean sheet of paper, and reimagines the world." Malcolm Gladwell
Share this article on Facebook