Books and Films
Sarah's Vignettes: A Cornish Affair by Liz Fenwick
Introducing Sarah Swan who has a passion for reading books, books and more books, and enjoys a healthy bit of rambling about life too!
Sarah has been reading books from a very early age and before she could read, she was always flicking through picture books. Sarah is convinced that she was born with a book in her hand!
Sarah reads a wide range of genres and is willing to try most genres once, but she does keep going back to both contemporary and historical fiction more than anything else. She also loves taking her own photographs and sharing them with friends and family.
Books are a big part of Sarah's life and as well as running her own blog so she can share her love for books, Sarah will be sharing her top reads on The Riviera Woman.
"If you would like to use any of my photographs, you can contact me and also if there is a book you would like me to read and review, let's talk."
www.sarahsvignettes.wordpress.com
~~~~~
Book Review: A Cornish Affair by Liz Fenwick
~ Book Blurb~
Sometimes running away is the answer…
Running out on your wedding day never goes down well. When the pressure of her forthcoming marriage becomes too much, Jude bolts from the church, leaving a good man at the altar, her mother in a fury, and the guests with enough gossip to last a year.
Guilty and ashamed, Jude flees to Pengarrock, a crumbling cliff-top mansion in Cornwall, where she takes a job cataloguing the Trevillion family's extensive library. The house is a welcome escape for Jude, full of history and secrets, but when its new owner arrives, it's clear that Pengarrock is not beloved by everyone.
As Jude falls under the spell of the house, she learns of a family riddle stemming from a terrible tragedy centuries before, hinting at a lost treasure. And when Pengarrock is put up for sale, it seems that time is running out for the house and for Jude.
~ My Thoughts ~

Author: Liz Fenwick
I first discovered Liz Fenwick's writing pre-blogging days with A Cornish Christmas Carol and Under A Cornish Sky. After reading and reviewing her latest novel The Returning Tide earlier this year (read my review here), I have slowly been reading her earlier works.
A Cornish Affair, published in 2013, opens on Jude Warren's wedding day. Jude knows that getting married to her childhood best friend John is the wrong thing to do. She is doing it for everyone else because she has spent her whole life doing what others expect her to do, particularly her mother. So, she runs out on her wedding day, leaving America for Cornwall to work for Petroc, an academic, cataloging his work in his enchanting house, Pengarrock. As we turn the pages, we see how Pengarrock, it's history, mystery, and, people seduce Jude and how all of this allows her to grow as a person, discovering her true self.
This story is every bit as gorgeous as its cover. It is beautifully written, well-structured and was a pleasure to read. I found it easy to identify with all of the characters and my heart went out to Jude a few times, especially when delving deeper into Petroc's family history, evoked thoughts of her home and all that comes with it.
Through telling Jude's story, Liz Fenwick explores several relatable topics: the relationships we have with our best friends, the sometimes difficult relationships we have with parents, the interesting relationships we develop with strangers; courage; and learning to love ourselves before we can allow others to love us.
One of the many things I love about Liz Fenwick's books is that they ooze with her love of Cornwall and the setting becomes a character in itself. This love is evident in A Cornish Affair through her beautiful descriptions of the Helford River, Pengarrock, and it's surroundings. I read this book on holiday and I got so lost in the setting, and the story, that I forgot I was on holiday near the Indian Ocean and thought I was in Cornwall! It's a wonderful holiday read.
I want to take up a few lines here to elaborate on the term 'holiday read'. I sometimes think that people have misconceptions about this term that the story is going to be trashy, without depth, of mediocre standard. Well, I don't know about you but when I go on holiday, I really spend a lot of time choosing my books. I want a story which is going to grab me, eases me in comfortably and flows really well so that I can get lost in it and escape for a few hours. I think this takes a lot of skill and hard work and Liz Fenwick has achieved this with A Cornish Affair.
I thoroughly enjoyed reading this book and I can't wait to read Liz Fenwick's other books, including her new one One Cornish Summer, which is due to be published in June 2018.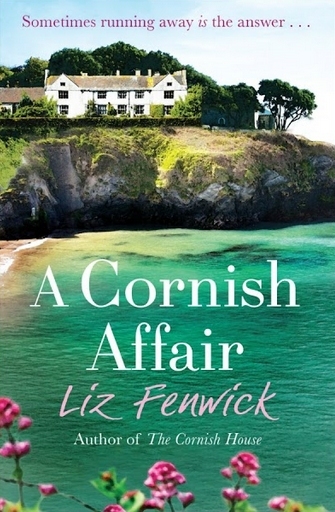 ~ Where to find A Cornish Affair ~
~ Where to find Liz Fenwick ~
Share this article on Facebook