Anna Fill Interviews
Anna Fill meets Chris von Ulmenstein: Apricale Adventures
Apricale is the hilltop village in Liguria that attracts visitors from all over the world. Whilst sitting in my local bar one summers day, I had the pleasure of meeting Chris von Ulmenstein. Chris was on an adventure of discovery but this was no ordinary journey and this was certainly no ordinary woman!
As we chatted, I became more and more intrigued. My first impressions of Chris as this bubbly confident woman, gave way to a display of vulnerability and warm charm. What really came across to me was a strong determination and desire to change and to be someone she always wanted to be. It was then that Chris explained she was seeking to re-invent herself in the most radical of ways!
"It really was one of those days when I can look back, smile and feel grateful for being in a certain place at a certain time."
As with most of these coincidental encounters one tends to learn so much about a person, and the more Chris spoke about her journey, the more fascinated I became.
Since we met in Italy... Chris continued to travel before returning to her home in Cape town, South Africa. What an amazing inspirational and empowering woman! She has embraced life and taken it to a whole new level.
Now we too can discover how Chris made the transformation that she speaks of in her book which is titled 'SwitchBitch - My journey of transformation from sour to sweet!' launched on the 2ist December 2017.
Q1. You recently travelled to Europe and ended up in the beautiful village of Apricale, how did you choose to come to Apricale?
Chris: "When I decided that I needed a place away from home to write The Book, I knew I had two requirements: a warm place with a pool, and preferably a small village without any shopping and ideally no eating distractions. I could think of no better place to stay than Apricale, described as the most beautiful village in Italy!
I had stayed at Apricus Locanda B&B in Apricale two years ago, and was introduced to it by Chef Jan-Hendrik van der Westhuizen, when I ate at his JAN Restaurant in Nice for the first time. I had a bad experience at an AirBnB in Nice at the time, and had a romantic notion of travelling to the tiniest village in France, in which no one spoke English, so that I could spruce up and be forced to speak the French I had tried to learn following a year at the Alliance Français in Cape Town. Chef Jan-Hendrik shook his head, and said that he could only think of Apricale, his favorite hide-away just over the border into Italy, and about thirty minutes drive north of Ventimiglia. The rest is history, in that he made a booking for a week for me, and stayed a night there himself with his mother visiting from Middelburg, being extremely kind in showing me the market in Nice, and doing a sightseeing tour on the way to Apricale.

When I made the call to Jeanette, the owner of Apricus Locanda, two years since my last stay, I said I was Chris from Cape Town, and mentioned the introduction via Chef Jan-Hendrik. She remembered me immediately, as the Dry Cappuccino lady! I left the brief in her hands - I was looking for as long a period in which to stay, preferably for four weeks, so that I could sit and finish The Book. She efficiently emailed three accommodation and date options, and I selected the B&B option for a period somewhat shorter. A self-catering option without a pool somewhere higher up in the village did not appeal to me and I thought it woud be great to interact with other guests, and with Jeanette, at least once a day at Breakfast. This is the Sweet Service Award I wrote in honour of Jeanette two years ago, and describes what is so special about it:
'The Sweet Service Award goes to Apricus Locanda B&B in a tiny village called Apricale in Liguria in Italy, just over the border of France, and its vivacious Dutch owner Jeanette. I was introduced and driven to the establishment by Jan restaurant Owner/Chef Jan-Hendrik van der Westhuizen with his mother, one of his favorite places to get away from his high-pressured lifestyle. On our way there, Chef Jan took us to see the Cours Saleya market in Nice, and stopped at various spots for us to see Nice, St Jean Cap Ferrat, and Monaco. B&B owner Jeanette has a great decor touch, her breakfasts over the five days were excellent, she was informative, her rates are reasonable, she is located in a very quiet area overlooking green hills, and even asked her husband to drive me to the nearest train station in Ventimiglia without accepting payment for it!'
It is in the small touches that Jeanette excels at as a B&B owner: the sprig of lavender on the pillows on arrival; a piece of string tied around the quality large linen Breakfast napkin, with a "Buongiorno" message tag on it; keeping a little left-over breakfast treat in my fridge for me on the day that I arrived, especially given that everything is closed on Sundays; her cheerful friendliness every day; a bowl with two figs when I asked where I can buy them locally; and the quirky decor of the rooms.
I have always been an evening writer, but as there is no table inside the room, I had switched to writing on the table on my terrace in the morning, before the sun shines on it, and had mostly managed to finish writing the designated chapter of the day by midday. Then I spent a good two hours at the pool, swimming, tanning, and reading. In the afternoons I read more, took a nap, and then wrote more (I have found that I have the capacity to write Blogposts as well, having thought that I would have to put the Blog aside to make space for The Book). I even asked Jeanette for a candle, in order to write at night on my terrace.

Chris - the Dry Cappuccino lady - by the pool
Breakfast was more than plentiful, with a fresh fruit salad, prunes, different flavours of yoghurts, five different Italian cheeses, cakes and pastries, breads, orange juice, boiled eggs (all other egg types were available too), tomato and cucumber, cereals and nuts, preserves, honey, and my special cups of dry cappuccino.
While one has breakfast, the room is cleaned and the bed is made, returning to a neat kempt space. Then I would begin to write!
The idea of The Book, and writing it in Apricale, has strong connections to Chef Jan-Hendrik van der Westhuizen of JAN restaurant in Nice, in being the start to what became an incredible journey for me in the past 16 months!
Q2. What are the main cultural differences between life in Italy and that of your home in South Africa?
Chris: I am German-born so I am of German, South African mix. Food is important, to me at least, especially in my life as a restaurant reviewer, and we share that with the Italians. Fresh and seasonal food is equally important in both countries. Religion is more important in Italy, I think, with the Catholic influence, while our main Protestant is less so. We (not I due to weight loss considerations) generally eat Italian-style food, pizza and pasta being favoured. Burgers are a favorite too. We drink beer and wine in the main, with gin drinking taking off strongly. We are not all healthy, many are obese due to eating meat almost daily. Barbecues are also very popular, on weekends and the men do the 'Braai', rarely getting involved in any other food preparation. We do not walk as much as you do in Italy, driving everywhere by car. Dancing is a trend taking off. Like Italians, we are a friendly nation.
Q3. You are writing a book... What inspired you? What is the theme of your book?
Chris: My book is called 'SwitchBitch: my journey of transformation from Sour to Sweet'. I have presented Sweet and Sour Service Awards for the past 25 years, on Radio and now on my WhaleTales Blog, and am most strongly associated with this wording. In the book title it denotes a transformation over the past year, losing 45 kgs in weight, and my body shape changing as a result, largely due to my newly discovered love for dancing, which I now do twice a week, for 3-4 hours each time. I have also further transformed by having botox, a boob lift, dental implants, a new hairstyle, as well as the start of a spiritual transformation too.
On the dance floor and also socially, I meet younger people as well as those of my age, and they express shock at my physical change, only knowing me as overweight. The younger ones say that they want to be like me when they grow up. One particular day two people told me that I should write a book about this journey. I took this as a sign from the Universe, and began with the Contents page. In August I travelled to Apricale, and wrote the book in 20 days, one chapter every day.
"I hope to inspire women of my age (I am 65, but feel 18) to take control of their life too, and to follow my transformation journey."
Q4. How did you find the publishing experience? Challenges? Difficulties? Surprises?
Chris: I am Self-publishing initially. Editing was difficult with the volume of 264 pages. For the cover of the book I used the photograph of a painting with an angel, which I own, and Instagramed it. The artist saw it, and was quite aggressive about the fact that I had not requested permission from her, she being the copyright holder. I have requested this now, and she has granted it. This has all been part of the learning process.
To order a copy of the book, readers can email me at: chrisvonulmenstein@gmail.com.
I will let them have the Euro price of the book. I am donating half the proceeds to a restaurant-related charity called StreetSmart. (StreetSmart is a fabulous charity that remembers the homeless in our city at a time of year when we should be thinking about others. More importantly, our guests agree.)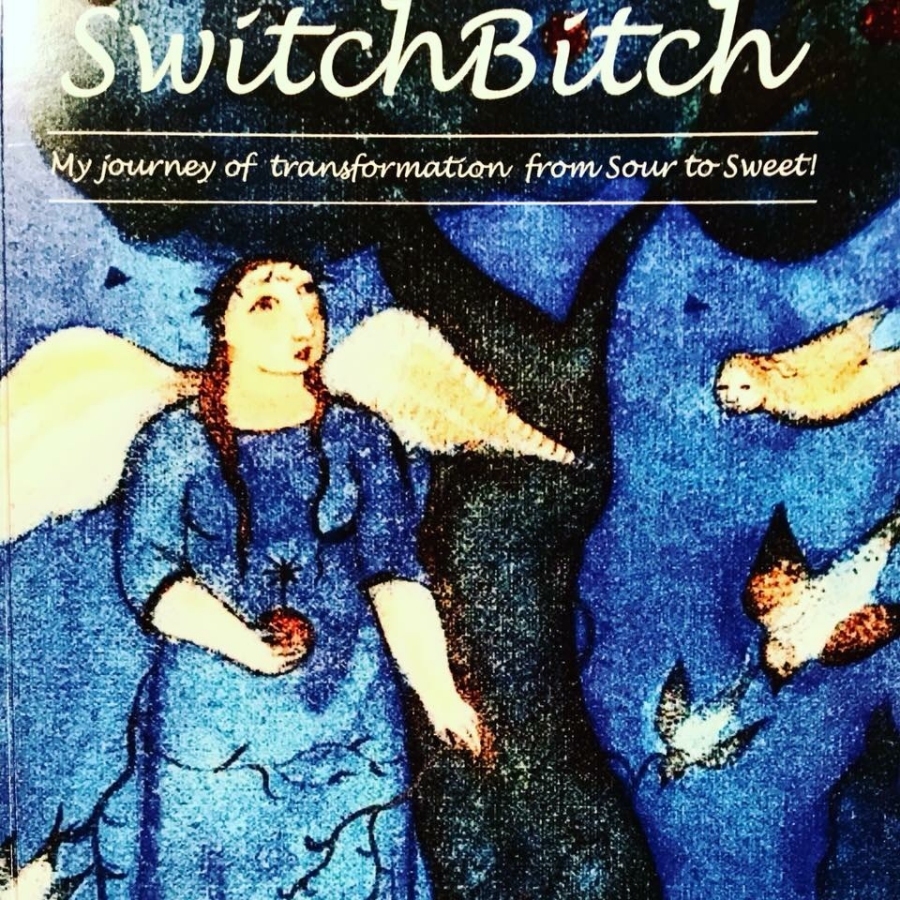 Q5. You are also a food critic and restaurant reviewer. Is this through passion and what kind of establishments do you review?
Chris: I discovered that my Blog readers liked to be informed about restaurant openings and closings, and chef movements between restaurants. I began by tracking these on my Blog. This led me to writing restaurant reviews, and because I am honest, they quickly became well-read, my readers avoiding those restaurant that I had reviewed negatively, and supporting those with good reviews. I focus on top-end Restaurants. I generally do not review Indian or Asian Restaurants, as I do not eat the ingredients in these foods, and have no cultural connection to the foods from that part of the world. I attend a lot of events, such as restaurant openings, so those are written in a reported form, and are not reviews.

Q6. You have recently re-invented yourself. What and why did you feel encouraged to change?
Chris: This is what is so bizarre! I never had a goal to lose weight or to change my body shape. I fell in love with a man in March last year, and the weight just started melting away, no longer needing to fill my empty heart with food, as I had done for twenty years before that. The dancing over the past 14 months has made a dramatic impact to how I look and feel. I had Diabetes Type 2, but my blood sugar level is now at about 5, due to my healthier diet. I have no bread or meat in my fridge. I eat tomatoes, celery sticks, mozzarella cheese slices, cucumber, steamed beetroot, radishes, and fruit. I eat at a restaurant which offers oysters, and order these, as I can think of no healthier fat-free food. I drink a lot of cappuccino! I drink little alcohol, not needing any to enjoy my life and dancing. I have found alcohol to be a strong appetite stimulant, hardly what I need. My scales are my best friend, and I weigh myself numerous times per day. I know what the scale will say when I have sinned! And then I work on rectifying my weight again. Having lost 45 kgs, there is nothing to stop me from the next step of losing 50 kgs.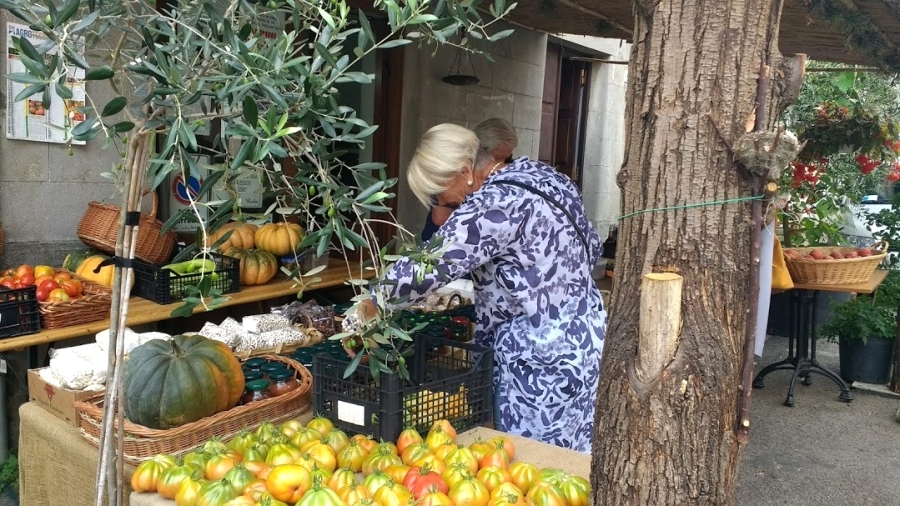 Chris embracing the local culture in Bajardo, Italy
Q7. Advice for anyone who perceives 'age' as a reason not to seek new adventures in life?
Chris: I learnt Self-Love this year, not having been able to grasp this concept, finding it arrogant and bragging initially. You cannot love another if you do not love yourself first. You are only as old as you feel, an old adage. I act 18 now, and take an interest in my appearance, wearing makeup, and dressing up when I leave my house. I have also softened in my interaction with others. You are never too old to change your life and to transform yourself.
Q8. If you experience moments of self doubt, how do you overcome this? Do you believe in self talk?
Chris: I have learnt to believe in myself over my life, and therefore barely experience self doubt. I have a very good friend Llewellyn, only 27 years old but wise beyond his years, and I can bounce things off him. My son lives in the UK, and it is harder to do this with him, as he works long hours, and a two hour time zone separates us.
Q9. Any plans to return to Italy?
Chris: Absolutely! I have booked another three weeks at Apricus Locanda in Apricale for Book 2, after walking the Camino.
Q10. Have you new goals and plans for 2018? What are your New Year resolutions?
Chris: Yes, I do: walking the Camino; going to Havana and Buenos Aires to learn to dance the Salsa and Tango properly, and write a book about that too; do dental implants on the other side of my mouth; to sell my house and buy a lock-up-and-go apartment; and to dance dance dance!
---
Share this article on Facebook