Food and Recipes
Coconut Shrimp with a Mango & Pineapple Salsa
By Melanie Gulliver
This month's recipe is one I enjoyed in Florida this summer. A really easy option for hot summer evenings- the whole recipe takes only about 30 minutes to make, and you can use the salsa recipe again and again with cold meats, salads, tacos, etc.
Coconut Shrimp with a Mango and Pineapple Salsa- Gluten Free and Dairy Free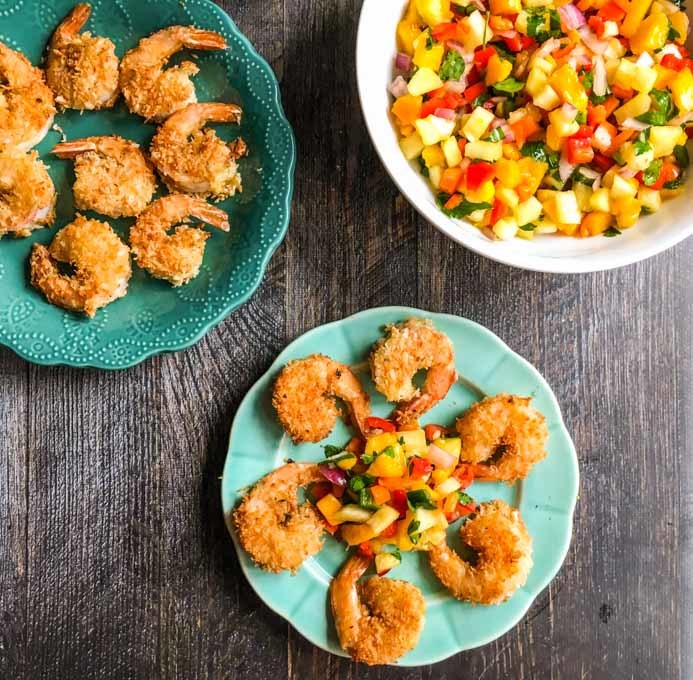 Ingredients:
Shrimp
1 lb shrimp raw (can use frozen)
1/4 cup coconut oil
1 cup unsweetened coconut finely shredded
2 eggs
1/4 teaspoon salt
1/4 teaspoon pepper
1/2 teaspoon onion powder
1/2 teaspoon garlic powder
Salsa
1 cup pineapple chopped
1 cup mango chopped
2 tablespoons lime juice
1/3 cup red onion chopped
1 jalapeno chilli seeded and chopped
3/4 cup bell peppers chopped
1/4 teaspoon salt
1/4 cup coriander chopped or parsley chopped
Instructions
1. Chop the pineapple, mango, onion, jalapeño, peppers and corianderinto small pieces.
2. Add to a large bowl and toss with salt and lime juice. Refrigerate until ready to use.
3. Thaw shrimp if necessary and blot dry with a paper towel.
4. In a shallow bowl, beat eggs.
5. In another shallow bowl add the salt, pepper, onion powder, garlic powder and shredded coconut. Mix well.
6. Hold each shrimp by the tail and dip into the eggs and then the coconut mixture and then place on a plate. Continue with all the shrimp. Make sure the shrimp is well coated with the coconut.
7. In the meantime add your coconut oil to a small to medium frying pan and heat to medium high.
8. Add the shrimp one by one, working in batches. When they start browning on the bottom, flip and brown the other side. This should only take a few minutes per side. Adjust the heat if they are getting too brown or not brown enough.
9. Place some paper towels on another plate and when the shrimp are done frying, place them on the towels to drain the excess oil.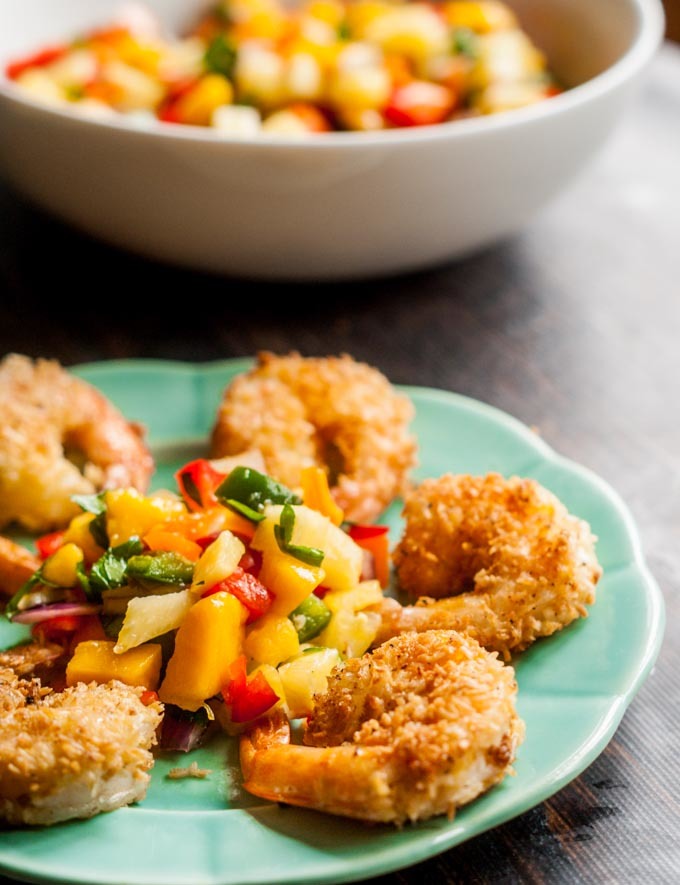 Serve immediately with the salsa.
----
Melanie Gulliver is the Clever Chef and a Director of The Clever Kitchen, a local company delivering organic nutritious wholefood meals to Monaco and along the Cote d'Azur, and holding regular nutrition workshops in Monaco and Nice. Melanie takes orders for custom cakes and events as well.
Contact details:
Melanie@theclever.kitchen, +33 (0)6 15 21 63 53
FB: facebook.com/thecleverkitchen1
Instagram: @tck.delivery and @thecleverkitchen
Share this article on Facebook