Food and Recipes
Banana Pecan Bread - Naughty and Nice
By Melanie Gulliver
Everyone has or should have a favourite banana bread recipe- perfect for breakfast, a snack or afternoon tea there is nothing so yummy as a slice of banana bread! This cake recipe is the one that everyone asks me for after they have tried it- super popular with vegans and non-vegans alike. It's also very simple to make and you really can't go wrong with it.
This recipe is by one of my favourite vegetarian chefs - Anna Jones - I highly recommend any of her three cookbooks for vegetarian and vegan recipes which have stand out flavour combinations and ideas and are in the main, super simple to make.
I have offered an oil-free version to this cake too, because with all the moistness from the banana you can easily remove it. You should have a little fat in the recipe - provided by the almond butter- for fat-soluble vitamins to be absorbed. Adding a courgette and dates into the mix boosts the overall nutritional value (and the kids will never notice!)
I tend to swap coconut sugar and maple syrup into nearly all my cake baking these days to boost the nutritional content, however they are still sugars, so they should be eaten in moderation. With this banana bread that is a very hard ask!
Banana Pecan Bread - Gluten Free and Dairy Free, with Oil-free option
Makes one 900g loaf or 12-14 muffins.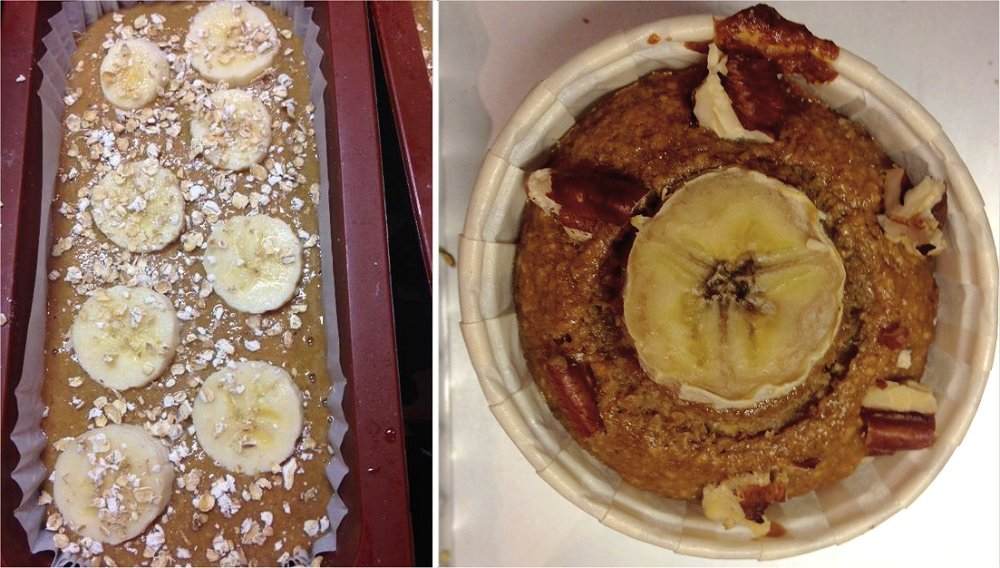 Ingredients
75ml melted coconut oil, plus extra for greasing (Omit if using oil free option- see below)

100g pecans (walnuts work too)- omit if you want a nut-free loaf

200g rolled oats

four large ripe bananas, plus extra banana for decorating the top (optional)

100g coconut sugar, plus one tablespoon (optional)

100ml maple syrup

100ml unsweetened almond milk or other non-dairy milk

two teaspoons baking powder
For a very decadent loaf you can add 75g dark chocolate bar (70% cacao) but the loaf/ muffins are gorgeous without it.
Oil Free Option; Swap the coconut oil for 1 roughly chopped courgette, 5 Medjool dates with pits removed, 1 tbsp almond butter
Method
1. Preheat the oven to 170°C/150°C fan/gas mark 3 and get all your ingredients together.
2. Grease a 900g non-stick loaf tin with coconut oil or prepare your muffin cases.
3. While the oven comes up to temperature, roast the pecans in it for 10 minutes, allow to cool, keep a few for decoration, then roughly chop the remainder and set aside.
4. Meanwhile, blitz the oats in a food processor until you have a scruffy flour. Put the oat flour into a bowl with the baking powder and salt.
5. Put the bananas into the food processor with the 100g of coconut sugar, maple syrup, almond milk and melted coconut oil (or replacement ingredients if using oil-free option) and blitz until well combined.
6. Add dry mix to the wet mix. Blitz until combined, then stir in the pecans.
7. Pour the batter into the loaf tin or muffin moulds filling 2/3rds of the way up.
8. If using the chocolate, then half fill the loaf tin/ muffin cases. Break the chocolate up into thin strips and lay it along the middle of the batter in the loaf tin leaving space at the end, or roughly chop into the muffins. Pour in the rest of the batter and top with the extra spoonful of coconut sugar if using. Decorate the top with slices of banana and some of the pecans.
9. Bake the loaf for 1 hour, or until a skewer comes out clean. The muffins will need less time- around 45 minutes should be fine.
10. Leave to cool on a wire rack for at least 30 minutes.
Keeps well for a few days in an air-tight container or can be frozen.
----
Melanie Gulliver is the Clever Chef and a Director of The Clever Kitchen, a local company delivering organic nutritious wholefood meals to Monaco and along the Cote d'Azur, and holding regular nutrition workshops in Monaco and Nice. Melanie takes orders for custom cakes and events as well.
Contact details:
Melanie@theclever.kitchen, +33 (0)6 15 21 63 53
FB: facebook.com/thecleverkitchen1
Instagram: @tck.delivery and @thecleverkitchen
Share this article on Facebook