Food and Recipes
Sweet Potato and Orange Soup
By Melanie Gulliver
Serves 6,
Preparation and Cooking Time; 50 minutes
I have a collection of over 100 recipe books- I'm always adding to them and culling them as my choice of cooking style changes over time. However, some books remain old favourites, and recently, with the change in the weather, it was time to get out one of my best "old favourites" again and settle down to discover some great wintery soup recipes.
The book I chose was The New Covent Garden Soup Co 'Book of Soups'. This soup company was one of the first in the UK to bring new exciting soups full of fresh vegetables and flavours to the supermarket shelves to compete with Campbell's or Heinz' tinned soups.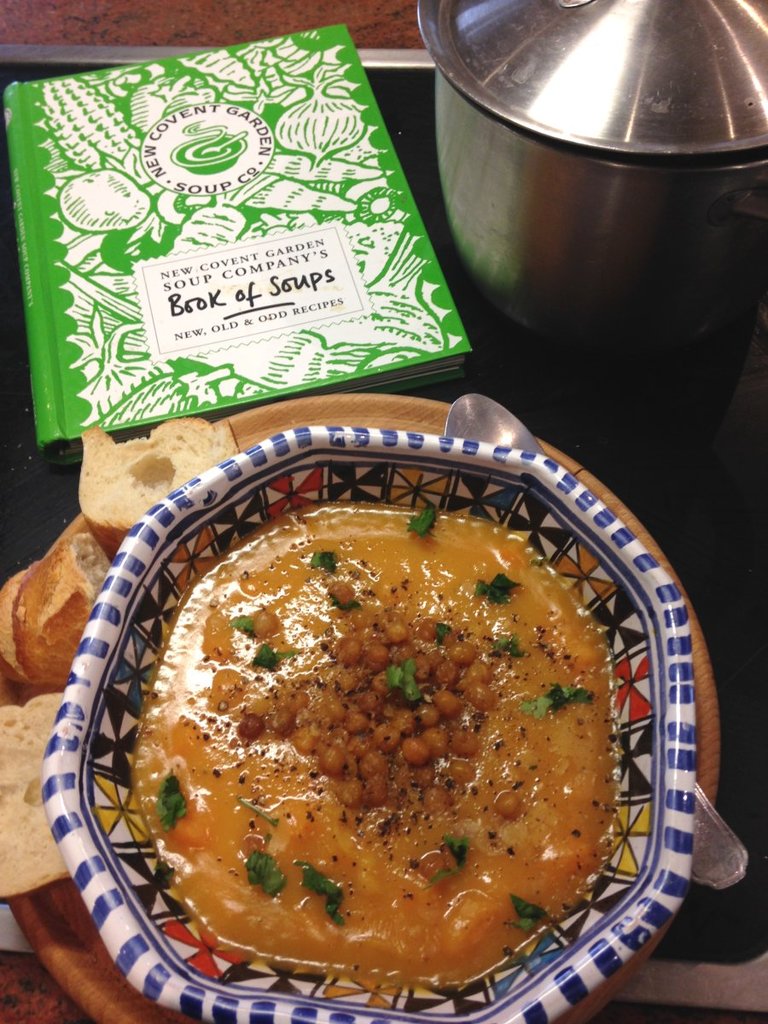 Flicking through the recipes my eye was caught by the simple seasonal title of this soup, and by the idea of marrying sweet potato with orange which seemed an unusual combination to me.
It is a very easy recipe only requiring 4 main ingredients- you can substitute the sweet potato for any wintry vegetable such as pumpkin, butternut squash, carrot, or even beetroot.
The result is a delicious tasting soup with a lovely bright orange hue. I think the orange juice adds to the colour more than the flavour. I topped my soup with some chick pea 'croutons'- the recipe is below- but you can also add regular croutons or fry up some bacon and snip it over the soup before serving.
Ingredients;
2 tbsp olive oil
1 large onion
500g sweet potato (or other suitable winter vegetable)
200g potato
½ fresh orange
700ml vegetable stock
½ tsp ground coriander
150ml milk or non-dairy milk- I used rice milk
Salt and freshly ground black pepper
Directions;
Peel and finely chop the onion.
Peel the sweet potato and roughly chop 375g, and dice the remaining 125g.
Peel and roughly chop the potatoes
Squeeze the orange half to get 2 tbsp of juice
Heat the oil in a large pan and gently cook the onion until it is soft but not coloured.
Add the 375g roughly chopped sweet potatoes, potatoes, orange juice, vegetable stock and ground coriander to the pan, cover and bring to the boil, then turn down to a simmer for about 30 minutes until the vegetables are tender. Allow to cool for 15 minutes. Taste for seasoning and add more salt or pepper if needed.
Puree the vegetables with the milk to get a smooth result, and then pour the soup back into a clean pan and add the additional diced sweet potato. Bring to the boil, and then simmer gently for around 15 minutes until the sweet potatoes are tender.

To Garnish;
A small bunch of fresh coriander, chopped finely
Chick Pea Croutons
For a healthy take on croutons you can roast chick peas in your oven and they will keep for ages.
Ingredients;
1 400g can chick peas drained and rinsed.
2 tbsp olive oil or coconut oil
A generous helping of salt and pepper.
Directions;
Heat your oven to 200°C.
If your coconut oil is hard then place the jar with the lid on in hot water for a couple of minutes, or in the microwave without the lid for 1 minute. The oil should now be runny.
Mix together all the ingredients in a large bowl including the oil.
Spread the mix on an oven-proof baking tray with a layer of baking paper on it and put in the oven for 30 minutes. During cooking time, take the pan out once or twice and roll the chick peas around.
When the chick peas are hard and crispy they are done. Remove and allow to cool.
Store in a jar in the fridge for up to 2 weeks- if they need refreshing to be crispy again- place in the oven at 170°C for around 5 minutes.
----
Melanie Gulliver is the Clever Chef and a Director of The Clever Kitchen, a local company delivering organic nutritious wholefood meals to Monaco and along the Cote d'Azur, and holding regular nutrition workshops in Monaco and Nice. Melanie takes orders for custom cakes and events as well.
Contact details:
Melanie@theclever.kitchen, +33 (0)6 15 21 63 53
FB: facebook.com/thecleverkitchen1
Instagram: @tck.delivery and @thecleverkitchen
Share this article on Facebook