Art and Artists
Artist Of The Month - Fiona Scott-Wilson
Fiona Scott-Wilson is no ordinary artist. She qualified as a graphic designer and illustrator. As a designer Fiona has an impressive portfolio but her real passion was to work as a full time artist from her home in the hills above the druid village of Bajardo, near Sanremo in Italy. Her project started with the aim to create a card culture in Italy.
Fiona's work showcases 'Villages in Liguria' from Dolceacqua to Baiardo. As a versatile artist she works in a range of mediums from oils, gouache, watercolour pencils, inks and cut paper. Her style of work ranges from realistic interpretations, naïve impressionism, fine ink work from nature to very stylised graphic cut paper work.
After producing an original piece of work, they are then reproduced as cards (in two sizes A5 and A6) and limited edition prints. Fiona also undertakes commissions in any style or medium depending on the client brief.
You will find Fiona's cards in the English Book Shop in Antibes.
I wanted to create a new art form by developing a technique of using cut paper as paint. I By using a scalpel to create minute details as though it were a fine brush. Gradually a "painterly" image emerged and the effect was striking.
Here are some examples of Fiona's beautiful work both cut paper, ink and oil.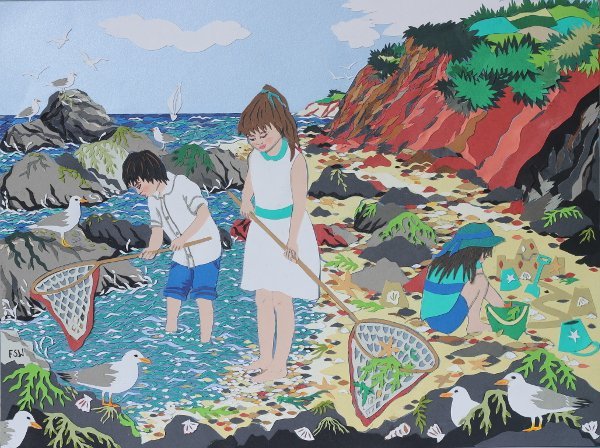 Childhood Memories

Poppies and Butterflies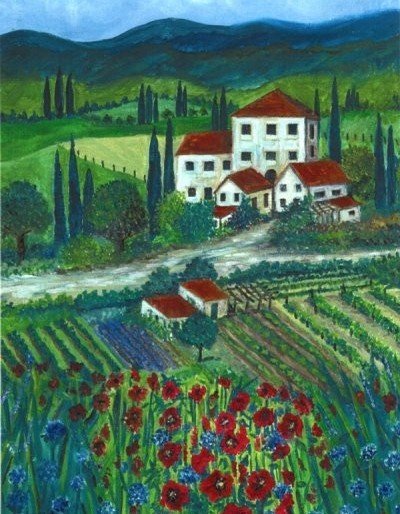 House Field Red Flowers
Also see Fiona's card selection.
Share this article on Facebook