Anna Fill Interviews
A cheeky peek into the life of Mark Dezzani: would-be Prince!
Mark Dezzani has always been a bit of a legend in the eyes of so many who live on the French and Italian Riviera. Best known for his voice on Riviera Radio and Radio Caroline, Mark also produces business videos and short documentaries. He has a thriving business as a mobile DJ performing at many of the events held along the French Riviera and beyond.
Describing himself as 'pacifistic anarchistic', the contradiction translates to having passion. This is a strong passion... Passion for his work, for life and passion for where Mark calls home.
It was a classic tale of "one man's misery" which was Mark's fortune. He was invited at very short notice to replace a presenter on Radio Nova International, a station that was being broadcast from the tiny village of Seborga... and the rest is history, as you may say. This was in 1982 and some 35 years later, Mark is still living in the village.
Mark's grandparents originated from Northern Italy and so it seemed like destiny that he should himself be living in Italy. Mark left his life in Crawley, in the UK and recalls quite vividly the sensations of when he first arrived in Seborga as one of pure electric and excitement.
He started his broadcasting career for Radio Nova International from the village and it is from this same location that he produces his weekly show for Radio Caroline. He shares a story of how when on the airways, together with a fellow presenter, they would emphasis how they were transmitting from the most incredible Principality, which all contributed to putting Seborga on the map, not just locally but globally.
Today Mark still has great ambitions, to expand into web radio and digital media. He is a hungry documentary filmmaker and is seeding a most fascinating project... I could but would not break a confidence, especially as Mark may become a Prince one day!
Mark doesn't seemed fazed by anything. Living in an area that could be described as fantasy la-la land, Mark has his feet firmly on the ground. So why does a DJ/Presenter have aspirations to become Prince of the Principality of Seborga?
"I feel that Seborga has 'lost it's way'. It's become a Private Principality. We may be geographically close to Monaco but we look down on them, both physically and metaphorically. We have so many natural resources and I would like to see the village become self sufficient and to work towards sustainability which is key to the future." says Mark.
Seborga has a deep history and Mark would like to see a return to its roots as a driving force for the village. "Our monastic ties will have a positive impact on Seborga and attract tourism all year round." adds Mark.
The village of Seborga attracts many tourists but Mark Dezzani feels that with the absence of a 'Palace', tourists leave feeling somewhat deflated and confused. The Palace would also be the official stately residence where all the meetings concerning the Principality are held and where visitors can come and identify with the meaning of Seborga as a Principality, with a throne room, historical information and to create that sense of pomp.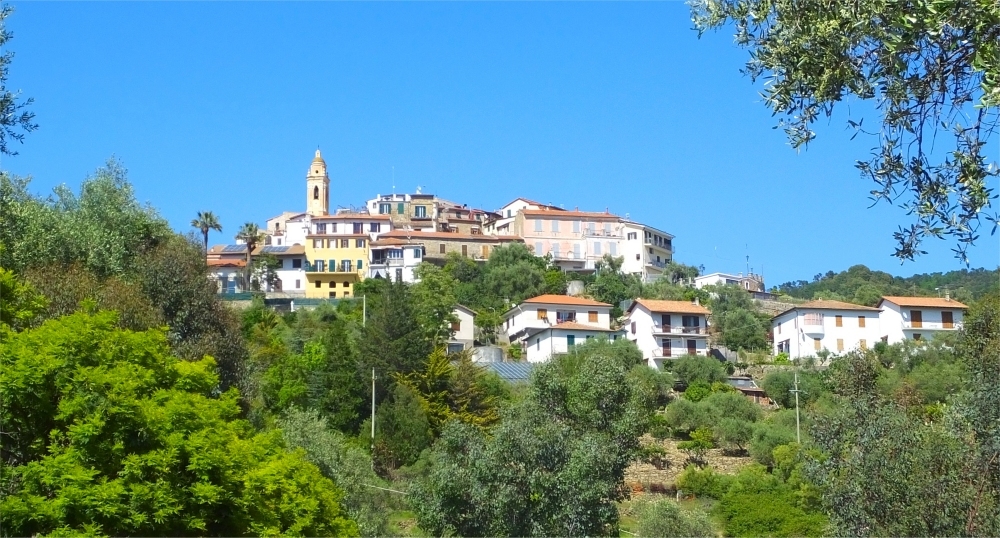 When the subject arises of whether Seborga is truly an independent country, Mark is adamant that independence is a 'state of mind'. His philosophy is based on the establishment of peace and lost community values.
"We even have our own currency the luigino... and to establish this currency officially, would have great financial benefits for the Principality. There are natural resources to realise, such as the expansion of wind and solar energy initiatives." says Mark.
Mark may have lost out to the present Prince, Marcello Menegatto, but with a personal history of 35 years in the village, being a fluent Italian speaker, a contributor to the village and most evidently someone who is so passionate about the well-being of Seborga, Mark may still have his chance to don the crown in the future. Only seven years to go!
If Mark had been crowned Prince this year, what would that have meant to how he lives his own life on a daily basis? "You have to be hands on and then have the right team, the right people around you and then delegate." says Mark. "But we must have regular meetings, to discuss our missions and projects and to see how best to achieve our plans through successfully."
Mark recalls with such fondness the first Prince, Giorgio Carbone, as a man who was loyal, focused and determined to make Seborga a true and flourishing Principality. "He was such a fun man but took his role as Prince seriously" Mark points out. "If I were Prince, I would like to re-establish some of that humour and 'make Seborga fun again". he smiles.
Seborga recently hit the headlines with news that a religious cult were moving into the area and purchasing properties. This has touched a nerve and he feels that this will have an adverse affect on village life and destroy the charm and philosophy of Seborga. Mark is considering increasing his involvement with the village and its politics, to steer and shape Seborga into a Principality where new people will want to become residents because of its forward thinking approach that has a solid foundation.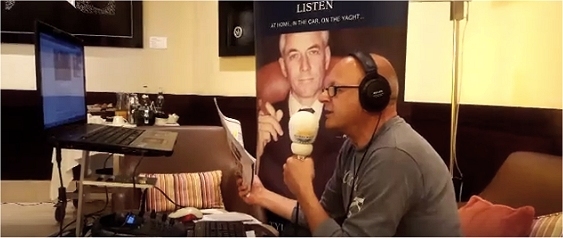 Taken from Video by Pat Denton
Both personally and professionally Mark feels cento per cento but the crowning glory would be to one day become Prince of Seborga but in the meantime he will continue to don the DJ crown and be forever Prince of the airways.
***
We asked Mark to answer our 5 famous questions and this is how he replied...
1) What makes you smile?
Good friends, good satire and finding a parking place easily.
2) What or who inspires you?
The stunning view from my room / Heroic individuals who have suffered for what they believe is right whether it be Nelson Mandela or Chelsea Manning.
3) Do you believe in gut instincts?
Yes. Our instincts are most often overwhelmed by the pace of modern life and how we are taught to behave/react.
4) Your three essential things if you were both stuck on a desert island would be what?
A solar powered MP3 player full up with great music. The collected works of Graham Greene. A subscription to Private Eye.
5) If you are planning a day/night out, what do you enjoy doing the most together?
Day: Discovering new places. Night: Dining out with friends. Going to the theatre, the cinema or a concert.
Share this article on Facebook