Woman of the Month
Woman Of The Month - Juanita Viale
We believe that every working mum deserves a mention on The Riviera Woman. It is not easy juggling balls and keeping order with all the things that need to be done to maintain a good balance in life. Expat mums can face extra challenges when dealing with language and culture too. We met Juanita Viale on one of her less frantic days and we are sure that her story will inspire and motivate, and raise awareness to situations that most of us will never experience...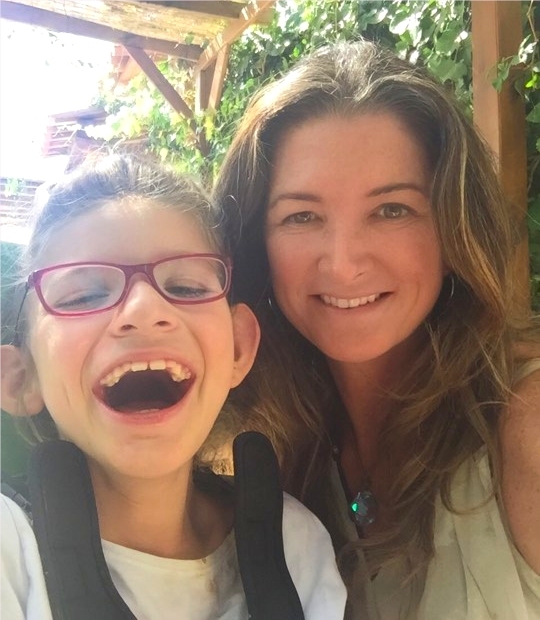 Juanita Viale was born in Los Angeles, California. She has a degree in Food Sciences and Nutrition from San Diego and a love for great healthy food. Juanita moved to Costa Rica and enjoyed her new lifestyle where she created and ran a local newspaper 'The Tamarindo News' for both English and Spanish speakers.
Juanita gave birth to her first daughter Isabella and four years later along came her second daughter Taylor. Juanita explains how she named Isabella after her Grandmother and Taylor was given her name after the actress Elizabeth Taylor whom Juanita's mum adored. Juanita speaks openly and candidly about Taylor and how she was born with severe disabilities requiring around the clock care. Taylor's condition meant that she could only be fed via feeding tubes in the beginning and would need ongoing treatment and constant physical therapy.
Juanita was faced with having to make major changes to her life in order to give Taylor the best possible opportunities. "Returning to the US was not something we could consider as the medical bills are so incredibly high and we wanted to give Taylor the best possible opportunities." says Juanita. In 2008 when Taylor was just one year old, an opportunity to relocate to France determined their move, where they settled in the winemaking region in the hills of Nice. "We moved from the Jungle to Vineyards, the contrast could not have been greater." Juanita recalls. "I left behind natural pristine beaches and coming to Nice felt like a concrete city but it was totally necessary.".
When the family arrived in France Taylor received 3 years of intensive care at a local hospital. It seemed that the gods were truly on their side and when a new institution opened in Mougins they were offered one of the very few places available at the centre. "Taylor has day care therapy in the best possible place on a demi-pension basis (half-board). She is picked up and brought home everyday to be home with the family.." explains Juanita.
What are the challenges you face?
Every day is a challenge. I have shared her struggle everyday from the moment my daughter Taylor was born. As mothers we might make it appear manageable, but make no mistake.... we carry the weight of the universe on our shoulders.
What about the facilities available for children with disabilities on beaches or when travelling?
There is an excellent infrastructure in place on the beach. We go to the Handiplage where there are trained staff and facilities adapted for the disabled. Nice airport is fantastic but very few airlines have seating suitable for handicapped children and it can be quite a struggle transferring Taylor in and and out of her special chair. We have very little assistance at train stations making this form of travel very difficult. It would be useful to have a quiet zone in airports for when we are waiting to board. Loud noises can be quite upsetting and confusing for Taylor, for example. And I am sure it would be appreciated by others needing this facility. At the centre where Taylor goes to we often arrange picnics together and this gives us the opportunity to spend time with other parents and share experiences.
How has it been for you?
In the beginning when Taylor was born and for 9 years after I hardly slept. She has to be turned at night since she can't on her own. Taylor is now 10 and she is always smiling but it can be difficult to lift or carry her especially at bath times and if she is upset. I know she will need lifelong therapy and will always need to be in an institution but we try and give her the best quality of life we can. My other daughter Isabella is 14 and needs me too and seeing the two girls together is a joy, you can see the sisterly bond. Isabella has always been very protective of Taylor.
Are you able to work and how do you recharge?
I need to have a healthy mind and body so meditation and bikram yoga is something I do whenever I can. Getting back to work was not easy. I can only do part-time. In 2012 I started to work for Nice Properties as their International Marketing Manager. On my first day, I was put in touch with Riviera Radio and ended up doing their property reports for about 3 years. Working here is so different to when I was in the States or in Costa Rica. Work mentality differs so much. In the States the project dictates the work and here it is all about the hours and clock watching. But now as a Marketing Consultant, I work they way I enjoy to work. When I was in Costa Rica our dress code was very casual and now I am a little more formal and enjoy dressing for the occasional glamorous event.
This is something I tell myself: "If you can't assume yourself, you can't assume anything in life".
We asked Juanita our famous 5 questions and this is how she replied!
1) What makes you smile?
Seeing my children smile makes me smile. And spending quality time with the people I love.
2) What or who inspires you?
I am inspired by people who are encouraged to be themselves and go after what they want.
3) Do you believe in gut instincts?
Oh absolutely! Follow your soul, it knows the way.
4) Your three essential things if you were stuck on a desert island would be what?
Good pair of flip flops - Music - Body Lotion
5) If you are planning a day/night out, what do you enjoy doing the most?
Spending time with the girls.

Share this article on Facebook