Books and Films
Sarah's Vignettes: Persuading Austen by Brigid Coady
Introducing Sarah Swan who has a passion for reading books, books and more books, and enjoys a healthy bit of rambling about life too!
Sarah has been reading books from a very early age and before she could read, she was always flicking through picture books. Sarah is convinced that she was born with a book in her hand!
Sarah reads a wide range of genres and is willing to try most genres once, but she does keep going back to both contemporary and historical fiction more than anything else. She also loves taking her own photographs and sharing them with friends and family.
Books are a big part of Sarah's life and as well as running her own blog so she can share her love for books, Sarah will be sharing her top reads on The Riviera Woman.
"If you would like to use any of my photographs, you can contact me and also if there is a book you would like me to read and review, let's talk."
www.sarahsvignettes.wordpress.com
~~~~~
Book Review: Persuading Austen by Brigid Coady
~ Book Blurb~
It is a truth universally acknowledged that working with an ex is a terrible idea…
Annie Elliot never expected her life to turn out this way: living with her dad, working as an accountant – surely the least glamorous job in Hollywood?! – and dodging her family's constant bickering.
Landing a job as a producer on a new adaptation of Pride and Prejudice seems like the piece of luck she's been waiting for. Until the cast is announced, and Annie discovers that the actor playing Mr Darcy is Austen Wentworth: the man she's spent nearly a decade trying to forget.
Not only is Austen her ex – but while Annie's life has stalled, Austen is Hollywood's hottest property…and has just been voted World's Sexiest Man.
With nowhere to hide, there's just one question. Now the one who got away has come back, should Annie stand by her pride? Or give into Austen's powers of persuasion?
~ My Thoughts ~
One of the things I love about book blogging is having the opportunity to read books that, pre-blogger life, I probably would not have chosen to read. Persuading Austen is one of them. I would have thought that it wasn't for me. Well, how wrong could I have been. It made me laugh out loud. It made me cry. It made me empathise. It made me sympathise. It made me happy. It made me sad. I absolutely loved it!
Persuading Austen is a modern day version of Jane Austen's Persuasion. It follows Annie Elliott, who by day is a Production Accountant/Producer and very in control, and by night is a skivvy and worthless to her family, as she takes on the role of film producer on a remake of Pride and Prejudice. This should be the job of her dreams except the love of her life, Austen, once a penniless and unknown actor and now the most sough-after man in Hollywood, is cast as Mr Darcy. He is also the one that got away 8 years earlier. Just like in the original, the story is told from Annie's point of view and we follow her on her journey, listening to her internal thoughts and feelings about her family, her job and Austen.
I think it is brave to take such a Classic and make it contemporary. Brigid Coady has done this so well, sticking to the main plot points and throwing in some twists and turns which kept me reading. As I got further into Persuading Austen, I forgot that it was based on a classic, and the story took on a new form, gained it's own identity.
Brigid Coady's writing is super – it is real and from the heart. There is so much humour too! This all allowed for the story to flow really well and I finished the book in 2 days (that's quick for me!).
There are some fabulous scenes in this book and great characters. Some who were amusing and some who were annoying – just like in real life! I don't want to say any more as I don't want to give away any spoilers.
Persuading Austen is a book which left me smiling and happy at the end of it – and what a wonderful feeling that was.
I read an Advanced Review Copy of this book from HQ Digital in return for an honest review.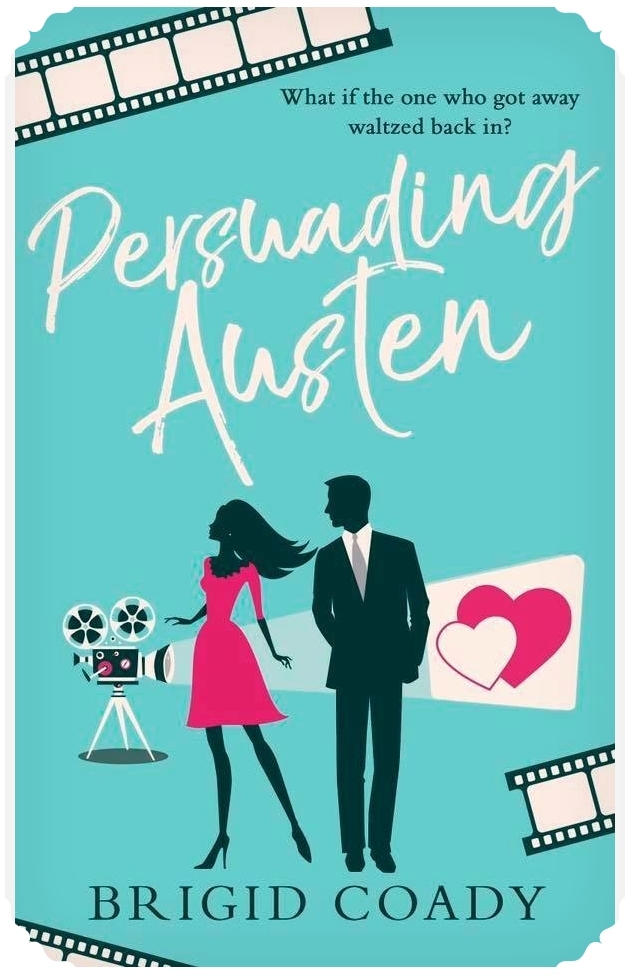 ~ Where to find Persuading Austen ~
~ Where to find Brigid Coady ~
Share this article on Facebook