People and Places
Face to face after 8 years: Carlease Burke
The Riviera Woman has featured people, places, objects and even the odd animal or two. It has been a platform that has reached out, embraced and is forever evolving. With Facebook becoming such a global phenomena The Riviera Woman has been able to build even more connections further and wider, reaching all over the world.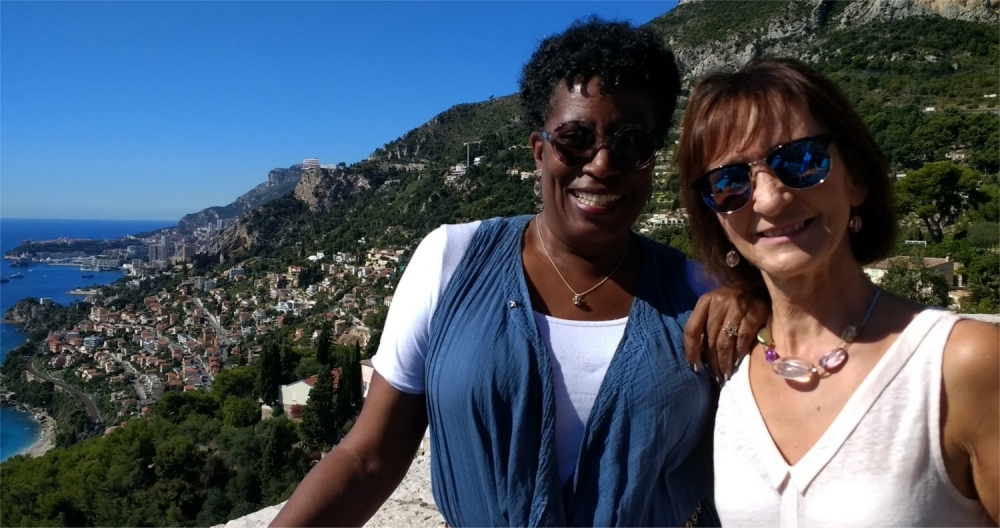 Back in 2009 I received a message from a lady called Carlease Burke, who stumbled across my Facebook Page or profile and from that point began the virtual friendship. Carlease was thinking of embarking on a one-woman comedy show and was hoping the tour would bring her to an English speaking audience on the French Riviera. Owing to new opportunities opening up Carlease followed another road where her acting career took a great leap forward. We have remained virtual friends all these years saying: "One day we will meet".
In 2014 The Riviera Woman did a interview with Carlease, as part of an American themed edition and once again the follow up words were: "One day we will meet".
Carlease has a love for travelling and when she is not recording in studios and filming on set, she will book herself a cruise and visit as many places as she possible can. September of last year (2016) I received a Facebook message from Carlease and it goes something like this...
---
CB: 17/09/2016 14:15
Hi Anna ! Next year's cruise is to the French Riveria!! What area do you live in?
AF: 17/09/2016 15:30
I live on the border of France and Italy. The Last town in France is Menton and the first town in Italy is Ventimiglia... You let me know for sure! I live in the hills. It is beautiful. You will LOVE it! Can't wait to see you!
CB: 19/09/2016 04:50:
Ports of Call include Provence and Nice. Thought you might be nearby.
AF: 19/09/2016 07:52:
Nice is not 'too' far.
CB: 25/09/2016 00:32:
Is Nice (Villefranche) port near you?
AF: 25/09/2016 22:34:
Hello Carlease, oh yes... Nice - Villefranche! 🙂 Fantastic! You will love Villefranche. I would happily meet you and take you for a drive around the area.
CB: 26/09/2016 01:10:
I'll keep you posted.
---
The rest of the year goes by with a Facebook 'Like' here and there and additional comments to posts that keep us updated on each others status quo. Enter June 2017.... Conversation recommences...
---
CB: 22 June 04:01
Hello beautiful! Well my arrangements are just about done for the cruise. We will be in Nice on Thurs. Sept 21st from 7am - 4pm. Will you be around?
AF: 26 June 21:21
Hello Carlease, how wonderful! I will keep the day free and will love to meet up with you. It will be superb. A presto... ANNA
CB: 26 June 21:21
Yay! Can't wait to meet you in person!! Can't wait to chat with you.
AF: 26 June 21:21
How fabulous is that. It will be soooo lovely to meet you in person too!
CB: Mon 18 Sept 14:11
Hi Anna, I'm onboard the Celebrity Constellation in Barcelona. We will arrive in Nice (Villefranche) Thurs. 9/21.
AF: Mon 18 Sept 14:11
OK... Great! 🙂 There is a hotel called 'Hotel Welcome' and I could meet you in front of it? I will be coming from Italy and can be there about 10.30 am.
---
And so it was to be... Thursday 21st September started fairly early. The sun was shining and it was beautiful and warm. I left home a little before 8 in the morning and made my way to Villefranche to meet a friend I had only known on the pages of the world-wide-web. The car was parked and the meeting point was in sight. Within seconds of arriving in front of the Welcome Hotel in Villefranche there appeared in the flesh my friend of 8 years, Carlease Burke. The moment was amazing. It felt like we were picking up from when we last met but we had never actually met before, and at the same time it felt as though we had known each other all our lives! How incredible. Facebook comes in for a great deal of critisicm but on this such occasion, we both agreed how grateful we were for it. "Wow..." says Carlease, "You're British English!" Of course this was the first time she had heard me speak. I on the other hand, had the pleasure of hearing her voice on many occasion on Facebook and on some of the films she had appeared in.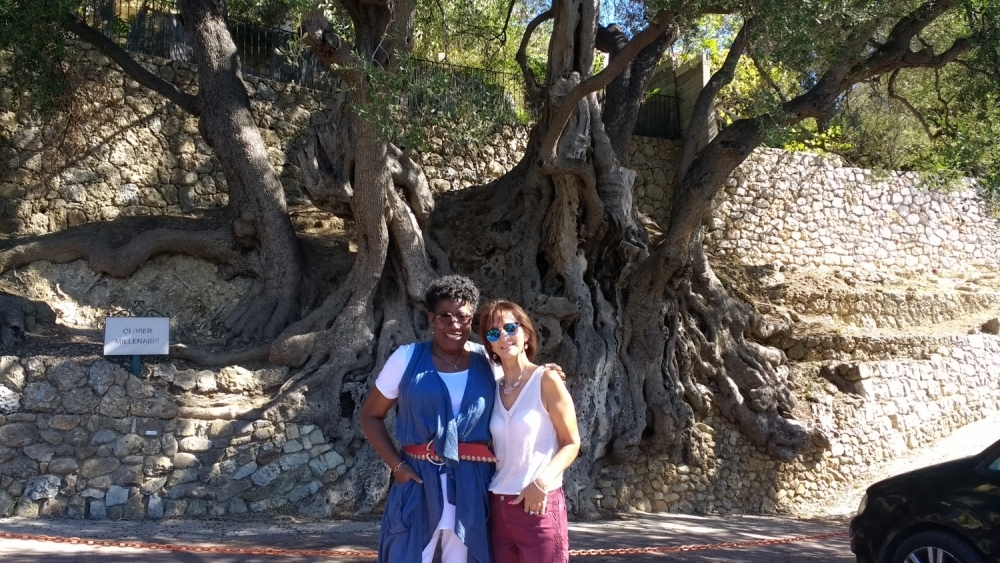 We only had a relatively short time, so I planned a little trip that I had done only a few weeks previously. We drove on what I describe as the 'scenic route' which is along the coastline and then a drive up to the hilltop village of Roquebrune, that sits high above Monaco. I knew that unless Carlease's fellow passengers had access to a car or local guide, she would be the only one visiting this stunning Riviera jewel with its amazing views, a castle and a 1,000 year old olive tree. This was quality hours dedicated to culture, nature and a bit of local cuisine at Fraise et Chocolat.
I have no doubt that Carlease and I 'will meet again, don't know where, don't know when..', as the song goes but 'I know we'll meet again some sunny day!' (Thank you Vera Lynn). In all of our lives people come and go and there are some encounters so precious that you know that the friendship is a forever one that will grow and strengthen, and where a meeting of minds, shared values and a mutual respect, will be the foundation of a lot of future fun. Even if Carlease and I do not see each other for another 8 years, which I really do not believe for a second, it will be well worth the wait to share more culture, more nature and certainly more local cuisine!
Carlease Burke: Actress and Producer
Share this article on Facebook