General Articles
SHE CAN HE CAN - International Day of the Girl
By Celina Lafuente de Lavotha - Monaco Reporter
Monaco National Council hosts association fostering gender equality
On Wednesday, October 11, 2017, the National Council in Monaco opened its doors for the launching of the new Monaco based association SHE CAN HE CAN, the new name for GenderHopes that had been created in 2011 by Vibeke Brask Thomsen. The event was purposely held on the occasion of the celebration across the world of the International Day of the Girl, as declared by the UN.
A long-time advocate to end gender-based violence and discrimination, GenderHopes had introduced the website www.monacosaysnotoviolence.org with the objective of informing and assisting victims of domestic violence. In 2017, GenderHopes changed its name to SHE CAN HE CAN to reflect its new mission and objectives.
Exposing facts and calling for united positive action
The event was opened by a moving presentation by Nathalie Amoratti-Blanc, member of the National Council, who started by alluding to the fact that it was in 2012 that the UN recognized October 12 as the International Day of the Girl, coinciding with the creation of GenderHopes. She underlined that the theme of this special day is girls' empowerment and the exercise of their fundamental rights.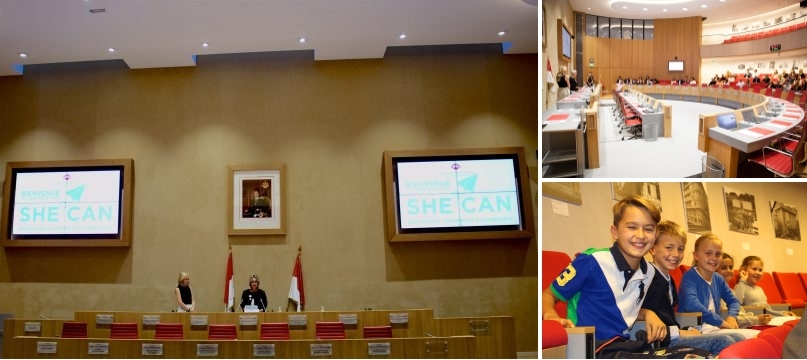 Nathalie emphasized that there are more than 1 billion girls in the world today, and together they represent a wonderful source of energy and creativity, and the millions who live presently in precarious situations are not the exception. She listed statistics that make your blood run cold.
62 million school-age girls do not have access to education
60 million experience sexual violence at school or on their journey
116 million girls from 5 to 17 years old are exploited
200 million girls have been victims of genital mutilation
15 million are forced to marry each year before the age of 18
2 million are pregnant each year before the age of 15
Nathalie added: "Adolescents have the right to a secure life, in good health and to an education, not only through their formative years, but also once they become adult women. If girls are accompanied during adolescence, they have the potential to change the world, workers of tomorrow, mothers, entrepreneurs, mentors, heads of family, and political leaders."
It is incredible to learn that an adolescent dies every 10 minutes, victim of violence, somewhere in the world! In the case of humanitarian crisis, sexist violence is often aggravated, submitting girls to sexual and physical violence, early forced marriage, exploitation and human trafficking. Adolescents who live in conflict zones are 90% more susceptible of not attending school, compared to countries in peace, compromising their future regarding employment and financial independence when they become adults. When girls are empowered they try to eradicate violence towards women and girls, to value the rights of indigenous populations, and build stable and pacific communities. A future where they will share in an equal level with the other half of humanity in order to resolve together the crisis tied to climate change, political conflicts, economic growth, health prevention and world mobility. To foster gender quality, it is necessary to expose prejudices and sexist stereotypes from a young age, because they are a direct source of discrimination, and combatting them allows to develop a culture of equality.
Nathalie ended her powerful presentation by wishing that SHE CAN HE CAN is able to help young generations and their parents to question stereotypes in order to be able to fulfill their full potential, independently of their gender. She added that she was happy to see many men in attendance, that she saw as a clear sign that we all must advance hand in hand to build the future of girls and boys everywhere! (Group photo below by Annette Linardatos)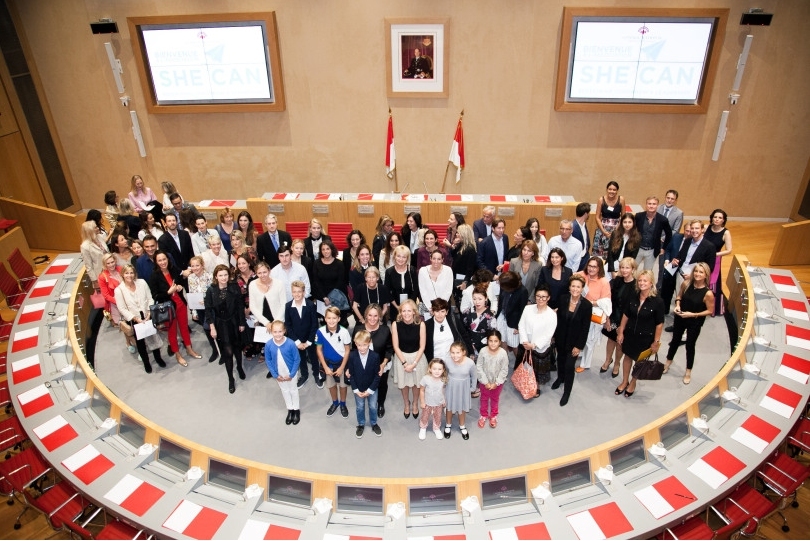 Raising awareness and empowering girls
Vibeke, founder of SHE CAN HE CAN took the stage next, and started by thanking Nathalie and Christophe Steiner President of the National Council for hosting the event, showing their commitment to the International Day of the Girl, and the mission of her association. She also acknowledged her close collaborators Belinda Ogden and Kasey Robinson for their excellent work.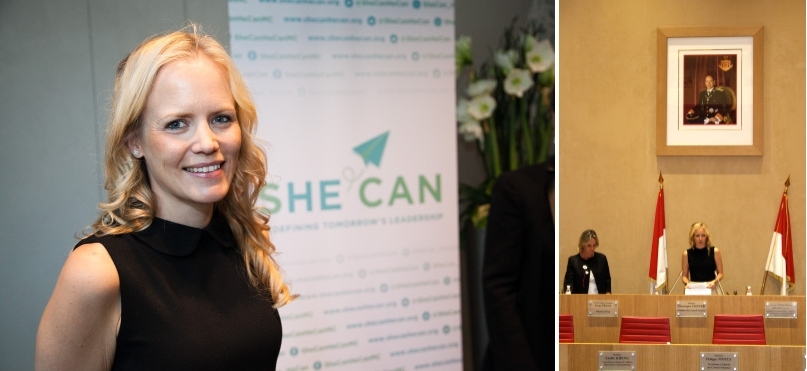 She explained that her association has been in Monaco since 2012 and have mainly worked on ending domestic violence by informing victims about their rights, but recently decided to reorient their mission and objectives by launching SHE CAN HE CAN, and replacing GenderHopes. Today they have chosen to work directly with young boys and girls, often exposed to gender stereotypes that limit them in life. The aim of their work is to raise awareness, start discussions and work with women, girls, men and boys to make them understand they can make professional and personal choices depending on their interest, passion and ability, and regardless of gender.
Vibeke presented a video below that shows that SHE CAN HE CAN not only works with girls, but also with boys to address gender inequalities.
Vibeke finished by saying: "Most importantly, tonight, we want to promote the message that gender equality is not a fight of women against men, but a call for a commitment that we need to make together, because gender equality benefits us all. Together, let's make equality a reality and let's redefine tomorrow's leadership."
A mission carried out with a vision
SHE CAN HE CAN aims to inspire and support girls to take leadership roles. Encourage girls and boys to challenge deeply-held, life-limiting gender stereotypes and to realize their full potential, independent of their gender. SHE CAN HE CAN also works to recognize the achievements and contributions of great female leaders throughout herstory (history). It is useful to look back to inspire a better future.
SHE CAN HE CAN aims to raise awareness, create discussions and work with women, girls, men and boys to view their opportunities and choices independent of their gender. The association envisions a world where girls and boys are able to make personal and professional choices depending on their interests and capabilities, rather than the socially constructed limitations of their particular gender. The hope is to balance history books by focusing on the achievements of outstanding female leaders versus those of men. Through book clubs, training sessions and workshops, plus through increased media literacy, SHE CAN HE CAN labors to make gender equality a reality!
Confronting stereotypes through workshops
SHE CAN HE CAN offers leadership and confidence building workshops to schools and other professionals in Monaco. They work with girls and boys to encourage them to eradicate self-limiting stereotypes, and help them reach their full potential. Sessions include discussions on media literacy skills to teach students to recognize and confront typecast by the media.
For information please contact info@shecanhecan.org
Website: www.shecanhecan.org
Quote
"A confident girl is a girl who believes in herself and what she can achieve. She doesn't let anything or anyone stop her." Vibeke Brask Thomsen, SHE CAN HE CAN founder
Share this article on Facebook