Events
Vivaitalia End of Year Apero 2017

Vivaitalia.Club
where English meets Italian
www.vivaitalia.club
---
It is unbelievable that we have once again reached the end of another year! And whatever memories we made in 2017, may the ones we make in 2018 be so much more... filled with happiness, new beginnings, new relationships, new friends, new life and new dreams.
We hope that you will join us to celebrate the eve of the eve of New Year's Eve this coming Friday, our last meet up of 2017!
End of Year Apero 2017
Upcoming Vivaitalia Apero Evening
* Bordighera Apero Evening: Friday 29th December, starting at 6pm
Venue: Vanda's Bar Prestige - in Bordighera, on the main street, Via Vittorio Emanuele 71, close to the church and only a few minutes' walk from the station.
Let's make this our 'rehearsal party' for New Year's Eve!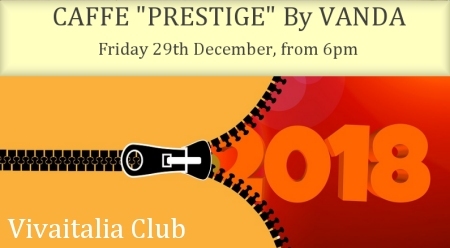 Come and meet your friends and make new ones too as we engage in a lively fun evening. Everyone is welcome!
La Bella Vita! La Bella Italia! #VivaitaliaClub
~
Vivaitalia Christmas Party:
Such fun and happy memories of our Christmas Party this year! It really was a super sharing party with such an incredible variety of foods and wine brought by everyone! Everyone took part and it was very special!
Thank you to Vivaitalia members Beatriz and Andrea who allowed us to take over their Hotel Elandra, and to everyone who gave their time and energy!
We just wanted everyone to come together, have fun and celebrate... and that's exactly what we did! See all photos HERE
Wishing you all a very Happy 'Vivaitalia' 2018!
~
We look forward to seeing you very soon!





Anna Fill
+39 339 724 8538
Follow us on our website, Facebook Page or on MeetUp
www.vivaitalia.club
(www.britalia.club)
www.facebook.com/Britalia.Club
www.meetup.com/Britalia-where-English-meets-Italian
Any existing links to Britalia.Club will be ongoing. Even with a name change we are still the same group with the same principles and same mission: To meet like-minded people from all over the world who enjoy meeting others and sharing experiences in Bella Italia.
We as a club believe in being a part of the local community by supporting the local community.
For The Riviera Woman November Newsletter: HERE
The Riviera Woman celebrates 10 years this year!


Visit Busy Pages to promote or list your business.
Also NEW: Facebook Group: Busy People Network JOIN and lets build a bigger community!
Tuesday, 26 December 2017 Section:
Events
Share this article on Facebook