Events
Vivaitalia (Britalia) this January 2018

Vivaitalia.Club
where English meets Italian
www.vivaitalia.club
---
Welcome to January 2018
Wishing everyone a very happy and enjoyable 2018!
Upcoming Vivaitalia Apero Evening
* Bordighera Apero Evening: Friday 26th January, starting at 6pm
Venue: Vanda's Bar Prestige - in Bordighera, on the main street, Via Vittorio Emanuele 71, close to the church and only a few minutes' walk from the station.
Last time we met was just before the new year and so wonderful to see so many people. A great occasion to end the year! See PHOTOS
Come and meet your friends and make new ones too as we engage in a lively fun evening. Everyone is welcome!
La Bella Vita! La Bella Italia! #VivaitaliaClub
***
Further ahead into February...
We will have our regular end of month meet up and also...
Save the date!
Wine tasting at Dogliotti with wine expert Valerio Dogliotti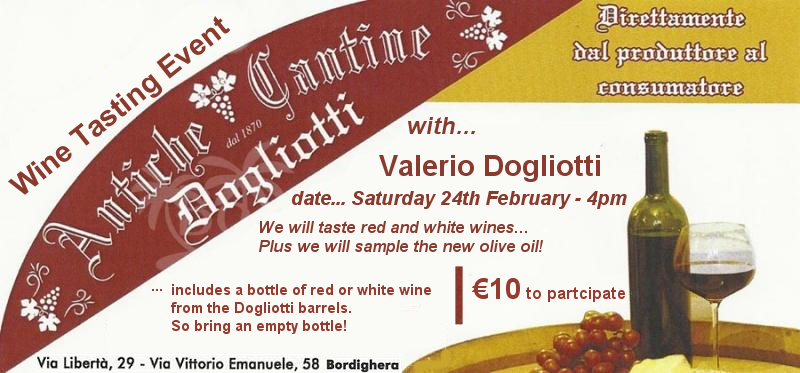 Antiche Cantine Dogliotti in Bordighera
Date: Saturday 24th February.
Time: 4 pm
Cost to prticipate is €10 paid to Valerio Dogliotti.
We will be tasting red and white wines and also sample their new olive oil.
Included: We will also be able to take away a bottle of either red or white wine from the Dogliotti barrels
So bring an empty bottle to the event!
~
We look forward to seeing you very soon!





Anna Fill
+39 339 724 8538
Follow us on our website, Facebook Page or on MeetUp
www.vivaitalia.club
(www.britalia.club)
www.facebook.com/Britalia.Club
www.meetup.com/Britalia-where-English-meets-Italian
Any existing links to Britalia.Club will be ongoing. Even with a name change we are still the same group with the same principles and same mission: To meet like-minded people from all over the world who enjoy meeting others and sharing experiences in Bella Italia.
We as a club believe in being a part of the local community by supporting the local community.
For The Riviera Woman January Newsletter: HERE
The Riviera Woman celebrates 10 years this year!


Visit Busy Pages to promote or list your business.
Also NEW: Facebook Group: Busy People Network JOIN and lets build a bigger community!
Wednesday, 17 January 2018 Section:
Events
Share this article on Facebook