Editor
To pastures new...

Sometimes things happen in life and we are not really sure why? I believe that there is a time and a place for everything and when new opportunities come your way, they should be seized and relished. This is happening to me right now and I am feeling very excited about a new direction in my life.
The Riviera Woman has been a part of me for over 10 years and I am forever grateful to the opportunities she has given me and more so, the people I have met and many who I now call my friends. But I have reached a moment when I have the need to spread my wings and evolve.
In order to grow as people, knowledge is the key and changes have to be made in order to gain that knowledge. I have decided to fly to pastures new. The destination will be 'home'... You could say that my signature question has been 'Where do you call home?' For me home is the place where I feel inspired, where I feel motivated and where people make me smile - so to add to the ambiguity home will be here, there and everywhere. Like a pop-up shop, you never know where I am going to be next. But one thing guaranteed is that I will continue to keep my head in the clouds and my feet firmly on the ground.
There are many things in life we cannot control, but equally so many we can. I choose the latter option and will take control and do the things I want to do... because I can. We forget how lucky we are to have choices and I am grateful to be able to seize this moment and make it my own.
I have no doubt I will see you around, just not sure where and when but with social media and the likes, no-one is ever that far away!

Anna Fill - Consultant, Counsellor, Celebrant: +39 339 724 8538
---
Anna Fill: Wedding Celebrant

You can have the wedding of your dreams! Together we will create the ceremony with personalised moments that you will hold precious forever. This is your day and everything is possible. Visit my website.
An Interview with... Joël Robuchon - Une grande passion pour la cuisine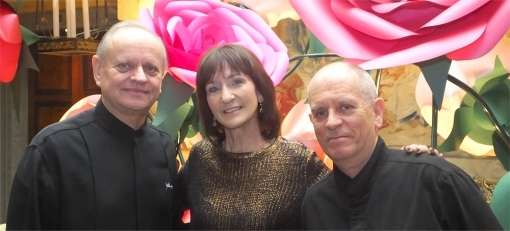 To meet with any Michelin starred chef may be considered fortunate but to meet one who has 31 stars and a reputation far greater than any other chef in the world is just a dish made in heaven! Read more
Beautiful Places: Villa la Borghetta - Wedding Bliss

Villa la Borghetta is a beautiful venue for a wedding or any special occasion. Set in the Tuscan hills only 35 kms from Florence, this beautiful and elegant venue is where dreams are truly made... Read more
Last month we ran a competition to win a signed copy of Carol Drinkwater's book 'The Lost Girl'.
Congratulations to Anna Lovece!
Recipe: My Popeye Pie
This is real brain food! It is so easy to make, it is nutritional and so very tasty! It is great as a starter or as a light lunch... See more
Professional Women's Network - This April
The Professional Women's Network are a Business Network and the purpose is to promote growth and self-development with openness and integrity. We have an exciting month this April. See more
Mini Mimosa - Kids for kids

The first ever fun run for kids, organised by Mimosa Matters, will take place on 15th April 2018 at the Stade des Bouillides, Valbonne. This event has been specifically organised for children aged between 5-15 years to help in the fight against childhood cancer in the Alpes Maritimes. Read more
Sarah's Vignettes: The Last Day by Claire Dyer
Sarah Swan just loves to read books, books and more books. For this April Sarah has chosen to feature: The Last Day by Claire Dyer. Just the book to settle down with and get lost in for a few hours... Read more
Maureen Emerson: Riviera Dreaming

Maureen Emerson has written her biography titled 'Riviera Dreaming - Love and War on the Côte d'Azur, and is to be published in April. Read more
Monaco:

Our Monaco reporter, Celina Lafuente de Lavotha keeps us updated with the news from the Principality - from culture to entertainment. Enjoy!
Horoscopes

You can now read your Horoscope every day. So Read Yours Today
***
We share all our features and articles on our Facebook Pages - feel free to add your comments. If you haven't already done so... please 'Like' The Riviera Woman, because we really like you.
Talk to us because we'll talk about you. It's what women do...
and then you'll talk about us.
***

We continue to add busy people to our Busy Pages. It is an easy way for any small business or individuals to advertise what it is that you do and reach a new audience. Our promise is that we will be extremely busy by making sure that you exist and we will do everything we can so you and your business will be busy, busy, busy! Also join our new Facebook Group: Busy People Network!
***

Anette Shine is Sunshine Yoga and Sunshine Zumba. Anette can and will help you achieve a great healthy mind and body.
***

Dr. Jean-Luc Vigneron - Expert in dermatology and esthetic treatments situated at Villabianca in Saint Paul de Vence, France.
***
I look forward to hearing from you with all your news, views and updates.
Anna Fill
+39 339 724 8538
www.therivierawoman.com
anna@therivierawoman.com