Food and Recipes
Curried Carrot Soup
Ingredients
1 tablespoon of Virgin Olive Oil
1 sliced Onion
1 teaspoon Ground Cumin
1 tablespoon of Mild Curry Powder
750g Chopped Carrots
1 litre Vegetable Stock
Method
1) Heat the oil in a pan and add the onions. Cook for about 5 minutes until soft.
2) Add to the onions the cumin and curry powder. After a good mix, allow to cook for another minute.
3) Add the chopped carrots and the vegetable stock to the mix.
4) Bring the soup to the boil and half cover the pan with a lid and allow to simmer for about 25 minutes.
5) Remove the pan from the stove and blend the soup into a purée.
6) Season to taste and... Enjoy!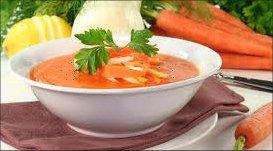 Share this article on Facebook