Food and Recipes
Chicken Pie with a Lemon Twist
This is a pie that you can make all year round and vary the choice of vegetables to the season or what is available locally.
Ingredients
1 Large Onion - Finely sliced
1 tbsp Chopped Herbs – Such as Rosemary and Thyme
1 Colourful Pepper – Chopped into cubes
1 Leek - Finely sliced
120g Broccoli florets
2 Chicken Breasts – Boned, Skinned and cut into cubes
Olive oil
4 tbsp Plain Flour
2 Eggs
70g Parmesan Cheese – Grated
Zest of 1 Lemon
100ml Double Cream
2 Sheets Puff Pastry – Ready Rolled
Salt and pepper – To season
Method
1. Lightly oil a 25 cm fluted loose based, tin.
2. Preheat oven to 180°C or Gas 4.
3. Add some oil to a large frying pan and start to fry gently the vegetables for about 2 minutes. Add the herbs and seasoning and fry for a further 8 minutes, stirring occasionally. Remove vegetables from the pan and leave on one side.
4. Coat the chicken pieces in the flour.
5. Add a little more oil into the same frying pan used to cook the vegetables and fry the chicken pieces until golden and brown on all sides. Once they are ready, put aside with the vegetables.
6. Whisk together 1 egg, parmesan cheese, lemon zest and cream. Season with salt and pepper.
7. Line the bottom of the flan tin with one sheet of puff pastry. Place onto the pastry the vegetables and arrange the chicken on top of the vegetables.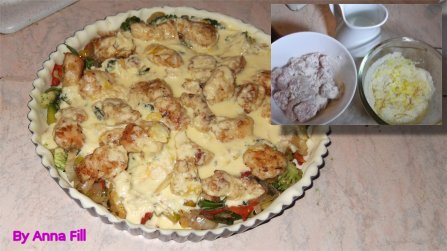 8. Pour the egg mixture over the vegetables and chicken and cover with the remaining pastry sheet. Seal the edges together.
9. Beat the remaining egg in a bowl and brush over the pie. Make a little cut in the centre of the pastry to allow the steam to escape.
10. Bake in the middle of the oven for 30 minutes until beautiful and golden.
9. Remove from the oven and allow the pie to rest for 2 minutes before removing from the tin.
10. Serve warm with a mixed salad, perhaps with a drizzle of virgin olive oil and/or walnut oil and a little lemon juice.
See comments on Facebook
Share this article on Facebook