People and Places
Business Award: Winners Gayle & Matt Roberts of Nice Pebbles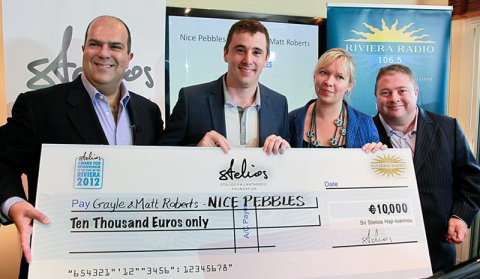 From left to Right: Sir Stelios Haji-Ioannou of Easyjet, Matt & Gayle Roberts of Nice Pebbles, Paul Kavanagh of Riviera Radio
To win the title of 'Business of the Year' is a terrific achievement. It is even more impressive that the prize given to the '2012 French Riviera winners of the Sir Stelios and Riviera Radio"Ultimate Business" award, is a cheque for €10,000. Very useful indeed.
Gayle and Matthew Roberts who own Nice Pebbles certainly deserve the award... and prize!
I asked Gayle her reason for entering the competition and she told me:-
"I entered the competition because I just thought the recognition if we won, plus the two boosts of cash and advertising would both be a real boost to our business. We have built our business without advice and I know we are at the stage that we could hugely benefit from professional advice, which without the award we couldn't afford. Similarly, we couldn't yet afford such a large advertising budget."
Gayle continued to tell me what she had to do to enter for the award. It would be fair to say that Gayle followed her instincts and seized an opportunity:-
"Matthew was against entering as he thought we didn't have the time as we needed to submit a business plan. In fact when he saw that I had downloaded the terms and conditions he sent me a joke email which simply read "I forbid you to enter this". Well, of course, that just made me more determined to enter. Once we got shortlisted he got into the spirit of it, and I doubt very much we would have won without his input, but still, I am enjoying teasing him about it."
Starting a business is never plain sailing. Gayle tells me what this award means to her and Matt:-
"The award meant so much to us. We're simply delighted to have been recognised for what has sometimes felt like an uphill struggle. It was a huge morale boost to us and our amazing team. More than anything, it helps us say thank you to our team and our owners and to show them our commitment to take the company to the next level. We will be using a lot of the award money to get some professional advice which we hope will help us grow in the right direction. The advertising prize will help us bring more money into the company to again grow it."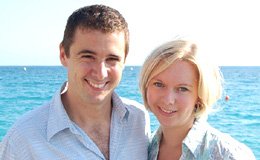 Matt and Gayle Roberts
***
The annual competition, launched in January this year was a joint initiative between Sir Stelios, founder of easyJet and Riviera Radio, to attract local small companies, looking for a boost to grow and create new jobs in the region.
This year's contest attracted 15 applications, with the 3 finalists and other VIP guests welcomed at an exclusive reception on Stelios' terrace beside the Monaco Yacht Club. The winners, Gayle and Matt Roberts of Nice Pebbles, won an "Ultimate Business Boost" prize of €10,000 in cash plus €20,000 worth of radio, internet, event and database marketing.
The English, husband-and- wife team Gayle and Matt Roberts set up SARL Nice Pebbles in 2008 in order to manage seasonal rentals of over 150 exclusive apartments and villas in the Nice area. They also recently established a second office focused on real estate sales. The company's turnover has steadily grown by 50% per year since inception and Nice Pebbles provides more than 20 jobs in the region.
Sir Stelios Haji-Ioannou said: "New companies are the life blood of a dynamic, entrepreneurial economy. At a time when jobs and business success are at a premium, I am delighted to see so many people coming forward with innovative and interesting projects for the creation of wealth and jobs."
"We must all make every effort to ensure that others are encouraged to follow in years to come. I am delighted to hand over this Award and welcome Matt and Gayle to our community of entrepreneurs who are making a difference and inspiring successful businesses in their communities."
Nice Pebbles has quickly gained a solid reputation for offering high-quality rental apartments in Nice gathering them write ups in the major travel community including the Guidebooks to the French Riviera for Fodor's, TimeOut, Frommer's, Lonely Planet and the Footprint. All of Nice Pebbles apartments and villas have been selectively chosen with central locations, amenities and comfort in mind. Many guests return to stay with them time after time and some even go on to buy there own heavenly property on the French Riviera through their Nice Pebbles Sales office. Nice Pebbles Sales have a niche in the sales market because they can advise second home owners, or investors, or where to buy and how to furnish for the best annual rental return. Many of their properties stay on their books between owners with no down time on the investment for either the seller or buyer.
Talking to Gayle and Matt they commented "We're all delighted here at Nice Pebbles with the award of "Ultimate Business Boost" and it's been lovely receiving all the kind congratulations emails and messages. It has been a hectic but fantastic journey and it goes without saying that we give a heartily thanks for the support of our friends and family, loyal staff, our property owners, our guests and the local businesses, who have all helped us achieve a thriving business. We're looking forward to experiencing the next chapter and continuing to welcome guests from around the world offering them the same high class standards that both the beautiful French Riviera and Nice Pebbles has become so well known for".
For further information on Nice Pebbles visit their websites www.nicepebbles.com www.rivierapebbles.com www.nicepebblessales.com
or call them on +33 (0)4 97 20 27 30
Share this article on Facebook