General Articles
It always seems like summer on the Riviera ...
You might not agree if you have to set out first thing in the morning but, if you're lucky enough to be beside the sea, the blue water twinkling and glistening in the winter sunshine, amidst umbrella pines and palm trees, you could easily imagine it's high summer.
I've been lucky enough to spend a few winter months on the Riviera during the last few years and am always amazed that it seems so summery. A coat and scarf may be needed but the vista isn't too different from a sunny summer's day. Compare the scene with an inland landscape where the trees are bare, the earth may be muddy and a sense of gloom prevails, it's not like that on the côte!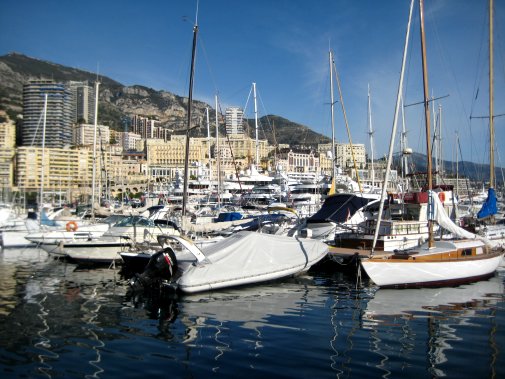 Monaco - Port Hercule (January)
As well as Monaco, the best places in the Alpes-Maritimes to find that summery feeling are Cap Ferrat, Villefranche-sur-Mer and, my number one, Cannes. Walking from the yacht harbour along Boulevard La Croisette towards Le Suquet, verdant pines and palms on one side and the sun, beating a shimmering path along a calm sea, is a Provençal panorama not easily beaten ... or forgotten.

Cannes, view towards Boulevard La Croisette (December)
Further west along the Côte d'Azur, on the other side of the Massif de l'Esterel, the Var towns of Ste Maxime and St Tropez get my vote. I love Ste Maxime for a winter stroll, and coffee or lunch in one of the cafés in the old centre where it's usually warm enough to sit outside catching a few gentle rays of sunshine.
Although St Tropez doesn't have much in the way of vegetation down by the port, the pastel colours of the tall, narrow buildings behind the quay-front bars and restaurants can't help but give a summery feel. It's also great to be in the town when it's not over-run with visitors and the cafés are just pleasantly busy. Your coffee or glass of wine will still be very over-priced though!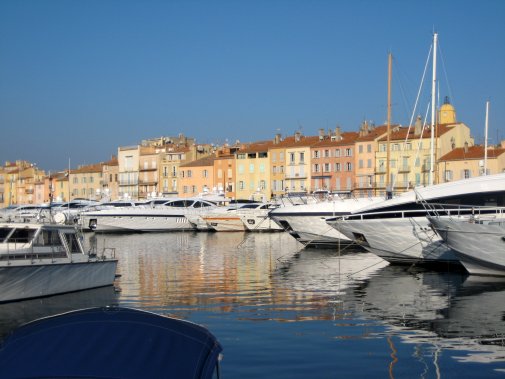 St Tropez (February)
I'm aware that some people don't view the coast past St Tropez as being part of the Côte d'Azur but it is still really spectacular! For a winter stroll, I really like Sanary-sur-Mer and Bandol-sur-Mer, both situated a few kilometres past Toulon. They are more low-key than the main resorts of the Riviera but still very pleasant with a great atmosphere on sunny, winter weekends.
So if you have a severe case of the winter blues, head down to the coast and see if you can find a taste of summer.
One of the reasons that I have explored so many coastal towns in Provence is that my husband and I are keen house/pet-sitters. We've looked after dogs in the Alpes-Maritimes and the Var and spent many a winter's day walking our pooches along by the sea. We have a page on the house-sitting website, Mind My House, should you be interested in finding out more about our free house-sitting service.
www.mindmyhouse.com/owners/sitter_listing/6834
I published my first novel 'Thirty-five minutes from St Tropez' on Amazon Kindle earlier this year. It's available for EUR 2,08 or £1.54. If you don't have a Kindle, it is still possible to download it to your laptop or tablet.
My Facebook page is www.facebook.com/JaneDunningAuthor where you will find information about my book together with photos, including some of the canine characters featured in the story.
Share this article on Facebook