General Articles
Meet Martini - On A Special Doggy Mission
Trained Assistance Dogs to Aid those with Limited Mobility:
My First willing Candidate: Introducing Black Labrador Martini.
I am working with Pooh Korner (Breeders and Pension) in Peille just inland from Monaco.
We have embarked on a joint project to find someone with limited mobility who we can donate a fully trained Assistance dog to.
Pooh Korner are donating a puppy called "Martini" and I am donating my time to provide all the training required so that Martini can become a fully trained assistance dog. Having trained Assistance Dogs in the UK I am very excited to start assistance training here in the Riviera with our special new candidate.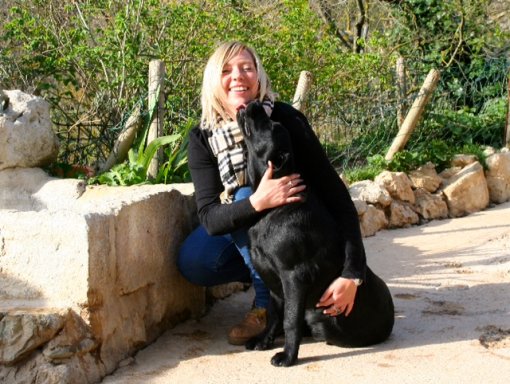 An assistance dog can provide not only great companionship to someone with limited mobility but can make a huge difference to the everyday life of that person by assisting with many vital activities such as: putting washing in the washing machine as well as taking it out, opening and closing doors, turning on and off lights, fetching medical bags with medication etc. to their owner, picking up keys or any items maybe their owner may drop as well as bringing various needed items to their owner, finding items maybe their owner may have lost, bringing the wheelchair to the owner, even taking cash from the ATM machine for it's owner and alerting help if needed in an emergency situation and much much more...
I find working with assistance dogs and their owners that they have such as special bond and it's wonderful to see the difference that an assistance dog can make to the life of someone with limited mobility. The canine companion finds such love and attention from their owner through the everyday attention the dog receives by carrying out the various activities required and consequent mental and physical stimulation and likewise the owner couldn't get by without their dog and provides such love in return so this special bond develops….
Martini is six months old and is fully vaccinated and has just been castrated. Martini has also had a full health check and is ready to start his training programme and he can't wait to get started!!
He is such a beautiful dog and would provide the perfect companion to someone who would find an assistance dog helpful and who would like to welcome a dog into their lives.
Martini is very loving and extremely keen to please (a very important characteristic for an assistance dog in training).
My training programme with Martini starts next week and we are all very excited.
We will keep you posted with our progress with videos, photos and progress reports.
His assistance jacket is all picked out and we are now in training!!
We would like to involve the person who Martini will assist as soon as possible so the bond between him and his new owner can begin to develop but also so his new owner can be involved in the training programme, so if you do know someone with limited mobility who could benefit from a canine companion to assist them, please do not hesitate to contact me on:
victoriaspettraining99@yahoo.co.uk or on +33 (0)6 13 93 57 99
Watch this space….more information and photos coming soon
Share this article on Facebook