Health and Beauty
Beauty and the Botox
Following the Anti-Ageing Medicine Conference in Monaco, The Riviera Woman continues to feature the world of aesthetic treatments.
(Previous articles: Just An Illusion and More than skin deep...)
This month we take a look at Botox. In 2002 the FDA (Food and Drug Administration of the United States of America) approved Botox for treatment of moderate-to-severe frown lines between the eyebrows - called glabellar lines.
With an estimated global market of $2.9 billion by 2018, we look at the facts and trends surrounding Botox. In its true form Botox is a drug made from a toxin produced by the bacterium Clostridium botulinum. It is becoming much more acceptable to use Botox where once it was considered taboo and today women are choosing to have Botox treatments much in the same way as going to a beauty salon or dentist. The question had always been about 'why' anyone would choose this form of treatment to combat the signs of ageing but as the stigma of having Botox is no longer as shocking, other questions being asked are: How safe? Advertising and How much? Being responsible is key - you wouldn't have an amateur hack at your hair or perform a root canal, so it is always recommended to research and only deal with the experts and professionals when considering Botox treatments.
More and more women are becoming entrepreneurs today and with a greater disposable income they are choosing to invest in all forms of personal development which also includes aesthetic programmes: visits to the gym to tone muscles, a trim and blow wave for healthy and stronger hair, and having a cosmetic consultant to manage visual appearance is forming part of the wellness package. Knowledge is key... so whether we approve or disapprove the fight to combat the ageing process by whatever means, whatever decision one makes should be respected but do your homework, do even more research and ask the questions. It may be argued that we have regressed as women in favour of frozen features and the question is does this dilute the mission to empower other women? It all boils down to choice and the decisions are being made by adults. It is always good to be enlightened about the opportunities and progress being made in the anti-ageing field – feeling and looking good is not a bad thing. A valuable and important note to add is that Botox is not only used for vanity issues but originally was used to treat medical conditions, and now many symptoms associated with multiple sclerosis. And so it is imperative that whenever Botox injections are being administered, it should be performed in a controlled medical environment.
One way only: speak to professionals and experts...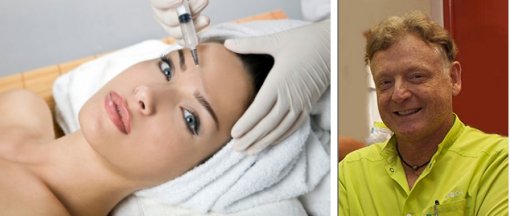 We speak to Dr Jean-Luc Vigneron, founder of Villabianca and expert in the field of dermatology and cosmetic procedures: "Botox injections are part of a variety of cosmetic treatments on offer at the clinic." Dr Vigneron speaks with passion and respect for the science and technology that brings positive change to people's lives. He goes on to say "Botox is a wonderful product and was first used back in 1977. In my view I believe that after 37 years it is a good indication of the safety of the product! Personally, I have used Botox since 1998."
Dr Jean-Luc Vigneron states that Botox helps to brighten the eyes, erases the signs of fatigue and stress lines on the upper face. "Women no longer require, as in the 2000s, to have a fixed, glazed appearance. It is now possible to have a "natural look" that respects the full range of normal facial expressions.
The doctor emphasises that it is always important to know that the product used is a licensed product in Europe: Azzalure ®, Vistabel ®, Xeomine ®, Dysport ®, Botox ®. There are indeed some fraudulent imports from China ... (to be avoided).
Dr. Vigneron continues: "The Botox paradox: A recent study showed that people with depressive tendencies, who then have Botox, have a marked improvement in their mood! The positive feedback from those around you increases your self esteem. Outside treats inside!" he says.
This forms part of the concept that justifies or explains the care women take with their appearance: medical care, makeup, the attention to how they wear their clothes and so on...
"Being well received by those you meet boosts morale and energy." Dr. Vigneron concludes.

More information contact: www.villabianca.fr
Share this article on Facebook