People and Places
Abano Grand Hotel - Abano Terme

Abano Terme is a beautiful Italian town situated in the Veneto region of north-east Italy, close to Padua and only a stones throw from Venice. It is a very elegant town, great for relaxing and strolling through the modern pedestrian zone.
When you visit Abano Terme be prepared to de-stress and re-adjust pace. There's a sense of calm and tranquility everywhere you go.
For a 5 star luxury holiday break, high on The Riviera Woman's recommended list is the Abano Grand Hotel. This Spa Hotel will tick all the boxes when it comes to luxury, service and fine dining. The hotel is set in beautiful grounds, and has 3 large thermal pools and a series of Kneipp hydrotherapy pools immersed in an extraordinary park with palm trees and tropical plants. And with pool temperatures ranging from 29 - 36°, you can enjoy coming here anytime of the year.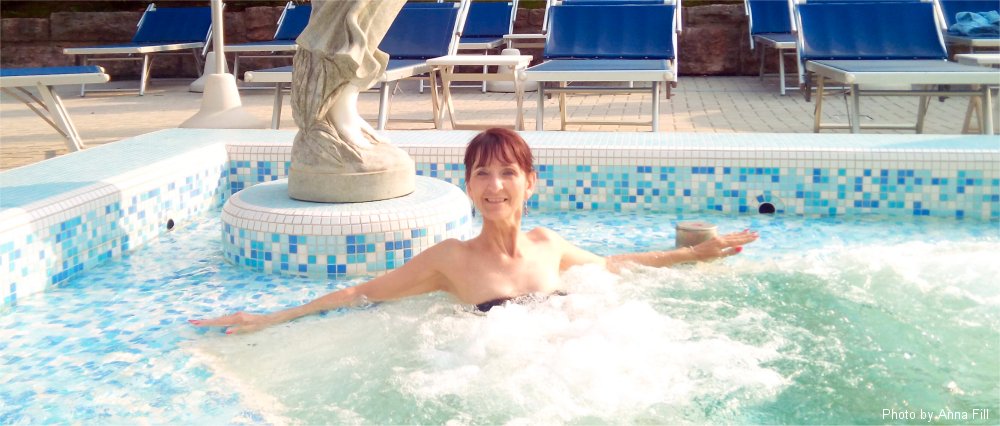 Dining at the Abano Grand is a gourmet experience. The menu is healthy and incredibly inspirational with the chef using only fine ingredients and flavours to tantalise and satisfy taste buds.
For a little extra pampering, resist not one of the many treatments available. A complete wellness programme can be arranged and tailored to your specific needs.
But of course don't take my word for it, try the Abano Grand Hotel for yourself. Why? Because you're worth it!
See also: A Taste of Venice
Share this article on Facebook