Health and Beauty
Angela Collings Talks Essential Oils
Angela Collings is from Switzerland a qualified nurse, and has been working as a Yacht Captain for the past 12 years. Angela has always had an interest in Essential Oils and Chemical Free products. Following the birth of her beautiful daughter Emily in May 2015, Angela continued to work as an independent Distributor for Young Living Essential Oils, which she discovered during pregnancy.
She uses the Oils and Products every day and wants to share her passion and show the importance and benefits of using pure top quality Essential Oils and chemical free Products.
What are Essential Oils?
Essential Oils are produced from the essence of the plant, the lifeblood. In Essential Oils we find the plants Immune System, which can greatly benefit us. Essential oils have also been used for thousands of years for spiritual, religious and holistic approach to wellbeing. Young Living has always been at the forefront of bringing this ancient tradition to modern users, introducing millions to a total mind and body wellness they may never have dreamed possible.
Primarily extracted through careful steam distillation but also through cold pressing, the purest essential oils are far more powerful than the botanicals from which they were extracted. Any time you hold a bottle of our powerful essential oils, you are holding nature's pure essence.
What makes Young Living so special?
SEED TO SEAL 5-Step Process
Seed to Seal process is the heart of Young Livings commitment to purity and authenticity. Young Living is worldwide the only company, that owns their own farms. Their farms are run organically, sustainably and beneficially to the environment around them and the people they employ. The weeds are even hand picked!
Their farms can be visited. Angela visited the Farm and Distillery in the Provence during the Lavender Harvest. A mind blowing experience and she will go again in 2016. Please contact her for details.
The exclusive Seed to Seal process includes five painstaking steps:
"The Premium Starter Kit includes 11 Oils, a Dewdrop Diffuser (cold temperature) and information Material. It is an amazing collection to get started with Essential Oils. These are my most used Oils"
Pure Essential Oils Uses
Whether you want to boost your energy, support your immune system, supplement your diet or bring a fragrant atmosphere to your house, car or workplace essential oils and oil-infused multivitamins and nutrition solutions empower you to meet your wellness goals the natural way.
We feature 3 Essential Oils from a large number available from Young Living.

Frankincense
Frankincense (Boswellia carteri) has a sweet, warm, balsamic aroma that is stimulating and elevating to the mind. Useful for visualizing, improving one's spiritual connection, and centering, it has comforting properties that help with focusing the mind and overcoming stress and despair. Frankincense is considered a holy anointing oil in the Middle East, where it has been used in religious ceremonies for thousands of years. More recently, it has been used in European and American hospitals and is the subject of substantial research. Frankincense is also a valuable ingredient in skin care products for aging and dry skin. The ancient Egyptians used it in rejuvenation face masks.
Lemon
Lemon has uplifting and detoxifying properties. It can help to clear the mind and retain information whilst studying. It removes grease, gum, crayon on a totally natural way.
Lavender
Lavender is called the "Swiss Army Knife, because is incredibly versatile. Lavender is calming and has a comforting scent when diffused. It cleans and refreshes the skin and so its favourable to use in skin care products. They can be easy made at home with all organic ingridients. Contact us for details or join one of our workshops.
Essential Thieves Collection
This fascinating blend of Oils created by Garry Young is based on the recipe that the robbers used during the Plague to support their health around the infected. Thieves supports the immune system as an extra layer of protection against virus, bacteria and mould. Due to this properties Young Living has created the Thieves Cleaner, which is completely chemical free as well as Hand soap, Toothpaste, Hand purifier…. The cleaner can be used all around the house, mixed with distilled water and vinegar as required and I don't need to use any other cleaner anymore. One does it all! And, I am not worried using this cleaner around my daughter as it's chemical FREE!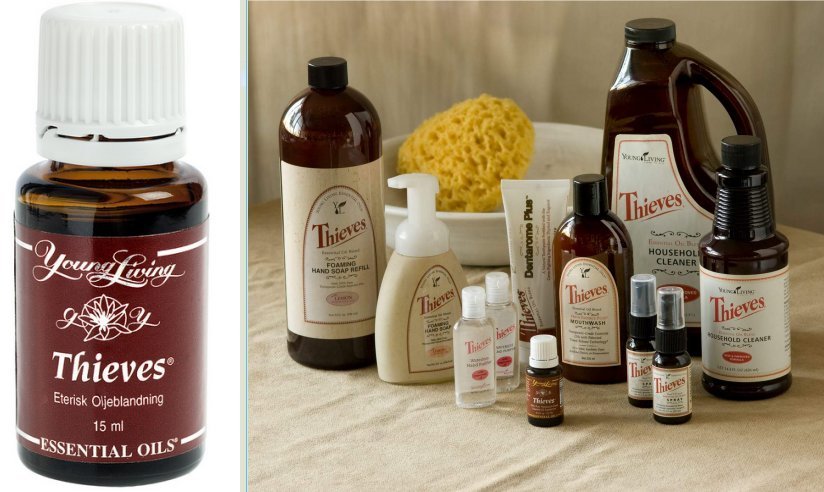 Events
5th December Stand at Xmas market Cap Antibes - See more
8th December Essential Oil Wellness Workshop Antibes - See more
9th December Happy, Healthy and Beautiful for Christmas at Mortons Saveurs d'Ailleurs, Callian
10th December Essential Oil Wellness Workshop Les Adrets de L'Esterel - See more
Free entry to our Introductory session in January if you mention this magazine when booking.
***
The Facebook Page is "Riviera Lifestyle and Asset Management"
Email: angela.collings@riviera.life
Twitter @RLAM
Share this article on Facebook