Health and Beauty
Bio Hair - The Haute Coiffure Experts
Bio Hair... more than just a hair salon...
Bio Hair in Ventimiglia, was born out of passion, November 2014. Created by Christian, Flavio and Morena, this is a true meeting of minds. They have one sole mission... To make everyone that comes to the salon leave feeling beautiful, relaxed and energised! Team Bio Hair have over 20 years experience in the industry and inspire true confidence.
Christian Marchesi (left): hair stylist and specialises on cutting. He is an experienced makeup artist and Wellness Operator.
Flavio Orlandi (right): hair stylist and specialises on treatments and scalp massage.
Morena Zuccetto (centre): hair stylist and specialises in styling/brushing.
Philosophy
The mission is to offer the best to all clients using Ayurvedic Principles that work on rebalancing and healing the mind and body. Massaging the scalp helps to increase blood supply to scalp skin and also increases the supply of nutrients to hair follicles. Scalp massage also helps in the release of the "feel good" hormones known as endorphins which elevates one's mood.
At Bio Hair the products used are organic and vegetable based and have not been tested on animals. Many of the products are also vegan friendly. In colouring they use herbal compositions that help to improve the structure and texture of the hair. Principles are important but more so is the welfare of their clients. They have chosen to use an ammonia free, Italian brand of products called Shaida.
Your visit
There's always a warm reception at Bio Hair. Every client receives a free consultation to discuss the best look for you. They also discuss the types of products to use and how to use them. They know that when your hair feels good, so do you! Your well-being matters.

The team prefers to have only 2 to 3 clients in the salon at a time, so they can give you their complete undivided attention at all times. The team speak Italian, French and English.

At Bio Hair you feel special. Each of the team is experienced in all aspects of hair care but they prefer to work 'as a team' so you have the best, from the best.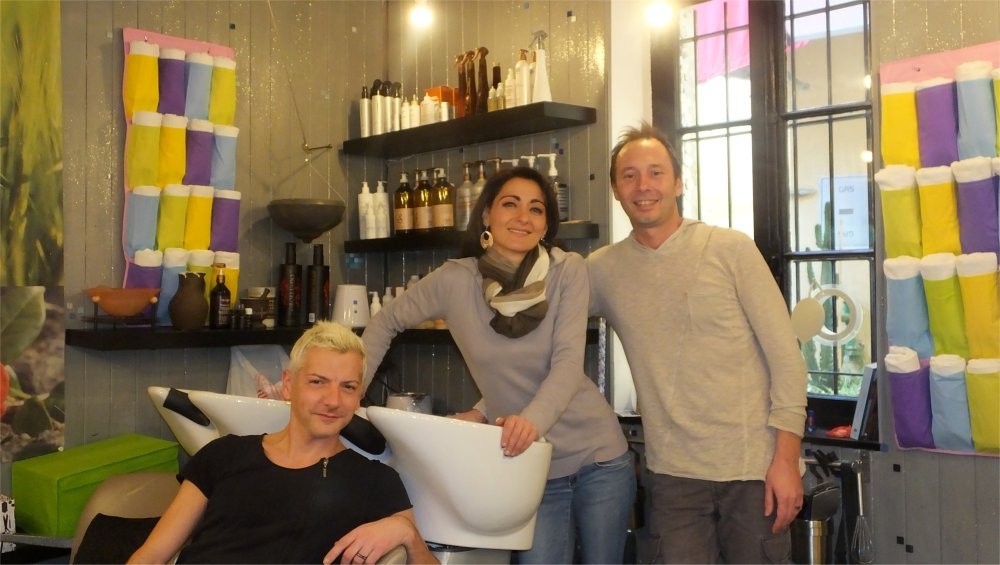 Team Bio Hair are available for Events, Weddings, Fashion Shows and Makeovers.
Visit the salon:
Bio Hair, Via Roma 34/d 18039, Ventimiglia, Italy. Tel: +39 0184 840502.
Call and make your appointment now!
See Facebook/BioHair
Exclusive! Meet Christian and the team at the 'Be A Better You' event on Friday 4th March at the Cinema Cristallo in Dolceacqua. The team will discuss, hair care, Ayurvedic Treatments and treat you to a live style makeover! More details HERE
Share this article on Facebook