Health and Beauty
Bio Hair - Making Waves
At Bio Hair this month we look at perming. With the summer months approaching, Bio Hair recommend their waving system to improve the quality of your hair, give you a style that is manageable, easy to take care of and equally important, your hair will look absolutely fabulous!
Traditional perming can be aggressive to hair but the preferred method used at Bio Hair adds new molecules of cysteine which does not destroy or weaken the hair. For those who are not used to having perms or are a little nervous, then now is the time to try.
You can benefit from all the advantages of perming without damaging the condition of the hair.
Volume & Texture
The products used at Bio Hair are created in Italy and are as natural as they can be.
Bio Har always recommend that you book a consultation to discuss the best style and strength of perm that would best suit the look that you want to achieve this summer. Then all you need to do is to look forward to the process and enjoy the end result.
When your hair looks good, you feel good!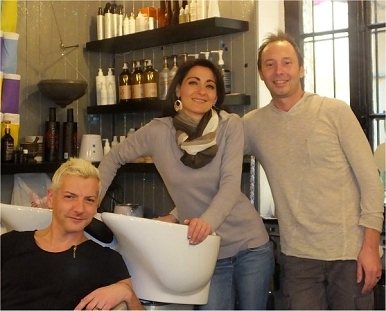 Flavio, Morena & Christian
Team Bio Hair are available for all Events,
Weddings, Fashion Shows & Makeovers.
Call and make your appointment now!
Visit the salon:
Bio Hair, Via Roma 34/d 18039, Ventimiglia, Italy. Tel: +39 0184 840502.
See Facebook/BioHair
Share this article on Facebook