Health and Beauty
Bio Hair - Bring sunshine to your hair
This month Bio Hair talks about sun products that they recommend to use on your hair during the hot summer months. These products are produced in Italy and one of the principal ingredients is extract of chinotto (bitter orange), which is cultivated in Finale Ligure, Liguria. Chinotto has been recognised by the Slow Food Association a global movement who awards products in order to embrace a comprehensive approach to food that recognizes the strong connections between plate, planet, people, politics and culture.
Bio Hair are proud to support local traditions and activities.
The haircare sun treatment range also includes a suntan maximiser for the skin and is suitable for all skin types. Note that you will still need to use a skin protector. The hair products are specifically for protecting hair from dryness and so will aid in hydrating the hair. The products also acts as a UV protector for the hair.
These are natural based products and even the packaging is eco-friendly and so good for our environment.
Special Offer: If you purchase 3 products you can choose to receive either a summer bag or sunglasses (subject to availability).
Bio Hair always welcome and recommend booking a consultation to discuss the best styles and hair treatments for you and your hair.
When your hair looks good, you feel good!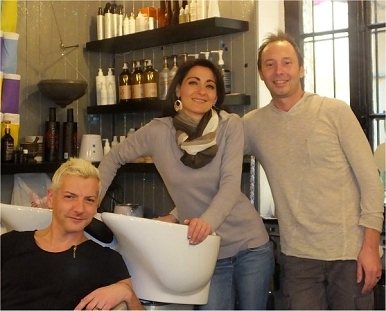 Flavio, Morena & Christian
Team Bio Hair are available for all Events,
Weddings, Fashion Shows & Makeovers.
Call and make your appointment now!
Visit the salon:
Bio Hair, Via Roma 34/d 18039, Ventimiglia, Italy. Tel: +39 0184 840502.
See Facebook/BioHair
Share this article on Facebook