Food and Recipes
Madeleine Karlsson - One dish at a time
Madeleine Karlsson is a health coach and recently joined the Busy People Network group on Facebook. We just loved her philosophy for food and for life!
Madeleine's mission is to introduce people to some of the healthiest foods on the planet and to teach the best way to find what's healthiest for our unique body!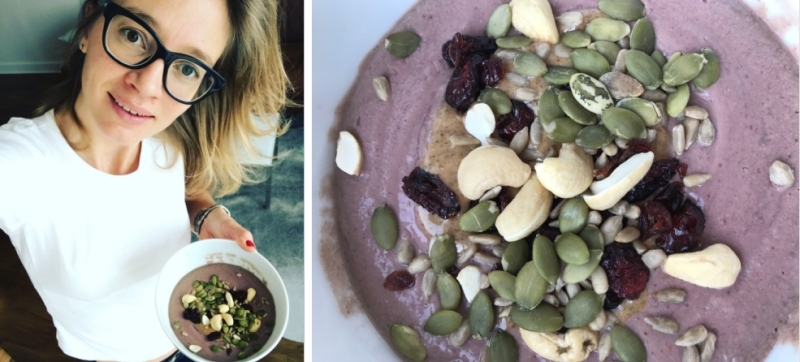 In her mid twenties Madeleine ran into some health issues that caused her to investigate how she was fuelling her body. This embarked her on a new journey to educate herself about nutrition where she discovered which foods she digested well, giving her the energy she needed, and which ones were causing her problems.
"I practice a holistic approach to health and wellness, which means that I look at how all areas of your life are connected." says Madeleine
Madeleine quickly learnt that each person's relationship with food was different, depending on simple issues based on individual lifestyle. So what works for one person may not be suitable for another and this is how Madeleine is able to help you.
Madeleine is passionate about creating wonderful tasty recipes and as we charge ahead making lots of plans this 2018 we thought we would share this breakfast smoothie recipe to help power up our brains at the start of each special day.
What is needed...
A small cup of raspberries (strawberries or bluberries are fine too!)
1/4 of a zucchini
A small handful of spinach
1 medjool date
1 tablespoon of sunflower seeds
1 tablespoon of pumpkin seeds
1 tablespoon of tahini
5-6 cashew nuts
2 walnuts
A small cup of coconut water, coconut milk or almond milk (adjust the quantities to the texture - you want it to remain thick so you can eat it with a spoon out of a bowl)
Topping:
A teaspoon of pumpkin seeds
A teaspoon of sunflower seeds
2-3 cashew nuts
8-10 dried cranberries (unsweetened)
1 small tablespoon of almond butter (unsweetened - check the label for no other ingredients than almonds!)
Fresh berries (optional)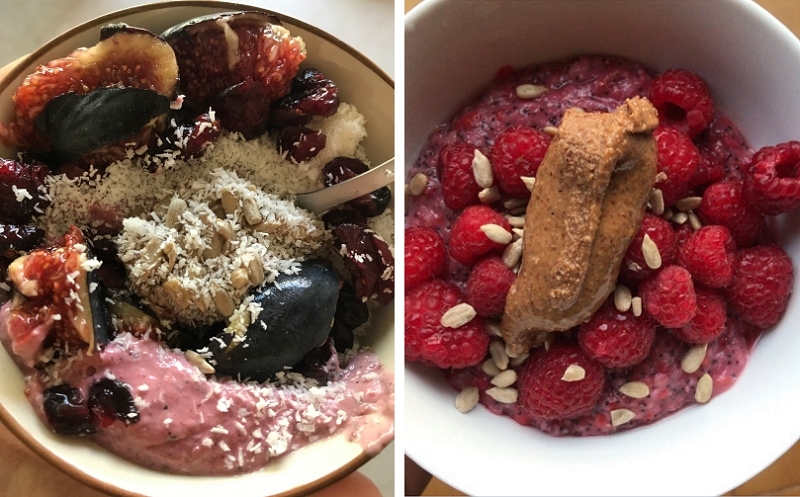 You can add hemp & chia seeds. All seeds contain healthy fats & protein so it´s great to switch it up
from time to time!
"I always encourage people to be creative with their smoothies. The key is to use fruits that are low in sugar and high in antioxidants (this is why I recommend berries) and only 1-2 servings of fruits. Add 2-3 servings of vegetables, preferably green ones. Make sure you add some protein - seeds & nuts are a great source of protein. They also contain healthy fats which are essential for optimal brain function! Combining the fruits with healthy fats & protein reduces the glycemic index so the energy is released steadily and you are less likely to get hungry than if you eat fruit alone :) Healthy fats also help us feel satiated!"
***
Here's Madeleine in action!
We asked Madeleine our famous 5 questions and this is how she replied:
1) What makes you smile?
Having a positive impact on the way my clients look & feel puts a massive smile on my face.
We are all brought up to believe that feeling & looking good in our bodies is hard work when actually, it´s our natural default state.
My job is just to bring my clients back to this default state. When they get there, they are often surprised that it didn´t take blood, sweat & tears. This makes me smile.
Aside from my work, my puppy never fails to put a smile on my face. So does a nice glass of champagne or tucking into a good piece of dark chocolate!
2) What or who inspires you?
My clients inspire me. I think it takes courage to turn around the way you eat and look after yourself on a daily basis. Our relationship with food is often engrained in the way we were raised and letting go of some of the traditions and beliefs that no longer serve us can be scary. But it's always worth it and those who have the courage to trust me in this process truly inspire me!
3) Do you believe in gut instincts?
Absolutely! I believe it´s often more reliable to follow our gut than our mind! The gut is our soul speaking and is linked to our deepest desires. I believe that following what makes us feel good and happy is often a better path than what our mind tells us to do! Unfortunately we aren't raised to follow our gut but our mind instead. Even in the field of nutrition I think our gut often gives us the best indication of what our body needs to be healthy. My objective with each client is to get them to a place where they can trust their gut when it comes to nutrition by eating what they want when they are hungry. The first step on this journey is to cut out all processed foods & sugar as these create a form of "toxic hunger" which we cannot trust. Finally, it's no coincidence that the gut is considered to be our second brain in Chinese medicine. Everything we choose to put inside it has an impact on the way we feel, look and desire!
4) Your three essential things if you were stuck on a desert island would be what?
If possible, I'd like to get stuck on an island that has lots of coconut trees as I love coconut water and they happen to have essential nutrients that help keep us hydrated & healthy in the sun!
My puppy Nelson (not sure he's a "thing" but he´s important to me!

Some high quality dark chocolate
My surf board. I love to surf. I discovered it quite recently but I truly love the freedom of it and the happiness it brings me!
5) If you are planning a day/night out, what do you enjoy doing the most?
I start most of my days meditating & journaling. It helps me stay focused on where I'm at in my life and where I want to go. Then I like to do some body conditioning, most often this will be Pilates or Yoga. They make me feel strong, flexible and in tune with my body. One of the things I enjoy the most is sitting down and enjoying a long lingering brunch with friends. My favourite brunch is corn fritters with poached eggs, avocado and a side of sweet potato fries. I know, it's not the healthiest meal in the World but it's pretty clean and it fills me up and makes me happy so I do it as an occasional treat as opposed to a daily thing!
My ideal night out would involve some nice champagne, a good group of friends, a home-cooked meal, some of my homemade dark chocolates for dessert and a bare footed dance party in someone's living room!
Share this article on Facebook