General Articles
Winter Break in Marrakech
By Alex Sutcliffe
---
With easyjet offering regular direct flights between Nice and Marrakech, this exotic Moroccan city is now easily accessible, and makes for an exciting winter break, as Alex Sutcliffe discovers.
---
On the drive from Menara International airport, Marrakech seems like such an orderly city, with its wide streets and boulevards, huge shopping malls and sensible, grid-like layout. But don't be deceived. Turn into the Medina and it's a different story altogether.
It's here where all the action happens, and the fun is in getting lost in the narrow streets of the souk, filled with dazzling and fascinating objects – from dramatic hanging glass and metallic lanterns to hand-woven carpets, embroidered slippers, leather goods, scarves and shawls. Then there are all the ceramics and silverware, the spices and sweets, jewellery and perfumes, and a multitude of argan oil products, all intermingling with ubiquitous replica football shirts in a colourful cornucopia of goodies.
If it wasn't such fun, it could almost be overwhelming; an assault on all the senses.
Having navigated the narrow lanes and escaped with our purses relatively unscathed, we ventured into the main square, Djema El Fna, for tea. In the setting sun, the square really comes into its own, with pavement cafés and restaurants buzzing, and stalls overflowing with coloured woven baskets, clothing and trinkets. Then there's the free show put on all by acrobats, dancers and even snake charmers. It's an exhilarating and intoxicating mix.
By contrast, the Majorelle Gardens, bought by the late designer Yves St-Laurent in 1980, are an oasis of peace. Set around a cobalt-blue Moorish-style villa, they are a delight to wander, full of succulents and exotic plants, streams and water-lily filled ponds. We were lucky to get there, however, as our taxi driver insisted they were closed due to roadworks in the area, and suggested we tried somewhere else.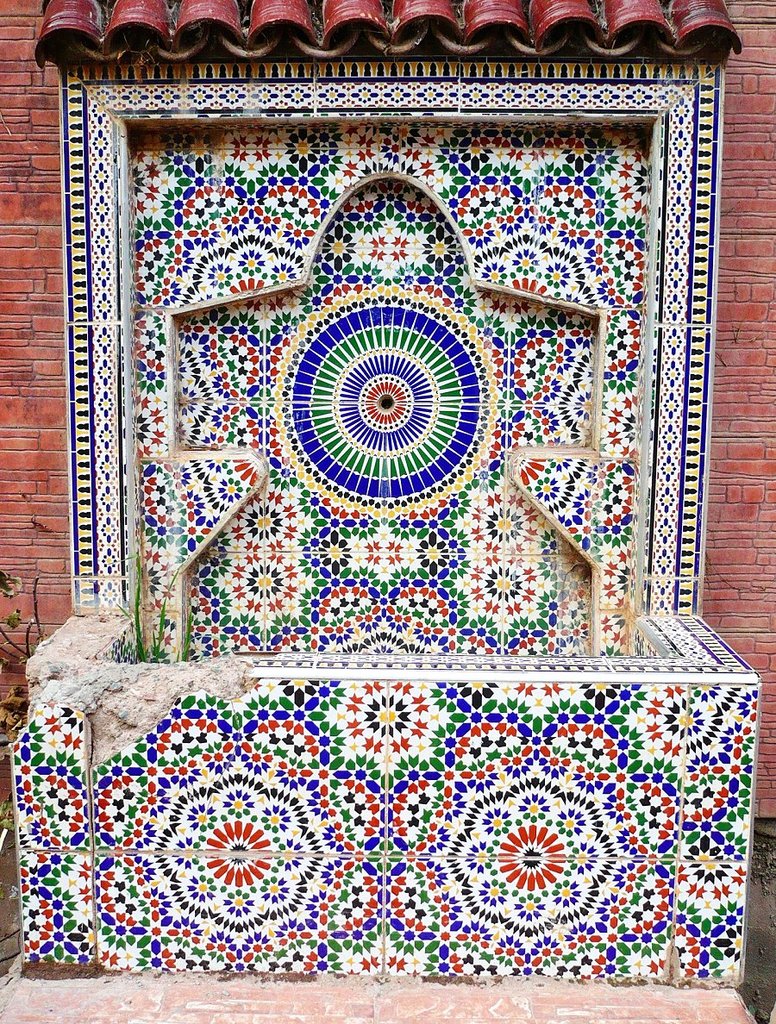 This happened to us a lot, actually, with pretty much every taxi driver trying to dissuade us from going to our requested destination and suggesting an alternative. In Marrakech taxis, it seems, you don't only haggle over the price, but the destination too.
It was thanks to one driver, however, that we discovered Bagatelle, a bustling French-style brasserie and veritable institution that's been going since 1949. It was only once we were settled in our seats admiring the extraordinary ornate glass ceiling and walls cluttered with black and white photos, that we realised non-smoking regulations are yet to be enforced in Moroccan restaurants, and our fellow diners, most of whom were French, were chain-smoking contentedly, delighted not to have to be loitering outside on the pavement. We asked to be seated in a non-smoking area, which turned out to be a small passage between two more lots of smokers. It wasn't ideal, but the food – tender lamb shanks followed by tarte aux pommes – more than made up for it.
http://www.bagatelle-marrakech.com/
The following day we visited Amal, a non-profit restaurant and training centre, sitting in its charming garden over platters of seafood pastilla, or pie, made with thin, crisp pastry, followed by tangy lemon mousse. Here, women from disadvantaged backgrounds are given restaurant training, learning all aspects of working in a professional kitchen in order to secure work in restaurants, hotels, riads and private homes. It's empowering and successful, and the food is delicious.
Beyond the city there are some wonderful day-trips on offer, such as to the see Atlas Mountains. En route, we visited a centre where argan oil is produced, learning about the process and getting to see a wide range of products, from hair conditioning oil to soaps, body wash and moisturisers. We also visited an old Berber village, with all kinds of handicrafts on sale, including jewellery, ceramics and metallic crafts. In the cool air, we enjoyed our lunch of chicken tagine on a roof terrace, with the snowy mountain tops above us and the river valley below.
You don't need long in Marrakech to soak up its vitality and drama. The city might be an assault on the senses, but it's one I'd go back for in a heartbeat.
--- --- ---
Alexandra Sutcliffe is a...
Riviera-based life coach who is
offering three specific course packages:
Attracting Love,
Attracting Abundance
and
Making Positive Change.
Visit her website is: alexandralifecoach.blogspot.com
--- --- ---
Share this article on Facebook