Food and Recipes
Baked Lemon Cheesecake
This Cheesecake has never failed to please. Using Italian ingredients and fresh lemons for a fresh and tangy flavour, this dessert will hit the spot time and time again. Lemony, Light, Luxurious... Naughty but very, very nice!
Use a 20cm springform baking tin. Grease well and line with greaseproof paper. Place the springform on a baking tray as the oil does escape during baking.
Ingredients
250g (10 oz) - Oaties (or a mix with ginger nuts)
150g (3 oz) Butter
150g (3 oz) - Sugar
2 Lemons - juice and rind, grated
100g (4 oz) Sugar
2 tubs of Ricotta
1 tub of Mascarpone
3 eggs
Oven: 180ºC or Gas 4
Time: 40 - 50 minutes
Method
1. First thing is to prepare your baking tin. Grease well and line with greaseproof paper. Place on a flat baking tray so if any oils seep out it will be caught by the tray.
2. Pre heat oven: 180ºC or Gas 4
3. Break up the biscuits into fine crumbs. Add to the butter that has been melted.
4. Place the mixture into the prepared baking tin and flatten.
5. Bake in the oven for 10 minutes.
6. Place the ricotta, mascarpone, sugar, eggs, the lemon juice and rind into a glass bowl. Mix all the ingredients together well.
7. Pour the filling onto the biscuit base and return to the oven. Bake for around 40 to 50 minutes. The cheesecake should be set and golden in colour. Check the chesecake around 40 minutes and if you think it needs more baking, allow another 10 minutes.
8. Once baked, remove carefully from the oven. The tricky bit is to remove the springform and then sliding the base onto a flat dish. Gently take away the greasproof paper. Using a long sharp knife or palette knife carefully slide under the base of the cheesecake to remove the greaseproof paper. If it is being difficult leave and remove when serving.
9. Allow to cool in th fridge so the cheesecake is completely set.
10. Optional... Cover the cheesecake with whipped fresh cream and decorate with grated lemon rind... or the cheesecake is absolutely perfect on its own served with single cream or ice-cream.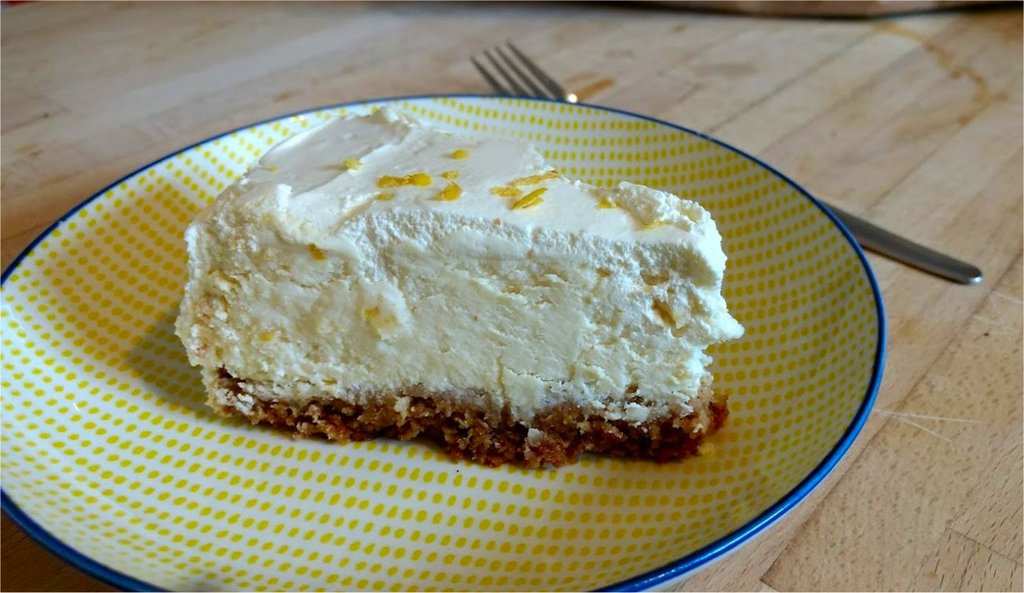 Lemon Cheesecake... So yummy!

Share this article on Facebook