Events
Battaglia di Fiori
The 48th "Battaglia di Fiori" takes place in the streets of Ventimiglia.
Battle of the Flowers.
This is an annual two day event that takes place every June in the border town of Ventimiglia on the Italian Riviera.
Thousands of people flock to the town to see flower covered floats parade through the streets, with music and dancing.
The Battle of the Flowers with it's long cultural traditions related to the world of agriculture, is dedicated to the awakening of nature and the end of Winter.
On the second day, the Sunday, the carnival which dates back to the mid 700's ends with a true battle with flowers, where hundreds of thousands of flowers are thrown from the floats at the onlooking crowds and in return thrown back at the floats. At the end of the day, the covered streets are a carpet of fragrant flowers.
It takes between twenty and fifty people for about three months, to design, build and decorate each float, using about one hundred and twenty thousand flowers (mainly carnations) for each creation.
The atmosphere is blooming marvellous and could only really happen in Italia.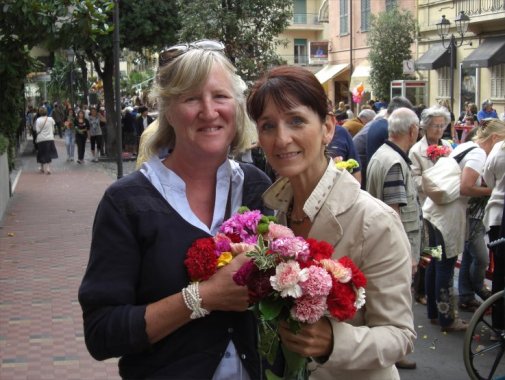 We just had to rescue these blooms and take them to a good home... I'm talking about the flowers!
Sunday, 20 June 2010 Section:
Events
Share this article on Facebook