People and Places
Cala del Forte
After a long wait, construction work is about to start on a new yachting marina at Ventimiglia called Cala del Forte, on the current site of the old fishing port. The perfectly circular design respects the environment and will add a huge potential earning power to the city.
In early February The Riviera Woman took a stroll along the coast from the site of the new marina to the little beach at Calandre, to take a last look before the construction teams move in.
This little magical area leading to the Calandre beach is very beautiful but it suffered from the storms that hit the Riviera earlier this year and being part of the marina project will ensure that it can continue as a bubble of natural beauty.
I enjoyed this experience one more time and will be able to re-live it over and over again, thanks to technology, the web and a sympathetic cameraman.
If you cannot see this video,
click here
to download the Adobe Flash player.
"Cala del Forte" translates as "Fortress Creek", which refers to the old - and sadly dilapidated - 'Forte dell'Annunziata' on the headland adjacent to the new marina.

You can read more about the project at Riviera24 (in Italian).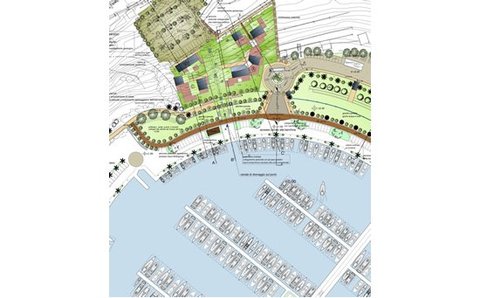 Share this article on Facebook