People and Places
Gianni Molaro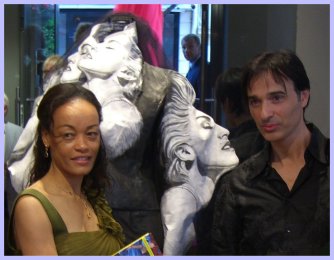 There is a new 'buzz' word in town... 'Fashion Art'.
It is with special thanks to to the Carré Doré Art Gallery in Monaco and to Baroness Cécile de Massy, that we have been enriched by the work of l'artista e fashionista Gianni Molaro.
It would be true to say that Gianni Molaro is truly a work of art himself. He crosses boundaries and fuses fashion and art and combines styles from baroque to kitsch. He's extravagant, extrovert and his work excels beyond ecstasy. Everything he does arouses curiosity and stimulates intrigue. To see is to believe.
In this exhibition in Monaco, his collection features three dimensional paintings featuring a tribute to the singer and artist Madonna. When I asked why Madonna? He replies so matter-of-factly 'Because she is an icon...' Indeed she is.
He gains his inspiration not only from the greats, but from everything he sees around him... "even a chair" he tells me.
In the true sense of the word, Gianni is an exhibitionist and in so many ways. In the world of haute couture and wedding dresses, he goes all the way by designing the world's most expensive wedding gown, which featured seven thousand diamonds gaining him a place in the Guinness Book of Records. He is also renowned for the longest wedding veil... 326 metre long veil and also one which measured 18 meters wide. So you can see, he has a reputation to uphold. His client list is impressive and it is not so surprising that it includes the beautiful Sophia Loren.
Meeting Gianni is like a breath of fresh air and is a ray of sunshine. When you speak to Gianni, you feel like you are the only person in the room. He is open, frank and direct and it is not difficult to see that his creations, are reflections of his heart and soul. His work crosses and bridges and fuses different eras and styles and creates emotion. There are certainly no 'no-go' areas. He takes whatever he does and stretches the limits of imagination and 'fantasia' - fantasy.
To emphasis his passion for fashion sculpture, he hosts a fashion show using his own designed fabrics and seeing this on a catwalk is to quote one onlooker 'breathtaking'. His use of colour is what sets it apart. The show is bright and bold. Gianni is making his statement. It is theatre, cabaret and a showcase rolled into one. The twist is that it is symbolic of who Gianni Molaro is... a colourful chameleon, undergoing constant metamorphosis. Expect the unexpected when Gianni Molaro is in town.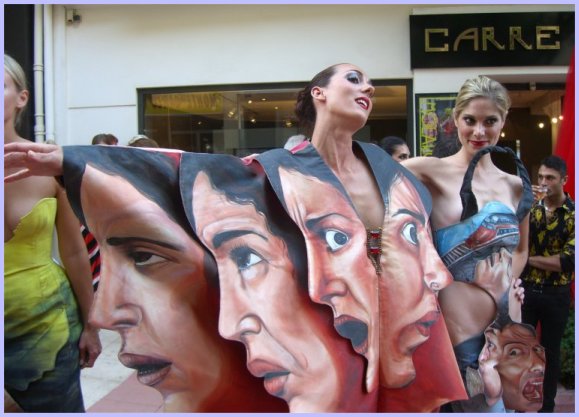 To see more photographs of the event, visit my Facebook Album.
Other Videos
See Interview with Gianni Molaro (In Italian)
See Interview with Baroness Cécile de Massy
See Interview with Ludmilla Arsenieva - Owner of Carré Doré Art Gallery.
See Interview with Joe Ghannam - Director at Carré Doré Art Gallery.
Share this article on Facebook