People and Places
Out of Mongolia
Zorikto Dordzhiev is one of the latest artist to exhibit at Carré Doré art Gallery in Monaco.
At first I thought that it was a shame that this talented Mongolian artist did not speak English but you know what... it really didn't matter. I am going to quote something I found on his publicity material, he says "...I would like to talk if not in a whisper, then in a quiet voice. You make yourself better understood this way."
For certain reasons this statement struck an understanding chord with me. I would describe Zorikto as a creator who fuses together his ancestry which is rich in tradition and he re-invents it with a contemporary feel. His work as an artist, sculptor and designer of the 'traditional' kind clearly reflected detail in a whispering fashion. To quote him further, he says that 'Pure and vivid colour is emotional. Tone is too logical'. For a man who likes to speak quietly, he has the ability to talk loud and clear... well his artwork does. In this way he makes himself understood or at the very least gives the onlooker the chance to try and understand.
He plays with his own conscience and teases those of others. He captures uncertainty in his painting but almost in a mocking way as if to say 'Phew that was a lucky escape' or 'We won't tell anyone about that'. Zorikto keeps his true emotion just beneath the surface. There are questions being asked through his artwork but no easy answer is forth coming. Perhaps he will never kiss and tell. But as long as there is intrigue and mystery, there also lies beauty and bewilderment.
Zorikto's paintings are amusing and this is part of the charm. I pointed out to Ludmilla Arsenieva, the gallery's owner that I found his interpretation of Leonardo da Vinci's Mona Lisa very entertaining. His title 'La Gioconda' is in fact Italian for 'Mona Lisa'. I have no doubts that da Vinci would be spinning in his grave if he saw this painting but I guess we will never know.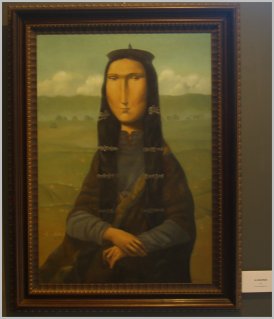 La Giocanda
These bronze sculptures suggest to me 'See no evil, Hear no evil, Speak no evil'. The other sculptures on show were equally unique and equally striking. As a former DJ, I did have my eye on his bronze titled 'Music'. With his exclusive price ticket, I had better start saving now...
Everyone loves a bit of drama and perhaps everything Zorikta does is just theatre. Whatever you may think, there is no doubt that his work is very entertaining and a pleasure to see. It certainly put a smile on my face and I was delighted to have seen his work.
Share this article on Facebook