Health and Beauty
Celebrating the moon with Sunshine Yoga
By Anette Shine - Founder of Sunshine Yoga Monte Carlo
During the cycle of the moon each month, we can use the new moon to plant seeds of intention, and revisit again at the height of the full moon so that they might come to fruition.
The two major cosmic themes under any given full moon are EXPANSION and RELEASE - We release what no longer serves us, inviting an expansion of our hearts, minds and bodies.
Yoga helps to release tension stored in the subtle, energetic body, so that you can open yourself up to receive all the celestial gifts the new/full moon has to offer. We practice specific poses to harness the power of the New/Full moon phases and honour the nurturing energy of the divine feminine with meditation.
The aim of yoga is to balance our lunar and solar energies. The lunar energy is cool, receptive and inwardly focused. The solar is warm, active and outwardly oriented.
We bring an element of ritual into our practice during the New/Full moon phases. We tune into a sense of devotion as we embrace all the phases of the moon and the cycles of our lives. The experience is heightened as we practice outside in nature, facing the moon directly.
We pay homage to the lunar energy by practicing CHANDRA NAMASKAR - moon salutations - and invoke the tantric Goddess Shodashi who presides over all the phases of the moon, as well as all that is perfect, complete and beautiful.
New/Full Moon Yoga classes are inward-moving journeys, a chance to slow down and calm yourself in a soothing atmosphere. Welcome to Sunshine Yoga at the Monte-Carlo Bay with Anette Shine, the founder.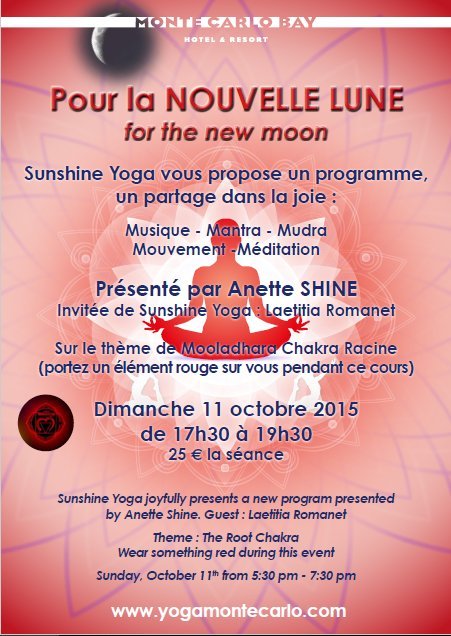 Mobile : +33 (0)6 64 91 96 42
Phone : +377 97 77 78 01
Email: sunshine@yogamontecarlo.com
Share this article on Facebook