General Articles
Well-being and Cold-pressed Juices
It is a mind-boggling phenomenon that all across the Riviera Wellness 'gurus' are sprouting like mushrooms and just like real mushrooms, some are edible and some are poisonous!
Do you know what you're getting for your money? Probably not, unless you have taken the time to check out the person's credentials. Never was this more important than in the food and beverage industry where self-proclaimed nutritional 'experts' are popping up on social media and anywhere they can get someone to listen to their 'just read it on the internet' pearls of wisdom.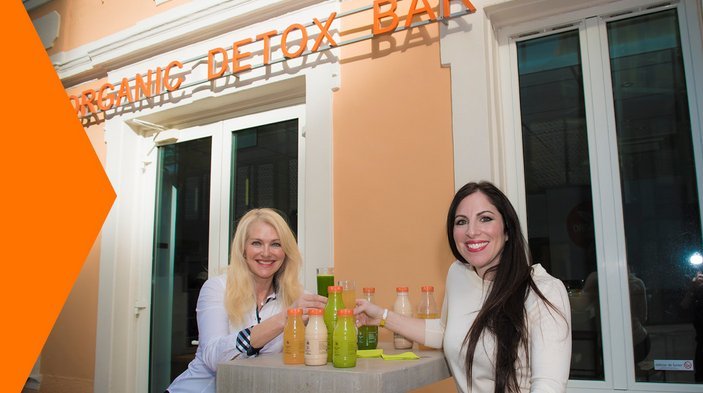 I find it amazing that while few people would put their health in the hands of someone who had just completed a one month crash course in dentistry or medicine, they are willing to do this when it comes to fuelling their body with food or drink. Thus before writing this month's article on Wellness and cold pressed juices, I decided to consult a real expert on the matter. I am not an expert on juices myself and would not profess to be one, although there are plenty of people out there peddling their concoctions on the basis of having been 'inspired' by doctor X or just because 'I'm passionate about it'. Luckily help was at hand in the form of Tara Ostrowe, MS, RD the expertise behind the recipes for the newly opened Organic Detox Bar in Monaco www.organicdetoxbar.com Already knowing that you are in the best possible hands when doing something as potentially health enhancing (or dangerous depending on whose programme you subscribe to) is a plus, but for the benefit of The Riviera Woman readers, I wanted to find out more about Tara's background and what functional juices and Detox programmes are really all about, how they can help or hinder us and why they are not all the same:
JC: Tara can you tell me a little bit about your background?
Tara: Yes I have a bachelor of science degree in dietetics and nutrition from the University of Wisconsin and a master of science degree in nutrition and exercise physiology from Columbia University in New York. I also completed my dietetic internship through Columbia University. I am the team sports nutritionist for AS Monaco FC (Ligue 1 football), the New York Football Giants (NFL football), and the New York Red Bulls (MLS soccer). Prior to working with those teams, I was the nutritionist for all graduate and undergraduate students at Columbia University Health Services and at Barnard College in NY. I also worked for over 6 years at Mount Sinai Hospital in NY too. Additionally, I am the nutrition consultant for Organic Religion and created the recipes and provided the nutrition analysis for the organic cold pressed juices and smoothies. I also have a private nutrition practice based in Manhattan where I work with women, men, and adolescents from all over the world for a wide range of nutritional needs. Through that I am a regular nutrition expert and contributor to magazines and TV programs.
JC: So Tara what is a detox programme, and how do functional juices work? Why should we be drinking cold pressed as opposed to any other form of pressed juice?
Tara: A detox program is a structured out juice cleanse that has specific juices planned out at ideal times each day and for a set number of recommended days. A detox program consists of juices, which contain essential vitamins, minerals, phytonutrients, antioxidants, and enzymes that are in the most optimal balance to help remove toxins throughout the body, alkalinize the body, attack free radicals, rest certain systems, and thereby heal and cleanse. Functional juices work by giving a strong nutritional boost to the body, which provides health, and wellness benefits beyond basic nutrition. Cold-pressed juice is much more beneficial than usual pressed juice. The process of cold-pressing is much slower, produces minimal heat, and thereby retains the most nutrients, enzymes, and antioxidants of the fruits, vegetables, roots, and herbs in the juice.
JC: Why do top athletes use these juices?
Tara: Top athletes drink these juices for to help them obtain top performance and an ideal body composition. They drink the juices to provide themselves with a strong boost of vitamins, minerals, antioxidants, and other nutrients for extra energy for training, to help them recovery optimally after training or a game, and to support their immunity so they can stay healthy throughout the season. Some athletes drink the juices to help them lose body fat and to be in great shape so they can train at the highest level.
JC: So we know that the Monaco football players choose to drink Organic Detox Bar juices but why would the ordinary person be interested in a detox programme, what's in it for them?
Tara: A detox program and individual cold -pressed juices is extremely beneficial for an ordinary person. Some of the benefits are providing increased energy, aiding in weight loss, improving skin, hair, and nails, helping to prevent diseases such as certain cancers, and supporting a healthy heart.
JC: Are all juices and Detox programmes the same? Can you do yourself any harm if you take the wrong combination of juices? How do we know which ones to buy?
Tara: No, all detox programs and juices are very different and have a huge variance in terms of nutritional content and the vitamins, minerals, and antioxidants they provide. Yes it can be harmful if someone takes juices or does a program with the wrong combination of nutrients. I designed the programs and created the juices at Organic Detox Bar to provide the best nutrition in the most ideal nutrient percentages. However, there are many other programs out there that unlike Organic Detox Bar are created without a nutrition expert and are not scientifically based and researched. It is important to choose programs and juices that are designed by a true expert with a strong science background and nutrition experience.
JC: What makes Organic Detox Bar different from other Detox programmes?
Tara: As soon as you try Organic Detox Bar it is apparent that is quite unique and provides far superior juices and programs. As the name implies, all the juices and smoothies are organic / bio, which in itself makes the juices much higher quality than other programs. Besides from the ODB being organic /bio, they are cold-pressed and are not HPP.
ODB is supported by a multidisciplinary, internationally acclaimed team of experts to ensure the juices and advice are of the highest standards on all fronts. They are also available to clients for consultations and to answer questions about the detox programs at ODB. The juices at ODB have been expertly created to contain the most nutrient rich ingredients and are not watered down, unlike other detox programs.
JC: These days a lot of people are doing DIY juicing at home. What would you say to people who want real results from juicing? Can they really do this at home?
Tara: Juicing as home can be a fun (although costly, messy and time consuming) activity to try, but regular and serious juicing at home is like self prescribing medicine, it is safer and always much better to have something produced and recommended by an experienced professional. A professional will ensure you are getting the vital and essential nutrients for your body and following the correct guide to meet your nutritional goals and needs.
JC: Tara for those people who are out there and still wondering which person to turn to for advice or who are perhaps dispensing unqualified advice to others themselves, how long does it really take to get your kind of qualifications and reach your level of professionalism? How can people check the credentials of the person who is advising them, what should they be looking for?
Tara: My qualifications included 4 years of dietetics focused coursework, over 1 year of full time dietetics internship, a comprehensive dietetics qualification examination that must be passed, and 3 years full time of graduate coursework in nutrition, biochemistry, and physiology. I am a certified registered dietician and have the credentials RD after my name. Without the RD anyone can claim to be a nutrition expert, but they do not have the degree and credentials to back up that claim. For your health and wellness is necessary and extremely important to only trust detox programs backed by experts in the field.
Well ladies you know where to go in Monaco now if you want to take the hard work out of deciding which programmes to invest in and you know who to consult if you need advice. Qualifications and credentials along with a proven track record are there to protect YOU, so do consult with someone who has them and choose a quality product developed by an expert who has the real know-how so that you get the best possible benefits. The question is do you want just another nice tasting juice or do you want to get real results? I know which one I want
If you would like to book a coaching session or consultation with Judy, she can be reached on : judy.churchill@orange.fr or www.judychurchill.com
Tara Ostrowe will be holding an 'open-house' question and answer session at Organic Detox Bar on 5th April see the Facebook Page for details.
Share this article on Facebook