Health and Beauty
Coconut your way to healthy teeth!
We look at an alternative way to maintaining good oral health by using pure coconut oil as a natural toothpaste. Not only is this a cost effective option to specific toothpastes, pure coconut oil has extraordinary beneficial properties.
Coconut oil contains Lauric Acid and Caprylic Acid, which will eliminate microbes, bacteria and viruses from your mouth. It is stated that a 15 minute daily rinse with pure coconut oil will not only keep your oral cavity healthy, it will significantly reduce plague and so the result is healthy teeth and gums.
According to Dr. Damien Brady, the main researcher from Athlone Institute of Technology,
"Involving coconut oil with adjusted enzymes in the products of dental hygiene represents an interesting alternative to chemical additives, especially because it works at considerably reduced concentrations. Plus, with bigger antibiotic hostility, it is essential for us to pay attention in finding and using some new ways to fight against microbial infection."
The most popular ways to use coconut oil for your teeth is to make your own toothpaste with it.
Homemade Toothpaste with Coconut Oil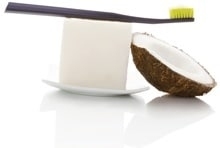 Here is a simple recipe:
Ingredients
0.5 cup coconut oil.
2 tablespoons baking soda.
10–20 drops of peppermint or cinnamon essential oil.
Directions
Heat the coconut oil until it becomes soft or liquid.
Stir in the baking soda and mix until it forms a paste-like consistency.
Add the essential oil.
Store toothpaste in a sealed container.
To use, scoop it with a small utensil or toothbrush. Brush for 2 minutes, then rinse.
--- ---
For more information and where to buy pure coconut oil, visit this website (in Italian) www.cibocrudo.com
Share this article on Facebook