Food and Recipes
Made In Sorrento... Digestivo Time Cin Cin
Local produce is just one of the things that makes Italy so very exciting. You may sometimes think you know what to expect but every region has their own twist influenced by local produce and passionate artisans! We feature the famous Italian digestivo... from Sorrento!
What is a Digestivo?
The digestivo is a liqueur, a sweet alcoholic beverage which is often flavoured with fruits, herbs, spices, flowers, seeds, roots, plants, barks, and sometimes cream. The word liqueur comes from the Latin word liquifacere.
Digestivos are served at the end of the meal after the desert has finished, to aid digestion. The origins of the digestivo date back to the early times of the Greeks and Romans. In Italy, these digestifs or digestivos are collectively known as amari. The word refers to the bitterness that is common to this group of liqueurs.
Made in Sorrento...
We found 3 digestivos served in a local restaurant that really deserve a mention. The 'O Canonico Restaurant in Piazza Tasso, Sorrento, was one restaurant that pulled out the stops where digestivos were concerned. These liqueurs are produced inhouse by the owner of the restaurant, Guglielmo Terminiello. This is an example of true passion and a vocation!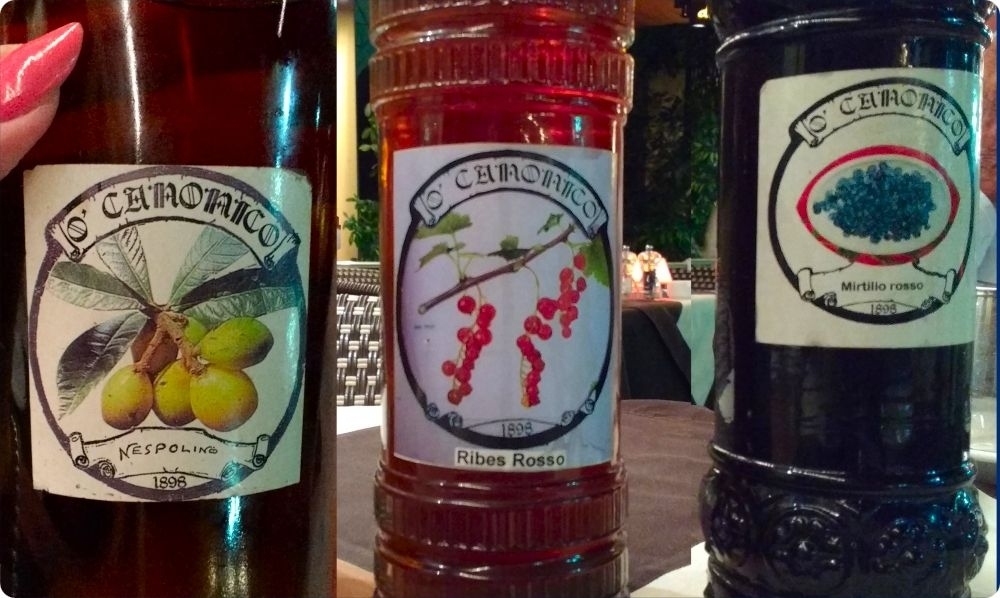 We were particularily impressed with these three digestivos: Nespolino (Medlar), Ribes Rosso (Red Currant) and Mirtillo Rosso (Blueberry). The liqueurs are always served at room temperature which enhances the true flavours of the fruits and make the whole experience of 'down in one' smooth and satisfying. The Nocino (Walnut Liqueur) is one also not to be missed!
Share this article on Facebook